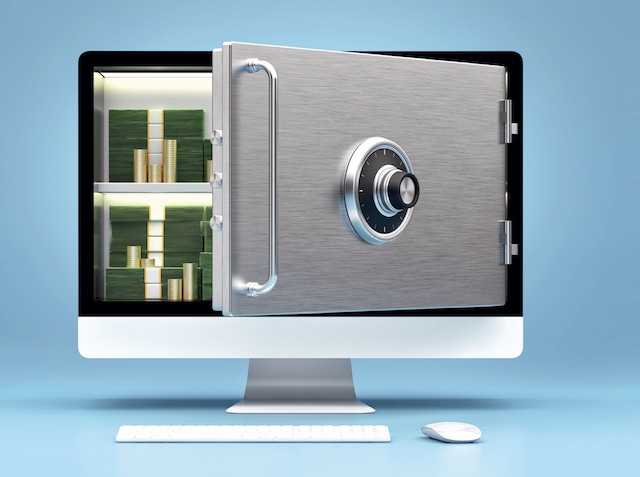 From ledger-based manual entry through the bank teller counter in the 1980s to Automated Teller Machines (ATMs) in the 1990s to online banking in the new millennium and then moving to Smart application-based banking services through Smartphones – banking and financial services have come a long way in the last three decades.
The financial services sector also crossed four-stage developments before embracing the Fourth Industrial Revolution – which is expected to eliminate paperwork and perhaps do away with physical paper checks. The million-dollar question is: What's next? What will the industry look like? More importantly, how will the new technology disrupt the existing scenario and what happens to financial professionals – how secure will their jobs be in future? Financial technology (FinTech) will allow customers to manage and transmit money more easily, cheaply and in a Smarter way. FinTech will help businesses pay their suppliers and cut down on the costly swipe fees that eat away at profits, especially for small businesses.
Removing payment frictions has all sorts of benefits that are not apparent at first glance – those ten minutes that it takes on average to settle a check at a restaurant, if eliminated, can provide for one more seating at the table per night. FinTech will also open up entirely new business models: Uber doesn't accept cash.
"Over the past five years, banks in the Nordic region have reduced their headcount by approximately five percent per year. If that trend holds for the next five years, the total staff reduction will accumulate to close to 40 percent. One should note that during the same period, Nordic banks delivered among the best returns on equity (ROE) of all the European banks," says Anders Borg, Chair, World Economic Forum's Global Financial System Initiative.
This perhaps shows how things might shape up in the future. Technology will dictate how people use banking services and it will enable banks to do 'more with less', causing a wide-spread job loss.
According to estimates from Oxford University's Carl Benedikt Frey and Michael Osborne, 40 to 50 percent of all jobs will be transformed or will disappear in advanced economies.
Money transfer and remittance businesses have also shifted from the traditional demand drafts sent through postal services, to telex transfers and then to mobile remittance services within the span of two decades. Money these days is not remitted – it's just used to top up beneficiaries' accounts, which use mobile handsets and SIM cards as tools to transfer money. This fundamental shift in the remittance business is expected to eliminate informal remittance or hawala operators and reduce the branch networks of money exchange houses.
"As digital and tech take over and disrupt industries and consumer behavior, we find ourselves amidst the Fourth Industrial Revolution," Rashee Pandey, Marketing and Communications Manager at Bankable, says. "By enabling payment capabilities on a citizen's identification cards, financial inclusion is addressed. By providing instant funds on prepaid cards to support people during a natural calamity, disaster relief is facilitated. Instead of NGOs delivering bulk cash via aircraft, teams can disburse funds globally in real time in local currencies on prepaid cards."
She continues: "Another example includes evolving insurance services that enable claims to be paid out on e-wallets as soon as they are approved. The possibilities are both far-reaching and humanitarian in application. Being at the heart of so many industries, the entire FinTech sector is positioned at the core of the Fourth Industrial Revolution  – and its mastery will be curating a sustainable future for finance."
This is one example of how things are going to reshape the financial services and payment industry globally. No wonder investment in the sector is also speeding up.
Globally, nearly $23 billion in venture capital and growth equity has been deployed to FinTech companies over the past five years and this number is growing quickly: $12.2 billion was deployed in 2014 alone. Investors are pouring money into FinTech start-ups, with almost $14 billion invested over the past 12 months, a 45 percent increase in funding since last year.
Investments in Asia-Pacific financial technology ventures reached $9.62 billion as of July 31, 2016, more than twice the $4.26 billion invested in the region throughout 2015, according to an Accenture analysis. China tops the region, with total investment of $9 billion, while India comes next with $339 million. Investments in the Asia-Pacific eclipsed North America, which, as of July 31, garnered $4.58 billion in FinTech; Europe attracted $1.85 billion.
Paytm, India's largest mobile payments and commerce platform, which started with online mobile recharge and bill payments, has an online marketplace today with more than 140 million registered users and more than 70 million monthly transactions. It will soon open a brick-and-motor banking institution in India as early as next year and it was granted a payment bank license last year. The move only goes to show how the digital payment industry will dominate the banking and financial sector.
Most credit card, debit card and payment-facilitating companies are gradually transforming themselves into technology companies – something that will change the way financial services and transactions take place. Card networks are expected to change their role as innovators, given the fact that consumers deal with other third parties besides banks and merchants.
MasterCard recently announced plans to launch an Artificial Intelligence bot platform that will enable consumers to transact, manage finances, conduct business and buy products via social media messenger applications.
There are now different touchpoints between the consumer, merchant and issuer. It's no longer just a card and a merchant's point of sale. One of those places is within messaging platforms via chatbots.
MasterCard's chatbot efforts are in pilot phase at the moment, but the -company has partnered with Kasisto, a start-up that develops virtual assistants and Smart bots for financial services and is a current participant in the MasterCard Start Path global program.
Kasisto will build a custom MasterCard bot powered by its MyKAI platform, which banks integrate into their existing bank app to enable engagement with its customers using supported messaging platforms such as Facebook Messenger, Slack and SMS, according to a press release about the announcement.
MasterCard's work with chatbots is one way the company – as well as the other networks – has opened its system to third parties over the years.
Similarly, Visa and Intel announced a partnership to create a more secure payment process for IoT devices. In a related announcement, Visa opened its tokenization services to third-party partners.
The move is intended to help companies more easily add secure digital payment services on any device.
Aaron Klein, Fellow of Economic Studies and Policy Director, Initiative on Business and Public Policy at Brookings Institution, says, " FinTech has the promise to offer basic financial services far more cheaply to lower-income families, who currently pay more for basic financial services than middle-class and wealthy Americans. This is in large part because the technology of Smartphones is powerful and ubiquitous."
Since the dawn of paper checks, banks had to produce physical paper checks in order to clear them. Paper checks were thus flown all over the United States to a network of more than 30 check-processing centers run by the Fed as well as other private check-clearing houses.
The system worked around the clock, with most processing centers humming during the graveyard shift. Moving and processing more than 40 billion checks written in 2000 cost in excess of $1 billion in the United States. But, Klein explained, while this method used 1960s-era technology and was horridly inefficient, it worked.
According to the Federal Reserve, more than three out of four Americans have Smartphones and Smartphone ownership is far more correlated to age than to income. Smartphone app-based FinTech is one of the few avenues to provide financial services in a format where access is not correlated to income.
"In fact, minorities were more likely than whites to have used mobile banking over the past year, proof that financial technology can break down the past barriers to access," Klein notes. The US Federal Reserve sent Congress a legislative proposal that would effectively allow banks to take a picture of a check and email the digital image for clearing. Consumers would have access to the digital image, and a variety of other rights were updated to account for the fact that the paper check was going to disappear.
FinTech is on its way and, as Uber, Airbnb, and Pokémon Go have shown, when it arrives, it can arrive at lightning speed, Klein explains. He says: "Smartphones possess all of the technology necessary to replace credit and debit cards, checks, loyalty cards and, increasingly, credit underwriting."
"The ubiquity of technology, coupled with human ingenuity and amplified with investment capital, is likely to produce rapid changes in finance, reordering daily aspects of life and business," he adds.
FinTech has the capacity to improve the speed, efficiency and experience of a wide range of aspects of daily life – from eating out to hailing a cab to simply making ends meet. An improved payment system, a faster velocity of currency and a reduced number of frictions can save time and money.
Eliminating paper receipts, moving through stores without waiting in line at the register, and sending and receiving funds in real time will improve the quality of life and reduce costs. Businesses will operate better both at the cash register and in the back room, with sped-up payment and order flows, and more information for managers to make decisions.
"How firms adapt to FinTech may make the difference between winners and losers in the 21st century. Advances in financial technology could be the next wave we need to restart our cycle of productivity and growth," Klein concludes.