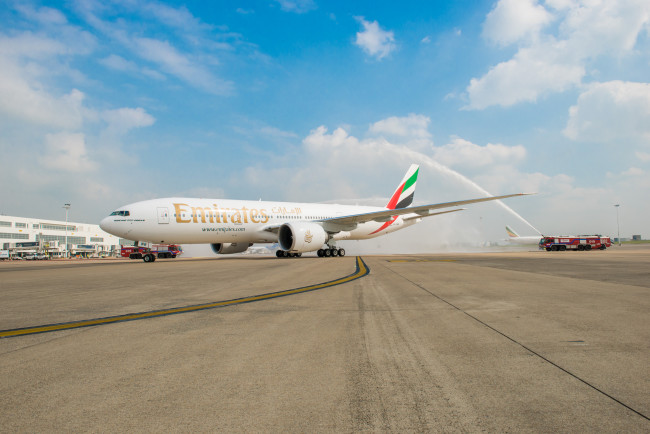 1.    The group records its second highest profit ever at AED5.5 billion, up 34 percent from last year and on a revenue of AED96.5bn, an increase of ten percent over last year.
2.    The group grows its cash balance to AED20.0bn. The cash balance of dnata at AED3.1bn was the highest ever recorded.
3.    The rise of the US dollar costs the group's bottom line AED1.5bn, while the 80-day disruption at Dubai International Airport (DXB) had an estimated impact of AED1.7bn on the group's revenue.
4.    In 2014-15, the group collectively invested more than AED20.2bn in new aircraft and equipment, facilities, technologies and staff initiatives.
5.    The group's employee base across its 80 odd subsidiaries and companies increased by 11 percent to exceed 84,000
6.    The group declared a dividend of AED2.6bn to the Investment Corporation of Dubai.
EMIRATES AIRLINE
7.    Emirates' total passenger and cargo capacity crossed the 50bn ATKM (Available Tonne Kilometers) mark to 50.8bn ATKMs at the end of the financial year. The airline increased capacity by 4.0bn ATKM.
8.    The airline received 24 new aircraft during the year, including 12 A380s, ten Boeing 777-300ERs and two Boeing 777Fs, bringing its total fleet count to 231.
9.    The airline's revenue reached AED88.8bn, while it posted a profit of AED4.6bn, an increase of 40 percent over last year's results and a profit margin of 5.1 percent, the strongest since 2010-11.
10. Emirates' fuel bill decreased by seven percent over the past year to AED28.7bn. Fuel is now 35 percent of operating costs, down by four percent compared with last year.
11. The airline carried 49.3 million passengers, up 11 percent from last year and managed to achieve a Passenger Seat Factor of 79.6 percent, an improvement compared with last year's results (79.4 percent), despite a nine-percent increase in seat capacity by Available Seat Kilometers (ASKMs).
12.  The airline raised a total of AED18.7bn to fund its expansion plans.
13.  No region contributed to more than 30 percent of the overall revenues, balancing risks for the airline. Europe was the highest revenue-contributing region with AED25.2bn, up seven percent from 2013-14. The highest growth with 20 percent was recorded for the Americas at AED11bn. Gulf and Middle East revenue increased by four percent to AED8.6bn and Emirates saw strong revenue increases from West Asia and the Indian Ocean (up by 11 percent to AED9.2bn) and Africa with AED8.1bn ($2.2bn) in revenue, up by five percent.
14. Emirates invested more than AED73 million last year to equip its fleet with free Wi-Fi. By March 31, 2015, 107 of its A380 and Boeing 777 aircraft offered Wi-Fi services.
15. Looking forward to 2015-16, Emirates has announced two new routes including Denpasar and Orlando. In 2014, it launched five new passenger destinations: Abuja, Brussels, Budapest, Chicago and Oslo, as well as four new additional freighter-only destinations: Atlanta, Basel, Mexico City and Ouagadougou.