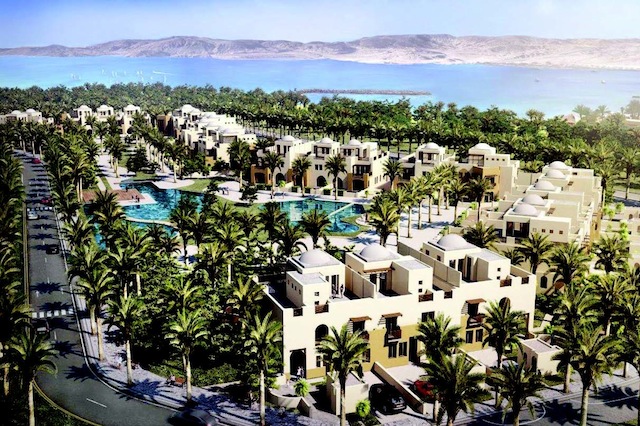 Eagle Hills is apparently managing the biggest project portfolio in Jordan. What is the market potential that you see there?
We are managing actual projects on the ground worth $2.4 billion. We have four projects and they are all built-up: two in Amman and two in Aqaba. For the projects in Amman, the first is the St Regis. The branded residencies are more than 90 percent sold. The other project is the W Hotel. It is built and consists of 37 floors. We did not put that out to the market yet, although there is good interest.
In Aqaba, we have two projects. One is on display: Saraya Aqaba. It has 866 units for sale between 50 meters of studios, up to 250 meters as villas. We have four hotels – two will be run by Starwood and two by Jumeirah. And we will have the first luxury hotel by Starwood, operational in the first quarter of next year. The complex has a conference center, it has a souq, a commercial park, a beach club, a water park… It is a fully functional entity and it is a gated community.
Another one on display is a project that has 450 units, called Raha Village. It is part of the Marsa Zayed big master-plan land. This project is a $10 billion project, but the government was delayed in giving us the land, because they are building a new port. It is an all-port location. This project is already on the market. It is more affordable in terms of a first home in Aqaba.
These are all mixed developments.
Yes.
What is driving this growth?
At the end of the day, Jordan is a safe and secure country. We have influxes of a lot of expats and visitors in Jordan – whether Palestinians, Iraqis, Syrians or Lebanese – over the years. Aqaba has an open-sky airport and a very favorable taxation system. It is a free zone area.
We did a consensus recently and Amman alone has 4.4 million people now. Jordan has 9.5 million. So, the market is good. We are hopeful. It is a tough market, but we have very good potential in Jordan.
How does the Jordan market compare with that in the GCC?
I think it is enjoying a good breather now, given the problems in the region. Our main tourists are from the Gulf, especially in the summer season.
Many used to go to Syria, Lebanon, Turkey and Egypt, but, with the problems around us now, I think Jordan is one of the preferred destinations.
Jordan has benefited from this.
Yes, I have to say that. That is why we are trying to vary the products; we have to make it more of a family destination, whether in Amman or any of the governorates. And I think we are doing well in that direction. The government is also trying to ease regulations to allow more for ownership.
There is freehold. 
For Arab nationals, we do not have a problem. It is freehold and it is just a straight approval from the authorities.
What about other nationalities?
If it is a foreign European national, we have to get another level of approval. We do have Europeans and Americans who own house – but it is very easy to get approvals.
Are there indications that the rules will become more relaxed?
Yes, I think the Jordanian government is always revisiting which nationals we would like to have.
Do you think the GCC market is saturated and investors are looking elsewhere?
I think our best partners are from the Gulf, in terms of investment in general.
But is the real estate market saturated in the GCC because there is a shift now to markets outside the GCC?
There is a market and connectivity is also there – we have maybe six flights a day from Dubai, Sharjah and Abu Dhabi to Jordan. Also, we have more than 250,000 Jordanian expats in the UAE and there are more than 600,000 living in Saudi. So, they are good targets as well.
What would be the advantages for an investor in today's climate to choose Jordan over other countries in the region?
Well, it is a safe, secure country.
What more does the country offer to investors?
We have an excellent climate all year round and we have excellent relations at all levels. In addition, we also have excellent universities as well as an excellent educational system.
We have thousands of Gulf students in our universities. Now, over the past few years, we have enjoyed what is called the GCC economical aid to Jordan – $5 billion over five years. We are hoping that they will renew it this year again.
Now, we see a lot of interest from the UAE and Saudi Arabia as well. So, yes, we are hopeful and we complement each other in many ways. Jordan has always been in a strategic location, connecting all of the Gulf states to Syria, Turkey, Europe and beyond.
And we also have connections between the North African countries and West Asia. So, given the proximity and the same national political interest and stance, it really helps.
These homes you are building and selling, will there be a company to manage them for investors? What sort of support are you giving them?
Definitely. We have first homes in Aqaba and second homes could be for holidays. We are trying to finalize agreements with banks so that we can have guaranteed returns for investors as well. That would definitely be a good idea. We are also trying to give more benefits in terms of taxes and all that.
As the construction sector is cooling down in the GCC, do you think it is warming up in countries like Jordan? 
At the end of the day, Jordan is not an oil-producing country. We have our challenges and our national debt is almost 90 percent of our GDP. However, having said that, Jordan is a safe investor's market and we have a good track record in many different fields.