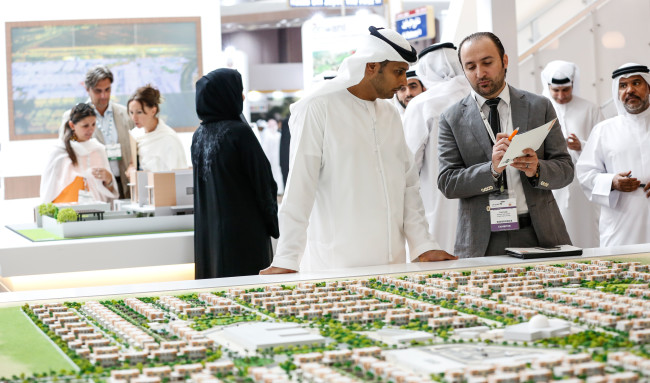 Cityscape Abu Dhabi has returned for a ninth edition, showcasing projects across 18,000sqm of exhibition space from more than 130 international and regional developers.
Despite challenging market conditions, exhibitors managed to grow the sold exhibition space by 15 percent from last year, with an expectation that more than 17,000 participants will visit the arena over three days between April 21 and 23.
All the major UAE developers registered their presence at the exhibit this year, including Aldar Properties, Wahat Al Zaweya, Tamouh, Mubadala, Bloom Properties, Masdar, Al Qudra, Eagle Hills, Tourism and Development Investment Company (TDIC) and Reem Developers, showcasing their latest projects to potential investors.
The event also had international exhibitors coming from across the globe, including the Cayman Islands, Egypt, Jordan, Lebanon, Kuwait, Latvia, Nigeria, Portugal, Serbia, Thailand, the United Kingdom and the United States.
According to CBRE, residential sales in Abu Dhabi are expected to remain relatively stable in the short term, while office space is likely to enjoy stronger demand for both occupancy and rental on the back of "limited new good-quality supply."
"However, with rising secondary office stock, the flight-to-quality trend will become increasingly evident, as rentals fall further for inferior accommodation," said Mat Green, Head of Research and Consultancy for the UAE at CBRE Middle East, in a press statement.
JLL on the other hand sees a reduction in government spending to result in muted rent increases in the capital. Speaking at the opening of Cityscape, it forecast Abu Dhabi rent increases to slow to single-digit percentage increases this year. Rents in the UAE capital rose by 11 percent last year and 17 percent in 2013, as the market bounced back from the financial downturn.
Meanwhile, the rate of growth of property prices, (25 percent) in both 2013 and 2014 is "not sustainable", according to David Dudley, Regional Director at JLL.