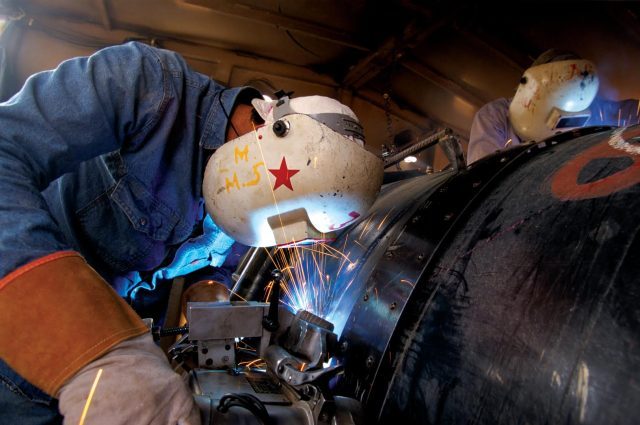 Algeria's Industry and Mines Minister, Abdesselam Bouchouareb, has announced that 2017 will be the year of subcontracting and the government will focus on boosting industrial investment to transform Algeria into an emerging country by 2019. To attract local and foreign investors, the country's new Finance Law 2017 (effective January 1) was designed to provide several advantages to investors dealing with subcontracting.
"In the context of opening [up] our economy, it is very important to bring a decline in the volume of imports over time. And this can be based on new investment and the expansion of domestic production, combined with greater industrial integration," the ministry of industry affirmed.
Some of the potential sectors that are identified include iron, steel, automotive, cement, textiles, pharmaceuticals and food products. For the country's officials, the development of these sectors will make it possible in the short and medium term to reduce or even stop imports. "All countries that have changed in size at some point have significantly increased the contribution of industry. It is therefore [important] for us to build a new industrial model specific to Algeria that fits into the trends shaping the new world industrial map," the country's industry and mining minister announced.
PPPs: Key to industrial success
Algeria is headed towards diversifying its economic fabric through the government's policy of promoting all forms of partnerships between local and foreign investors, both public and private.
The concept of partnership has proved to be a formidable accelerator in ensuring Algeria's strong position as a platform for co-production and exports, say officials from the ministry of industry.
"We are deploying new means to create a competitive environment for Algerian and foreign investors," Bouchouareb explains. "The approach is to act with voluntarism and simultaneity on several levels. The main thing is to build our industrial fabric around the productive sectors by stimulating intra- and inter-industry alliances likely to provoke good returns with high added values. This is what we call the Chain Policy. This will have a multiplier effect of creation of activity, jobs and values."
In 2016, a total of 30 new incentive measures were introduced to promote the country's industrial sector. This is the first time that such a major reform process is being conducted in a one-year period, the ministry argues, adding that this process of economic orientation meets the country's new constitution.
Industrial diversification
The government's new approach has facilitated the completion of several projects, such as the new textile integrated complex in Relizane, west of Algiers.
Also, Algerian authorities have recently inked a pact regarding the establishment of a Volkswagen factory and aim to fulfil the national demand for cement through the local industry.
"This is the first time the local demand has been met, as several cement plants were [set up] in the provinces of Mascara, Bechar and Adrar," the ministry stated.
Plans have also been initiated to rebuild sectors that have experienced a total collapse in the past. This is the case for the textile industry, which now shows an outstanding increase of interest, along with rising investments.
The Algerian-Turkish partnership is structuring the whole sector with the realization of an integrated spectrum of eight factories in Relizane.
In the textile sector, Algeria will soon become an exporter, as 60 percent of its production is exclusively dedicated for this purpose. The country has also signed a partnership with Turkey to produce textiles. Notably, all of the country's mines will be reopened by 2018, the ministry says. The valorization of mining production offers the possibility of increasing its value up to $8 billion by 2021. Authorities are confident that this would open up new prospects of consequent exports.
The exploitation of mineral resources, according to the authorities, will enable the extraction of minerals worth $500 million in a very short span of time. This will be done through the opening of new mines, such as one in Bled El Hadba for phosphate, manganese in Guetara, baryta in Draissa and bentonite in Tlemçen.
All-inclusive reforms
Algeria has embarked on a series of reforms. Some of these include the loosening of land constraints; the rationalization of the investment incentive system and its reorientation toward the sectors that are most useful to the economy; the development of tools to ensure the quality and competitiveness of production, support and development of SMEs; the development of human capital through the creation of a large school of industry business; the improvement of the business environment through several measures of simplification and facilitation of business start-up procedures.
"We have revamped the framework texts related to investment, competitiveness and SMEs," the Algerian ministry of industry indicated. "As part of the diversification process of the local industry," says the ministry, "the development of these various sectors will make it possible to move from the simple supplier of crude oil to that of producer and exporter of processed goods."
In the mechanical segment, various projects carried out recently have allowed an increase in production capacity and an enlargement of the range of products.
Priority streams have been identified. These include steel and metallurgy, hydraulic binders, electrical and electrical appliances, mechanics, automotive and aeronautics, industrial chemistry and pharmacy, shipbuilding and repair, agro-industry, THC (textile-clothing-leather), wood and furniture.
"Today, investors have this visibility and all [of these] activities are pools of opportunities," says Bouchouareb.
At the end of 2016, says a ministry official, they had finalized the modernization of the regulatory framework for investment policy (new investment code), competitiveness (new laws on standardization and metrology) and support for SMEs.
In fact, a new investment promotion law, which is more stable, transparent and coherent, has just been adopted. It guarantees rights to investors and promotes foreign direct investments (FDI) as part of the country's diversification policy.
"Algeria has opted for an open economy and all foreign investors are welcome," industry authorities say, as they believe in the positive impact of FDI on the domestic industries.
For Algeria, the ministry says, this impact can take place in two stages. The first is the immediate effect on the import substitution process, while the second one is a long-term structuring effect for local firms.
Strengthening industry and employment
In the steel industry, Algeria will achieve self-sufficiency by 2018. The country has expressed its willingness to develop this area of activity, particularly by strengthening existing factories and establishing new ones.
"Algeria will reach, by the first semester of 2018, a self-sufficiency (level) in terms of steel industry with the initiation of the plant in Jijel," Bouchouareb announced in early January.
Meanwhile, the steel plant of Tosyali is set to create more than 4,000 jobs in the country. This number is expected to surge, authorities in charge of the industry say, as there are many other projects under way within this plant.
Bouchouareb also stressed that Algeria will soon start a project involving the mining of phosphate, in association with various partnerships. "With these multiple structuring projects in the industry and mining areas, the import bill for industrial products will be reduced, in line with
government guidelines," he pointed out.
The Algerian-Qatari steel complex of Bellara is expected to produce 2.5 million tons of concrete and steel in the coming days, while generating more than 1,500 direct new jobs.
This, together with production from the El Hadjar plant, can cover all of the domestic demand of concrete and steel; and there would also be a good scope for the export of these products.
Savings on imports
Restrictions imposed last year by the government on the import of vehicles, cement and concrete have allowed Algeria to save up to $6 billion. Indeed, as a result of this policy, vehicle imports fell by 91 percent in 2016. Authorities are optimistic that, with respect to the automotive industry, many new projects will see the light in the coming months. By April this year, the Volkswagen factory, in addition to that of Renault and Hyundai, will be producing between 30,000 to 40,000
vehicles annually.
An integration rate of 40 percent domestically would represent the minimum to make the mechanical industry in Algeria profitable, says Adel Bensaci, who is the head of the country's newly created automotive forum.
"This is a more or less achievable objective for the next five years," Bensaci argued, explaining: "We import 99 percent of our needs in terms of spare parts and this market must be recovered by domestic subcontractors."
Silver lining
Besides, as part of the government policy, five new manufacturing projects have been launched: the foundry (30,000 tons/year), road equipment (500 models/year), hydrocarbon valves (4,000 units/year), drilling equipment and tools (six models) and turbines (100 units/year).
During a recent meeting in Paris, dedicated to Algerian-French cooperation, economist Alexandre Kateb, advisor to Algerian Prime Minister Abdelmalek Sellal, sounded confident while saying: "There is a new generation of entrepreneurs in Algeria who are eager to integrate technologies and know-how into a concrete dynamic of cooperation between Algeria and France."
Economists believe that Algeria, the biggest African country, is all set to be a new provider of industrial products to Europe in the future. According to Jean-Louis Guigou, head of the Mediterranean World Economic Foresight Institute, Algeria will become an unavoidable interface between Europe and Africa.
"North Africa and, more specifically, Algeria will be a major industrial area for Europe, particularly in the automotive industry," said Guigou.
Enthused by strong government will, a vibrant entrepreneurial ecosystem and a series of new projects, Algeria stands on the verge of a fresh wave of industrial revolution in the months ahead.