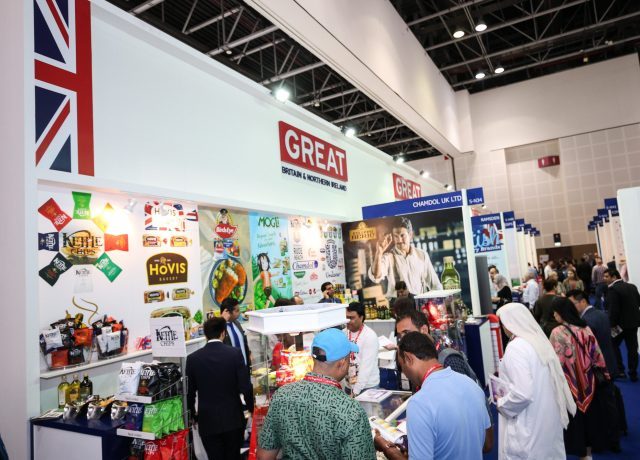 The British contingent at 'World Food' at the 22nd Gulfood exhibition running until March 2 at Dubai World Trade Centre (DWTC) – says recent fall-offs in the value of sterling leave them poised for a bumper event.
Multi-national British product agency nasco, says it's expecting the best show in its five-year participation with benefits of the cheaper pound already filtering through.
"Our business in January has already shown a 30-40 percent pick up on last year," said Ashish Vidani, Director, nasco. "The lower value of the pound is encouraging people to look to buy British and buy more – this could well be our best show yet."
Vidani's bullish prediction is echoed by Birmingham's Food State International, which is representing an expanded products and brands range, including its new proprietary London Flavours crisp and snack range.
"The lower sterling value is definitely helping," said Lisa Burrows, Project & Marketing Manager. "Our business in this region is growing, it is really successful for us and we are looking to expand into the Far East through a contact we made here at Gulfood last year. So, yes, the value of the pound is helping, but it's not the only consideration, it's a dynamic market which constantly demands new product."
Lancashire's Yearly Food Sales, which represents a range of British brands and is using the show for the regional launch of Crescent Halal Pies and Pasties, says the pound's reduced value against the dollar is sparking increased interest in UK products. "The interest is there, its up to us to take advantage of it and turn it into business," said David Caine, Export Manager.
But the Brits are not pinning all their hopes on exchange rate fluctuations and say the Middle East market is changing with increasing demand for Halal ranges and more health-related products.
"We are now looking at bringing more health-related products into the market," adds Caine. "It's a market you can't afford to stand still in but which is still performing well for us, particularly demand from Bahrain, Saudi Arabia and the UAE."