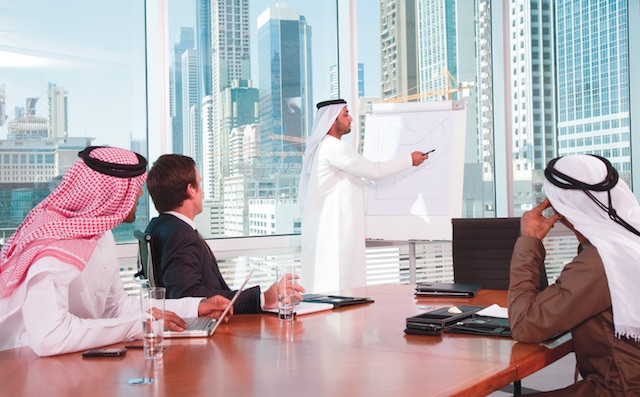 In his book, Leadership Dubai Style, author Tommy Weir recounts an incident when Sheikh Mohammed bin Rashid Al Maktoum, Vice-President and Prime Minister of the UAE and Ruler of Dubai, once called on the chief executive of Jumeirah Group in the middle of the night to inspect the lighting in the ballroom at Jumeirah Beach Hotel.
"It was 1am and a voice came on the line. It said: 'Speak to His Highness.' Sheikh Mohammed came on the line. 'How good are the lights in the new ballroom at Jumeirah Beach Hotel?' he asked," Gerald Lawless recalled.
"We [have] invested significantly to make sure we have the best possible lights," Lawless promptly replied. "Great, I'll meet you there in 20 minutes," responded Sheikh Mohammed.
Strolling in at 2am to find Lawless, who had reached there barely two minutes earlier, Sheikh Mohammed chuckled. "Wasn't it nice of me to let you sleep a few extra minutes? Now show me those lights."
Apparently, after walking up onto the stage, Sheikh Mohammed inspected the lights and checked with his entourage to see how they looked. Then he walked back over to Lawless, and quipped: "We are going to look great tomorrow when CNN is here. Thanks and have a good night."
While some may call this micro-managing or micro-monitoring, others see it differently, because Sheikh Mohammed neither told Lawless how to do his job nor did he do it for him. However, he wanted to make sure that Lawless, Jumeirah and, of course, Dubai came out in a good light, looking the best they could the next day. By personally showing up in the middle night and inspecting the lighting himself, he simply removed any margin of error.
It is because of this attention to detail, gritty determination and steely resolve to keep bettering itself that Dubai is what is today: a role model for the region.
If Dubai were a publicly listed company, the credit for its success would no doubt go to its CEO, Sheikh Mohammed. For he is not only a leader who leads and shows the way, but one who also helps draw the road map and pave the way to get there.
Today, in these turbulent times, it all bottles down to leadership. Business heads could do well to take a leaf out of the books of leaders such as Sheikh Mohammed to see what it takes to grow, against all odds, from a fishing village to an international metropolis in barely a few decades.
As the era of abundance is clearly over and growth in the GCC plummets to low single digits, entrepreneurs need to come to terms with the 'New Normal' and reshape the way businesses are done.
To put it bluntly, now more than ever, they need to take the bull by the horns and prove their mettle. After all, when the going gets tough, the tough get going.
The New Normal
The GCC market was always perceived as easy; a region where demand was high. That is no longer the case. Today, the situation has changed. As the GCC enters a new phase of maturity, knowledge, seriousness and more rigorous governance, businesses need to act smartly, increase investments, work harder and expect lower incomes.
"The market has been growing historically in this region over the past ten years, at a rate of roughly 12 percent, twice as high as the global market," Cyrille Fabre, partner, Bain & Co., told TRENDS. "And suddenly, the growth stops. That is one macroeconomic change. But fundamentally, there is something else going on in the market. It is maturing. The market has changed. People say it will be back in two years. But no, it will not be back. What we have seen in the past ten years is phenomenal. What we are going to see in the next five years is different. But I think there will still be growth. This is a market with a lot of potential and we have tremendous wealth that is not going to go away. But it is not going to be the double-digit growth of the past. It will be a single-digit growth, with a lot more attention on operation details."
"We live in a region that operates with a top-down driven economy and it is quite clear that most governments in the region are slashing expenditure and insisting on structural reforms within most government ministries and companies," said Sean Evers, managing partner, Gulf Intelligence. "This would appear to be a genuine initiative on this occasion of a lower oil-price cycle and not just empty slogans. As a result, all private companies would be wise to follow suit and also reform their operational posture, so that they are competent and competitive in a world where margins will be much tighter going forward," he told TRENDS. 
"We are in a very competitive market," added Patrick Chalhoub, co-CEO of Chalhoub Group. "When the market grows very much, each takes their share," he told TRENDS. "But when the market stops growing or grows slowly, each tries to eat the other and take meaningful action to take some share from the others. In these turbulent times, my advice is: be prepared to change."
While some say this New Normal is a period of crisis, others insist it is a time for transition, during which the government and the private and public sectors will need to invest more, expect fewer results and adapt to the new market realities. Whatever be the case, one thing is certain: what the region is experiencing now is not a temporary blip on the radar.
"The region is in the middle of two dramatic demographic transitions that will happen within the time scale of the planning horizon for most business investments," explained Miguel Lobo, associate professor of Decision Sciences and director of the Middle East campus of INSEAD in Abu Dhabi. "The first is the rapidly decreasing birth rates and the move to smaller families," he told TRENDS. "The second is the rapid population growth that will still be ongoing for the next couple of decades, with a very large cohort of young people entering the workforce. These young people are better educated than ever and will be sophisticated consumers looking for jobs in the private sector. You can't survive without managing the short term, but you cannot prosper either without building for the long term."
Resetting businesses
As companies around the region are pressing the 'reset' button, experts are busy trying to better understand the underlying forces that are reshaping businesses in general and are trying to find ways to navigate these choppy waters.
"Business leaders are thinking about how to make companies successful," Fabre said. "This is what we have learned from 2008 and 2009. And now, it is about profound change, because, in 2008, the market never went as down as [it has] now and it was less mature at that time. There was more potential for a quick rebound. Now, the times will be slower. So, in my opinion, companies are doing a realignment and not overreacting."
He added: "As businesses are resetting, there are two things they need to do. One is to have much greater focus. Before, we were trying to do so many things, spreading our investments, many activities; no longer. Now, the company has to prioritize its portfolio of activities and decide which one it has the potential to be a leader in the market for. They have to invest disproportionately on those parts of the business where they are strong. Second, they have to be lean in times of turbulence; I can see companies restructuring. Third, the economic paradigm has changed. What they need in the future is a different set of capabilities that are more centered around operation, customers and digital. These new capabilities have to be nurtured."
"Business leaders are rapidly reacting to the new environment, rethinking operating models and shedding non-essential costs," explained Per-Ola Karlsson, partner with Strategy& (formerly Booz & Company), part of the PwC network. "Efficiency is the name of the game."  
"Out of challenging economic circumstances comes opportunity that coherent companies seize," Karlsson continued. "While many will be working hard to slash costs across the board, the winners will know that you need to be more surgical, preserving those capabilities that are at the heart of a company's strategic differentiation, while cutting even deeper in other areas to free up required funding. The winners will stand better prepared to exploit market opportunities now and benefit from the growth that will inevitably return."
"There are three things businesses need to do here as they go about pressing the reset button, so to speak," David Friedman, president, Wealth-X, told TRENDS. "Number one: understand your existing data better. Look at it through the lens of capacity, not segmentation. Two: quit doing hope marketing, which is [conducting] events and inviting people who don't care about those events. Find out what people really care about and build events and experiences around that. Three: stop sending every piece of content to every one of your clients. Figure out what works with each client and send the right content that shows the client you know who he or she is."
Realigning strategy
"No one is exempt from the 'New Normal'," Afshin Molavi, Senior Fellow at The Johns Hopkins School of Advanced International Studies, The Foreign Policy Institute, told TRENDS. "These are times for the strongest businesses to use some of the muscles they've built in good times – strong balance sheets, lean operations and highly attuned customer relationships. For weaker businesses, it's a time to make some necessary adjustments in vision and direction, not simply to reflexively cut costs and make jobs redundant. Businesses should constantly ask themselves: is my vision large enough?"
"I would stress that the region's (and the international) business community needs to only look at its own experiences in the recent past and not lose hope due to the existing political volatility in the region," Alex Vatanka, Senior Fellow, Middle East Institute, The Jamestown Foundation, opined. "Despite today's problems, the Middle East is demographically a young region, where demand for anything from education to services to consumer goods will remain high for years to come, given the scope for expansion," he told TRENDS. "And with the right ideas and business acumen it can be done."
Vatanka added: "Who in 1985, when Emirates airline was launched during the Iran-Iraq War, would have forecast that, by 2016, Dubai airport would be the busiest in the world and a true global hub? Who then would have forecast that Qatar would have the highest GDP per capita in the world? And there are many other success stories such as this, which is the reason why we should remain optimistic about the long-term economic prospects of the Middle East."
"Many companies in the region have not previously spent enough time on crafting clear and coherent strategies, nor on articulating the capabilities required to implement them with success," Karlsson said. "For many, this is a time when this is more essential than ever. Only when you have a well-formulated strategy will you know which costs are required to safeguard key capabilities and which investments are necessary to strengthen competitiveness."
Companies around the world are trying to develop strategies that will keep them competitive in an increasingly complex global marketplace and those in the GCC are no exception. The key, however, is not just to come up with a good strategy, but, in effect, to see how well it is executed.
"Companies that have articulated a coherent strategy, one that is aligned across its value proposition to the market, the products and services it offers and, most importantly, the three to six capabilities that underlie its differentiated way to compete, are in a much better position to manage the downturn and even strengthen their relative position," said Fabre. "A coherent strategy simplifies many of the often-difficult choices and decisions around the business portfolio, investment opportunities and cost restructuring. Hard choices become obvious choices and the speed at which companies rebound shortens materially."
"The 2008 financial crisis left companies with weak balance sheets and severe difficulties to refinance debt," he continued. "Many have learned painful lessons from this time and go into this period more robustly capitalized and better prepared. They now recognize that cash flows and balance sheets are more important than P&L statements to weather difficult times."
Putting people first
"People are the center of absolutely everything, including politics and economics. Not money, not power, but people," Khalid Abdulla-Janahi, chairman of Naseej and Solidarity Group, told TRENDS. "Successes and failures can only be realized by people and this is as true in business as it is in any other sphere of life. A fair, level playing field, where everyone is given the same, equal opportunities, where success is rewarded with greater opportunities and where everyone, regardless of status, is held accountable creates a people-centric environment where merit-based communities can develop and prosper. Building such communities, protecting them and helping them grow is, in my opinion, the only sustainable way to address the growing economic and political challenges we face."
"We also need to allow for the unprecedented social disruption and the massive cultural shock that is necessary for people in our region to start thinking critically. We need to incentivize people to innovate, to take calculated risks and to help drive economic growth – and, to do so, we need to empower them to adjust to the new realities," he added. "Failure to focus our efforts on people will result in temporary, quick-fix solutions that try to address long-term challenges. This is dangerously short sighted; instead, businesses should, perhaps, focus on creating a culture of meritocracy within their organizations."
"Organizations in the region are trying to play a bit of a balancing act when it comes to human capital at the moment – balancing financial spend with a need to engage and retain key talent," added Mina Morris, associate partner at Aon Hewitt Middle East. "On one hand, there is a requirement to curtail non-essential spending, and we see organizations working hard to rationalize human capital budgets, justifying costs against key business drivers," he told TRENDS. "On the other hand, and equally importantly, organizations understand the need to drive high performance of key individuals and teams if they want to succeed during any period of turmoil. Many organizations are implementing innovative, flexible strategies, often low-cost, to engage with talent. All in all, the shift being made in the context of the 'New Normal' is making businesses look at the employee experience in a more holistic manner, ensuring that resources are spent in a more targeted way to achieve the biggest 'bang for their buck'."
"Coming to terms with uncertainty doesn't have to mean paralysis or downsizing, it often should lead in the opposite direction," added Lobo. "Should you invest more in contingency planning? And are you thinking carefully enough about option value? More uncertainty often means more option value. Capacity has a higher option value when uncertainty is high. But, beyond this, make sure you plan not just according to the near-term risks and for the cash flow over the next year, or even the next quarter, but also for the next five, ten, even 20 years."
"My advice to businesses is to invest in their people and in their talent, and empower them," summed up Chalhoub. "Human resources are absolutely key at all levels and all functions; we need to nurture talent, motivate them and train them."
Digital world
"What is happening is a transformation of the business," Samer Bohsali, partner, Strategy&, and the leader of the firm's digital business and technology practice in the Middle East, told TRENDS. "That is why we keep saying to firms: you should not be developing a digital strategy; you should develop a business strategy for the digital world. You have to do what Burberry and Gucci did and hire the right people even at the board level. You have to have a couple of geeks there, even at the CEO level, if you can, to understand the digital space and think about the whole value chain, not just the site and the e-commerce."
He added: "Globally, digital has been disrupting, but the level of disruption obviously changes. You see the biggest impact in publishing, insurance and banking; less so in construction. But, even in construction, you are seeing it soon. It is not just about the app. Digital is about sensors and printers, too. So, it is a step in the new world. Moving forward, you can think of digital in two ways: either a win in your overall strategy, or a new way of doing business that will get you more market share much more efficiently. We would like to think that you can do the latter because then you can go against the tide and grow. It requires a bit of investment, though, not just in technology, but mostly in people and a change in the mindset."
"The potential of e-commerce is high," Chalhoub explained. "Our customers are clearly omni-channel: checking [the products] online, buying [them] in stores or browsing in stores and going home to buy online."
"The reason the online space is less developed in this region than other parts of the world is due to a lack of offering from the retailers," Fabre added. "It is not about demand, but about supply. However, I believe supply is coming."
By all accounts, there are several things that entrepreneurs need to factor in while 'resetting' their businesses. But, when it comes strategies, the problem is that there is no one-size-fits-all formula that can be applied across the board. It is a fact that businesses need to accept as they press the reset button; it is a challenge they have to learn to face and master.
How companies effectively manage to balance and cut costs to survive today, while, at the same time, ensuring they do not lose sight of the bigger picture by investing wisely to grow tomorrow will decide whether they ride out the storm or wilt and blur into oblivion.
Remember, Nokia, Blackberry and Kodak – three of the biggest players in their respective segments – faded away because they were not quick enough to change, while companies such as Apple, Starbucks and Natura have remained successful due to their differentiating. While the going is anything but easy today, it is also worth remembering that most highly successful companies were started during lean periods and not during boom times. After all, it is only when the going gets tough that the tough get the chance to show the world the stuff they are made of.