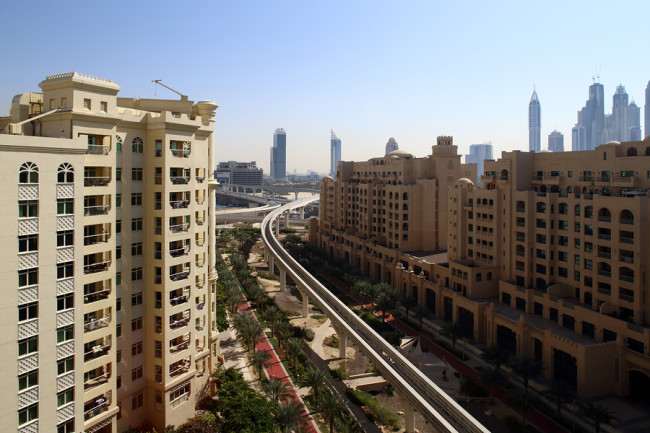 Danube Properties is the latest developer to join the ongoing market shift towards offering affordable housing in the emirate of Dubai.
Danube, the leading regional building materials provider, branched out, creating a development arm, which was first inaugurated with a focus on luxurious townhouses, seen through its first project, "DREAMZ". But it was not long before it shifted its focus to urban-living affordable apartment complexes, featuring modern designs and numerous retail and community facilities, through its project, Glitz Residences by Danube.
Glitz Residence 3 by Danube, the latest addition to the series, was announced by the group's founder and chairman, Rizwan Sajan, on Monday.
The AED400-million project will be located in Dubai Studio City, on the outskirts of Dubai, but in proximity to the Expo 2020 location. It comprises 352 units of one-, two- and three-bedroom apartments, spread across two buildings.
Glitz Residence 3 is the fourth property announced by the brand within a year. It was launched in response to investors' demand to fill the increasing need for residential apartments in the emirate, according to the brand.
"This project definitely falls under the 'affordable luxury' segment', because, at an affordable price, we want to offer the investor a good quality product," Sajan said in an exclusive interview on the sidelines of the launch.
Like other property developers, many of which are currently focused on offering similar so-called "affordable luxury" projects, Sajan is forecasting an increasingly positive sentiment around the Dubai property market, especially in the lead up to Expo 2020.
"We don't know when the market will start to pick up, because market sentiment is driven by a lot of elements and, when the market starts to pick up, we will see a big growth in the next few years," Sajan said.
"The property market is good; I think you should invest… Dubai [properties are] one-third of [the] prices compared to Singapore, Hong Kong, London and Mumbai – and with the infrastructure, safety and other attractions Dubai is available to offer, with no taxation policy, this is the right time to invest in Dubai," he added.
With a completion date expected to occur sometime during the second half of 2017, the prices of the apartments, now offered for sale, start from 475,000 AED. After a 10 percent down payment, buyers can pay only one percent per month, a popular payment feature previously offered by the property company. Danube's previous projects, Glitz 1 and Glitz 2, had been entirely sold out.