The demand for bespoke luxury vehicles continues to rise in 2013 according to AGMC, the authorized dealer of Rolls-Royce Motor Cars in Dubai, Sharjah and the Northern Emirates.
The Bespoke Programme is a service offered to Rolls-Royce clients whereby the client may specify features of the car, in order to create their own unique model. The Bespoke team at Goodwood, home of Rolls-Royce Motor Cars, is dedicated to finding new paints, materials and engineering solutions that meet each client's demands to ensure he receives a truly unique and exceptional car.
Commenting on the bespoke program, Mohammed EL-Arishy, Rolls-Royce Brand Manager at AGMC, said: "The ability to personalize one's vehicle has always been at the heart of Rolls-Royce. The Bespoke program enables customers to tailor their vehicle to a unique design that suits their individual style by using a range of premium materials, paints and interior trims. In doing so, we help cater to the ever growing customer-base demanding a combination of luxury and unique customization."
AGMC has recently welcomed three new bespoke Rolls-Royce Ghost models to their Sheikh Zayed and Sharjah showrooms. The first of these is an antique gold colored masterpiece themed 'Dubai City of Gold'. The second vehicle is a follow up on the first edition of the '1001 Nights' featuring a two-tone exterior and interior of 'Madeira Red' and 'Deep Garnet'. The new arrivals are topped off with a special two-tone Ghost boasting an elegant combination of 'Smoky Quartz' and 'Silver Sand'.
EL-Arishy added, "Our clients in Dubai and in the Northern Emirates appreciate unique and limited edition vehicles, so we always maintain a selection of Rolls-Royce Motor Cars that appeal to their individual style.  A Bespoke color can really make the vehicle stand out on the roads of the UAE, and gives the vehicle a personality."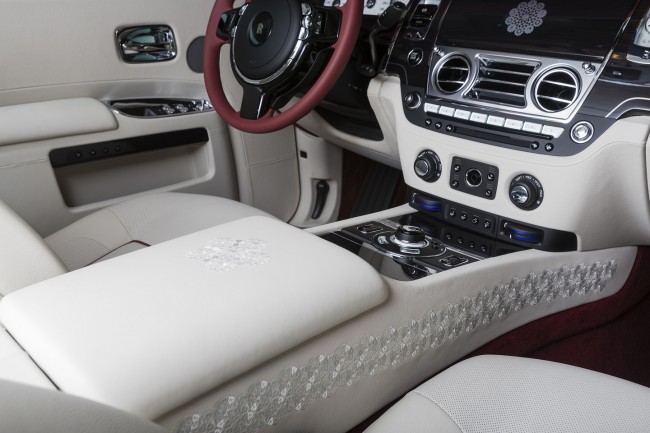 The Rolls-Royce bespoke offering, which includes anything from the application of unique paint colors, coach lines and tread plates to whole vehicle designs featuring beverage sets, humidors and picnic cabinets, transforms the brand's super-luxury cars into unique hand-crafted masterpieces which are as individual as their owner's fingerprints.
The arrival of the new vehicles comes hot on the heels of AGMC announcing double-digit growth of 14% in the first half of 2013 compared to the same period last year. In addition, AGMC recently welcomed the third member of the Rolls-Royce family, the Rolls-Royce Wraith.  Launching from the outset with a bespoke offering, the most powerful and technologically advanced Rolls-Royce in history, and is expected to take the UAE by storm when it hits the showrooms in the fourth quarter of this year.