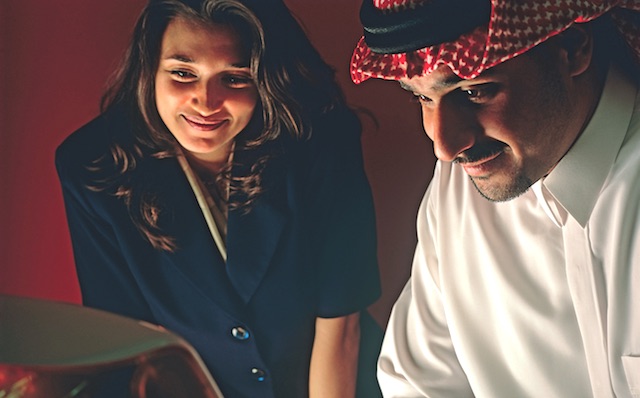 For Saudi Arabia, the UAE and Qatar, the Digital Density Index provides an assessment of their digital capabilities and enables their progress to be benchmarked against other economies around the world.
Each ranks relatively on the lower range of the index in a global context. Countries at the digital frontier in the index include the Netherlands, the US and Sweden, where the adoption of digital technologies across the economy is broad and deep, and the development of skills, ways of working and regulatory frameworks combine to get the most out of digital. Lower down the rankings are countries that demonstrate strengths in some areas but -shortcomings in others – like Malaysia, where digitally minded entrepreneurs benefit from a welcoming business environment but do not have access to the same quality of telecommunications infrastructure as in other countries. Needless to say, the digital density profiles of the Gulf economies are also distinct from one another. Understanding their unique characteristics is vital in shaping digital strategies and guiding digital investments to where they will add most value in each country.
Gaining digital intensity
Across the world, governments and business leaders are seeking to understand where best to focus their efforts and investment to realize the greatest improvements in gross domestic product (GDP) from digital and how best to exploit the capacity for digital transformation to help their economies grow.
Business leaders and policymakers need to invest the right amounts in the right areas. Accenture's research has shown that digitally progressive economies can realize better productivity returns by optimizing their investment across three levers – digital skills, digital technologies and digital accelerators.
For example, business leaders and policymakers may have invested heavily in smart infrastructure but neglected to upgrade skills in the workforce needed to capitalize on that Smart infrastructure. Or they may have trained a generation of computer scientists but failed to create a regulatory framework conducive to innovation.
Globally, by making smarter use of digital levers to boost productivity, Accenture's modeling shows that an additional $2 trillion of output could be generated globally by 2020.
For the Gulf economies featured in Accenture's analysis, a ten-point improvement, optimized across these three levers, could provide a considerable boost to the countries' GDPs by 2020, in excess of $50 billion, representing 3.6 -percent by 2020.
Managing digital disruption 
Even when policymakers understand the relative strengths and weaknesses of their own digital economy and the opportunities available, it can be highly challenging to take advantage of them.
Managing digital disruption is a complex and ongoing process. While the striking impact of a ten-point uplift in the digital opportunity should not be underestimated, choosing the right combination of levers to maximize that impact opens up the potential for countries to better exploit the digital opportunity – especially those disadvantaged by size.
The three levers consist of a collection of broad and specific indicators. For example, digital skills measure things like the level of ICT expertise in the workforce or how well digital facilitates remote working. Digital technologies include mobile connectivity and the economy's capacity to make use of the industrial Internet. Finally, digital accelerators are more about the enabling environment and include parameters such as Cloud usage, access to finance or the economy's
regulatory burden.
The question is: how can business leaders and policymakers most effectively deliver a ten-point increase in a way that works best for their economies?
They can do so by understanding which areas, or levers as Accenture calls them, need greatest improvement in order to maximize gains across the economy.
To provide this insight to policymakers in the Gulf Accenture allocated each country a hypothetical "budget" of ten points to invest in improvements to their digital capabilities and then modeled which combination of the three -levers is likely to have the greatest impact.
It is important to note that the ten-point optimization represents the highest rate of return from digital improvements and therefore indicates areas for priority in achieving the first ten-point uplift in a country's Digital Density score. It does not represent the full extent of improvement needed. Especially for countries like those in the Gulf, with comparably lower rankings, much more than a ten-point uplift could be sought in pursuit of economic growth. This will mean investment across all levers.
The greatest opportunities
The optimal combination of levers differs according to the local economy, its digital infrastructure and institutions, and understanding them enables each country to find new and untapped value that goes beyond the gains from maintaining "business as usual". For instance, the UAE ranks 12th out of 22 countries in Accenture's study for digital accelerators, 16th for digital technology and 17th for digital skills.
The model suggests that the optimal way to achieve a ten-point increase in the UAE would be to allocate effort or investment equivalent to five points to digital technology – in a country with almost universal Internet access but still relatively slow speeds.
A further four points are allocated to digital skills, for example, in seeking to catch up with European or Singaporean levels of ICT specialism, and one point to digital accelerators, a lever that represents a relative strength for the UAE following a concerted effort to improve the operating environment for digital enterprise in recent years.
It is important to remember that this is in a context of a low overall digital density score: all of the Gulf economies need significant investment across all three digital areas if they are to make headway in catching up with the more mature economies in digital terms. The model gives an indication of where efforts can be best focused to achieve the first ten-points worth of increase in
digital density scores.
By finding the optimum combination of these levers, high-performing economies could realize a dramatic improvement in their country's GDP growth rates. For Qatar, which ranks closer to the end of the spectrum across all three levers of digital density, using its ten-point increase to allocate two points to accelerators, five points to technology and three points to skills, could deliver the equivalent of a $7 billion addition to its GDP by 2020.
In practice, that might mean Qatari businesses making better use of digital technology to engage with customers and to collaborate with each other, the government doing more to develop an indigenous ICT services sector and skills base, and greater investment in a next-generation Internet infrastructure that would deepen levels of connectivity across the economy.
On the other hand, Saudi Arabia's immediate priorities are to step up its efforts in developing its use of digital technologies, invest more in digital skills and maintain current activities with digital accelerators. In other words, to realize the maximum gain from a ten-point improvement, the country must invest 80 percent of its extra effort in enhancing its digital technologies – for example by upgrading its communications infrastructure and making greater use of the industrial Internet – and 20 percent in boosting its digital skills – for example through more emphasis on digital skills training or new incentives for companies to engage in more innovation.
As one has seen, however, the Kingdom has made recent strides in improving the enabling environment. The effectiveness of this approach is seen in the fact that this is an area of relative strength, but it does not mean that the government can afford to take its foot off the pedal in this area.
Accenture's analysis of the opportunities in the Gulf can be viewed against our conclusions for other comparable countries. Brazil and Italy, for example, need to maintain their current investments in skills, while considerably boosting their focus on digital technologies and investing more in digital accelerators in order to maximize the productivity impact.