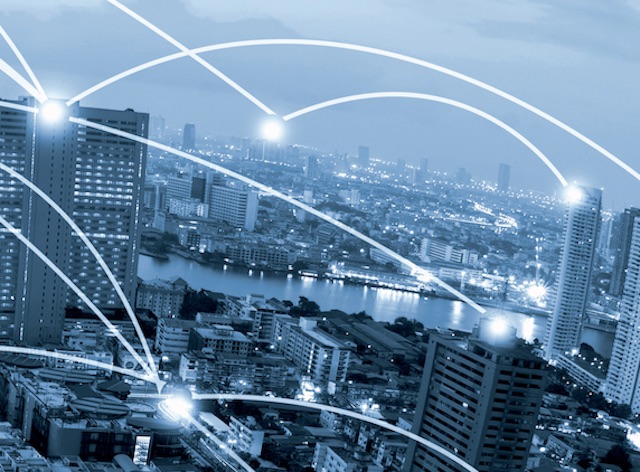 Digital technology is revamping industries around the world, but, in the GCC, it holds even greater promise to remake the public sector as well. Governments in the region can – and, in fact, must – use emerging digital technology to better serve their constituents, while also reducing costs. The region already faces unsustainably high rates of public spending on essential services. Combined with a growing population and fiscal pressures due to low oil prices, governments will need to take dramatic action to rethink how they operate. New technology is an important part of the answer.
Five areas of impact
We believe digitization has the potential to improve government operations in five areas.
The first impact is by increasing efficiency. Currently, many government processes are manual, cumbersome, and inefficient. By automating these processes, governments can make them faster and more accurate, while also reducing bureaucracy. For example, digital kiosks equipped with cameras could accept payments for government services, reducing the potential for corruption.
Security is another area ripe for potential gains in efficiency. Some governments in other parts of the world are already using sensor-embedded robots to supplement officers in areas such as airports.
The second impact of digitization is by increasing the effectiveness of government. By capturing data more widely – from citizens through mobile phones and wearable technology such as bracelets and watches, and through embedded sensors in infrastructure such as roads and buildings – policymakers can apply analytics and predictive algorithms to better understand demand and allocate resources. A good application is helping governments plan for and handle large events, such as the Hajj pilgrimage in Saudi Arabia, Expo 2020 in Dubai, or the 2022 FIFA World Cup in Qatar. By issuing sensor-equipped bracelets – along with technologies such as geolocation – the government can assess crowds, predict movements and determine how best to position police, firefighters, ambulances, and other government resources. Governments can also use these applications to respond to crises, such as floods during winter or epidemics.
The third impact is better integrating the various elements of government, so that they function as one entity. Currently, many government departments function in an isolated manner. For citizens, getting approvals can often require multiple trips to different departments. Greater integration across government – through data-sharing, government-wide platforms, digital signatures, electronic documents and similar tools – can dramatically improve the experience for constituents, offering a single digital interface.
The DubaiNow app is a good example – it provides one-stop access to more than 50 Smart services delivered by 22 different government entities. Similarly, Estonia has one of the most advanced e-government systems in the world. Each citizen has a single digital ID to securely access the entire suite of government services. Notably, Estonia also has the first paperless land registry in the world, dramatically streamlining property transactions. Meanwhile, India in 2015 launched "DigiLocker", which allows citizens to safely digitally store key documents online and provide them electronically to approved requesting agencies, such as government departments.
The fourth impact is making government more proactive. By using digital, government can shift away from a mindset of control to one of anticipating – and resolving – the needs of its citizens and business owners. For example, a state agency could send a message when a citizen's passport is within two months of expiring, along with a renewal application that is completed in advance (using information on-file with the government) and requires only a digital signature to complete. Already, the retail and hospitality industries are using data to transform the customer experience – sifting through transactions, Internet searches, and other customer data to better anticipate and meet their needs. Governments can do the same, by using artificial intelligence to create more accurate profiles of individual constituents and to personalize the catalog of services to their needs and preferences.
Finally, the fifth impact of digitization is helping governments become more innovative. Because technology changes so rapidly, it's simply not possible to upgrade platforms and systems once and rely on them for the next five years. Instead, governments will need to reinvent themselves continuously. For example, shifting to digital processes generates reams of data, a potential resource but one most governments don't use; they lack the resources to sift through it for insights and new applications.
Through open-data initiatives that give database access to the public, governments can tap the expertise of entrepreneurs, with the potential to use the information in innovative, new ways, creating businesses and jobs, and making the national economy more vibrant and dynamic. Several considerations are worth noting. One is that digitization requires capturing and analyzing far richer data on citizens and businesses. As a result, governments will need to address privacy and cyber-security issues in a way that allays any concerns among constituents.
The other consideration is that digitization can affect employment. Automation holds the potential to eliminate jobs – a particularly sensitive topic in the GCC, given the attractiveness of public-sector jobs and the region's current level of unemployment. Yet, innovation can also lead to new companies and industries that can create private-sector employment in highly promising areas, such as mobile app development, data analysis, user-interface design and cyber-security. There is no easy solution, but governments pursuing digitization need to ensure they weigh the relative costs as well as the benefits.
Given the wide range of digital solutions, tools, and applications – all advancing rapidly – government organizations need a structured, systematic approach to capitalize on them. Specifically, four steps are critical.
Start with strategy
At the outset, governments need to articulate a clear strategy for how they will use digital technology to serve constituents. The strategy should identify a set of priorities that align with the country's larger digital agenda – such as improving healthcare, fostering innovation, or revamping education. Each government's digital strategy will be unique and policymakers can only succeed if they have a clear idea of the most urgent priorities and needs of their citizens.
At first glance, it may seem as if some GCC governments need to catch up in terms of technology platforms. However, this can be an advantage, in that most countries are not bound by legacy systems. The right strategy can help countries leapfrog the traditional stages of economic development and fully adopt leading-edge digital technologies, such as Cloud computing systems, integrated digital operations (to mesh separate platforms) and advanced user interface design. In healthcare, for example, many GCC countries are looking to implement national electronic health records (EHRs), a complex and lengthy process that most governments around the world are struggling with. GCC policymakers can capitalize on the lack of an existing legacy system and design a state-of-the-art EHR platform from scratch. By focusing on the strategy first, leaders can incorporate advanced analytics, allowing physicians to tailor treatments to the needs of individual patients, emphasizing wellness and preventive medicine, thus reducing costs in the long run.
Countries can also adopt Blockchain, a new technology that uses allows agencies and healthcare providers to document and transfer health information more easily and securely. Dubai has already begun developing a digital strategy to support the emirate's broader goals of becoming a leading hub of 3D printing tech. By 2030, Dubai
aims to have one-fourth of its buildings 3D printed. Saudi Arabia and Qatar are also taking steps to develop national information and communications technology strategies.
Critically, most governments will need to develop the right governance in areas such as data-sharing and privacy, and making data open and publicly available, along with upgrading the legal and regulatory framework to handle digital information better. A robust governance model is needed to ensure investments are deployed in priority areas identified in the strategy, minimize duplications and redundant spend, and ensure the sustainability of the digital journey.
Reduce costs to free up capital
Governments will need to cut costs elsewhere to free up capital, because new digital capabilities require an investment, which is happening in an era of scarce fiscal resources. This means making difficult choices across agency operations, to find areas for potential reductions and thus unlock capital. One clear opportunity is to eliminate overlapping technology across agencies and departments. Today, many government entities buy and implement IT and platforms independently, without any coordination, leading to redundant systems and licenses. More effective procurement can eliminate these redundancies, which will save money and make the overall platform easier to manage.
Build new capabilities
Governments should reinvest the savings from these cost-cutting initiatives to build critical digital capabilities they need, based on their strategies. These are the processes, tools, knowledge, skills and organization that allow an organization to do something well. For example, a country that wants to boost local employment by creating new businesses could focus on streamlining the permit process to launch a company. This would involve building new capabilities, such as better data sharing among multiple agencies needed to approve permits, a customer-based view of the application process and a mobile-based website to reduce (or eliminate) in-person trips to get approvals.
The specific capabilities will vary according to a government's digital strategy, but most will need to get better in a few baseline areas. For example, many entities will need the capability to automate manual processes and implement tools, such as digital identities and electronic signatures. Most will need to redesign services based on the perspective of their constituents, applying a customer mindset. Most will need to interact more directly with external players, including the private sector, the social sector, and other government organizations.
Develop talent
A key element of success for governments is employee talent. Regional companies already face a shortage of employees with digital skills in information security, programming, user experience and interface design. For example, job postings for these skills on LinkedIn represent ten percent of total job postings in the GCC, higher than their seven percent share in the US. GCC countries have some education reforms in place, but they are likely not fast enough to close the digital gap. Governments will need to launch more urgent programs that focus on a narrow band of digital skills.
GCC governments face clear challenges – fiscal constraints, growing populations, and evolving economies. Digital technology can help them meet these and more. By making smart investments and thinking strategically, governments can transform themselves to reduce costs, better serve their constituents and lead their countries into the future.
Samer Bohsali is partner, Strategy& (formerly Booz & Company), part of the PwC network; Sevag Papazian is principal, Strategy&; and Rawia Abdel Samad is director of the Ideation Center, leading think tank for Strategy& in the Middle East.