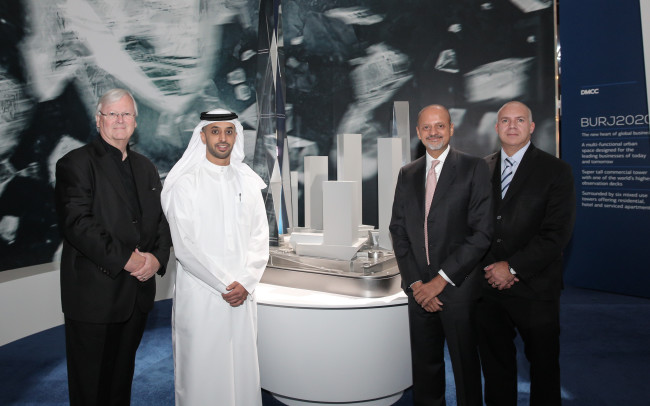 Dubai Multi Commodities Centre (DMCC) has announced that its iconic Burj2020 commercial tower could very well become the world's second-tallest tower after Burj Khalifa.
Speaking on the first day of Cityscape Global 2015, DMCC's chairman Ahmad bin Sulayem stated that the tower, which is the centerpiece of the Burj2020 District, would reach a height of "700 meters at most".
"It's a range – it's going to be around 500 [meters] up to 700 [meters]. We're not going to tie ourselves up to a specific height and make that the point of success for us; it will be more about just delivering the project and using all the facilities and opportunities we have in this day and age," he told Aficionado, sister publication of TRENDS.
DMCC has already dubbed the tower as the "world's tallest commercial tower". If it reaches a height of 700 meters, Burj2020 would not only earn the title, but also become the world's second-tallest tower after Burj Khalifa, which stands at a height of almost 830 meters.
However, to become the second tallest in the world, it needs to surpass the heights of two other contestants: Zhongguo Zun tower in Beijing and the Ping An tower in Shenzhen, both currently under construction.
Burj2020 will hold one of the world's largest 360-degree viewing decks and, according to the developer, it is targeted at large multinationals looking to lease large spaces, even multiple floors.
The conceptual plan for the entire Burj2020 District, revealed on the first day of the Cityscape Global exhibition, showcased the mixed-use project featuring primarily business, but also residential, hospitality and retail developments.
Gautam Sashittal, CEO of DMCC, confirmed to Aficionado that on-site operations will commence in 2016, but only the first phase of the Burj2020 district "is expected to be delivered in 2020".
He added that it is still "too early" to announce when the entire project would be completed.
The chairman confirmed that phase one would comprise the "tall tower [Burj2020] and the connecting hotel, and the rest of the buildings will follow".
The Burj2020 District is part of DMCC's expansion plan of free zones and commercial property around the emirate, leading up to 2020.