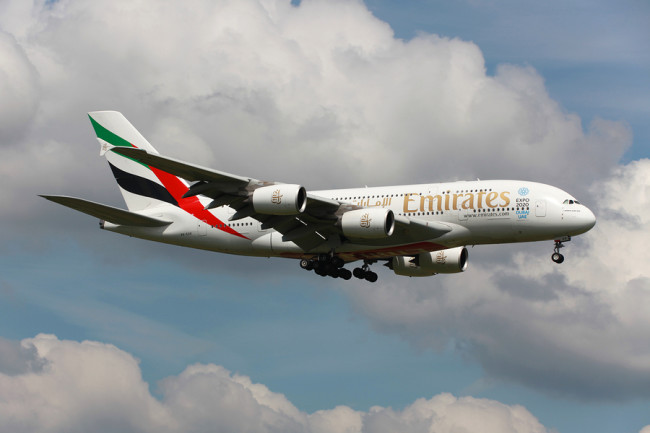 Three GCC carriers are among the top 15 safest airlines in the world, according to Jet Airliner Crash Data Evaluation Centre.
The air safety monitor based in Germany has issued safety rankings for 2014, and Emirates, Etihad Airways and Qatar Airways are ranked as fourth, eighth and eleventh safest airlines in the world.
The top 15 include Air New Zealand, Cathay Pacific Airways, Finnair, Eva Air (Taiwan), British Airways, Tap Portugal, Air Canada, Qantas, All Nippon Airways, Virgin Atlantic Airways, Hainan Airlines (China) and Virgin Australia.
The evaluation center has ranked 60 airlines from around the world, and at the bottom of the list are Tam Airlines (Brazil; ranked 56th), Air India, China Airlines, Vietnam Airlines and Lion Air of Indonesia being the least safe carriers.
The German-based centre says its annual safety calculations include all hull loss accidents and serious incidents in the last 30 years of operations in relation to the revenue passenger kilometers (RPK) performed during the same period.
"We also take into account the international safety benchmarks such as the IATA Operational Safety Audit and the Universal Safety Oversight Audit Program's country factor.
Also, we include a time weighting factor, which increases the effect of recent accidents and weakening the impact of accidents in the past. All calculation data ends after a period of 30 years, says the center," adding: "Fatalities are only counted when they were on board a passenger flight. No ground casualties or third party fatalities in other aircraft were counted. All accidents that fulfill the above-mentioned criteria were involved in our calculation, regardless of causes or responsibilities."
The Arabian Gulf carriers – Emirates, Etihad Airways and Qatar Airways – are comparatively young companies among its global peers. However, the cash rich airlines of the region continue to invest heavily into the expansion of their fleet and improvement of services.
Earlier this month, Emirates signed $13 billion aircraft engine deal with US conglomerate General Electric and 150 aircraft deal with Boeing worth $56bn, while Qatar Airways signed $19bn deal with Boeing.
With low maintenance cost and brand new aircraft added to fleet of the three GCC airlines every year, the region's carriers will continue to perform well in global safety rankings.