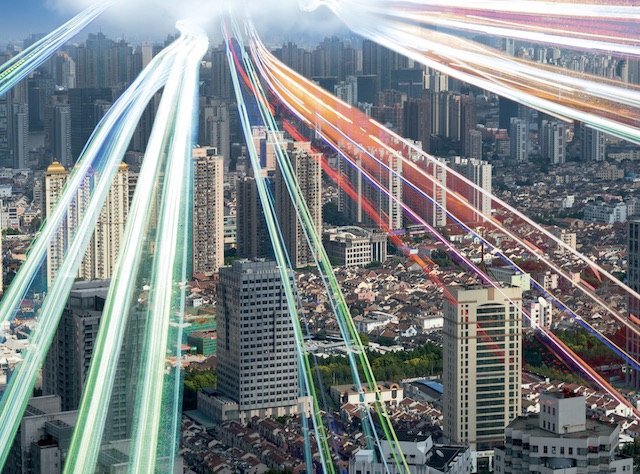 Dr Sami Mahroum, director, INSEAD Innovation and Policy Initiative, says a key for MENA governments is innovation adoption, accompanied by the continued upgrading of human capital.
The Fourth Industrial Revolution is on us already. But are we ready to face the various risks it poses?
In many ways, the Fourth Industrial Revolution is already upon us and -consumers and businesses are already -getting themselves adjusted to the new era. Certain businesses have already adopted digital technologies and they are now developing capacity for the transition. Therefore, I do not believe that businesses on the whole will be caught off-guard. I think they are getting there. The Fourth Industrial Revolution will not happen one fine day. It is already happening.
The key will be how much the governments of the Middle Eastern countries will be able to recognize the oncoming change and create enabling environments for -people and businesses to take full advantage of the opportunities the Fourth Industrial Revolution brings to societies.
In order to succeed and win, both governments and businesses should become more alert and agile in order to adopt to and adapt the new technologies.
When do you think we will see the full extent of this revolution? Could you predict a time frame?
It is difficult to predict, as this would -depend on a lot of things. A lot will -depend on how fast new technology systems evolve and how businesses bring them to the consumers and how government polices help us embrace these technologies. The most transforming technologies are those that require and superimpose new systems on business-as-usual routines. However, things are moving fast. Maybe, in roughly 15 years, we will see the Fourth Industrial Revolution to a large extent.
Unemployment remains a ticking bomb for the MENA region, where a large number of educated young men and women join the job market every year. Job creation has become a prime concern for government leaders, while technology is replacing human beings at work. How do you see the future job market in the Arab world? Will unemployment grow due to the Fourth Industrial Revolution?
The current unemployment in the MENA region is linked to the political situation and the lack of stable framework conditions for businesses to flourish. It is the socio-political environment that needs to change to unlock the human potential. So it is not linked to technical change.
I do not think that unemployment will grow due to the spread of new technology, although technology reduces human involvement in the manufacturing and services sector. However, the nature of jobs will definitely change and young men and women seeking employment will instead have to seek economic activity rather than jobs per se.
This would require the development of so-called enterprising skills that allow skilled individuals to leverage new technologies in a way that their skills can be absorbed in the evolving economy. By that, I mean it will not be enough to be a skilled artist, IT engineer or accountant, you have to be good at spotting opportunities and marketing and tailoring your skills along continuously evolving value chains. In this regard, a new generation of -businesses might arise in the form of small associations of independent workers.
The Fourth Industrial Revolution might help the young population of the MENA region to develop skills and empower people to take advantage of the opportunities. Things are already changing in the Middle East. More and more young people are adopting new technologies, learning them and getting used to the new way of doing things. For example, they can now create games and apps and sell them on Google Play and Apple Store for a global market.
However, there need to be coordinated efforts to ensure that they acquire the right skills that meet the needs of the new industries. I'm more positive on technology and employment in the MENA region in particular and perhaps less so in more -advanced -economies. To a large extent, societies in the MENA region are not strictly organized around the traditional nine-to-five
industrial societies.
Adapting to new forms of economic activity organized outside the realm of nine-to-five industrial organization might therefore be easier and the transition to the fourth industrial revolution is easier.
Furthermore, new technologies are a liberating force in the MENA region as they help break down traditional barriers to entry and help liberate people and businesses. I'm sure the young men and women will embrace technology that will empower them.
The biggest challenge is to empower the younger generation with skills that will enable them to be relevant. What do you think needs to be done to fast-track things in this direction?
As I have just mentioned, there should be more alertness and awareness about the oncoming change. Once a high level of awareness exists, coordinated efforts amongst the large stakeholders – the industrial leaders, educationists, trainers and government policy-makers – will become possible so that the newly groomed professionals could be readily absorbed into the new economy. There are signs already that millennials growing up with the Fourth Industrial Revolution toys are finding it difficult to embrace the workplace of the industrial (and post) industrial era.
The world is changing very fast as digital technologies are changing the pace of transformation. Do you think change is taking place too fast for us?
The pace of change is going to be faster than before, understandably so, due to the speed at which technologies are changing. The technology we used five years ago is obsolete now; it was not the case in the past. In the future, the speed at which technology changes will accelerate and we will face faster disruptions to our lives. It will be interesting to see how consumer behavior changes and how they cope with these changes. Human nature is to adapt to the changes and we have seen many transitions during the past few decades and people have adapted to the new lifestyles.
How will this transformation impact our society? 
This transformation is already changing our lives and we are changing to cope with the new things, especially the Internet of Things.
Which is the biggest threat to our future – conventional arms or cyber threats?
As we become more tech-savvy and tech-dependent, so would the criminals. They are also becoming very smart and we have seen how cyber attacks can disrupt businesses, government functions and even airport flight operations. In future, cyber threats would be a much bigger threat to the mankind than conventional arms. Businesses, governments and individuals should guard themselves and undertake a greater degree of caution against cyber criminals and hackers.
I assume there will be more investment in cyber threats, both in trying to prevent them and in trying to develop new methods of hacking and disrupting systems.
GCC countries have understood that the time has come for the region to embrace this 'revolution'. Moving forward, what should governments and businesses focus on, i.e., innovation in advanced technologies, ­entrepreneurship, etc?
All three are going to be crucial in cruising through the Fourth Industrial Revolution as innovation and technology will help entrepreneurs to create new jobs and new economic opportunities for people.
Governments in the GCC are talking about rediscovering services, process and procedures, and leaders are talking about redefining the role of the government. What are your suggestions to help governments transform their role?
The governments have a great role in creating an enabling environment for creativity, innovation and entrepreneurship. The whole functioning of the government bureaucracy must change and they should be at the forefront of the technology adoption that will increase  the transparency, accountability and efficiency of the government.
For example, if we take the case of driverless cars, they can't function in a country where the infrastructure is not up to the mark, where the road network is not mapped out properly and there is a lack of information. So, even if you have driverless cars, you can't use them, unless the government's transport authority becomes 'Smart'.
Similarly, you can't operate battery-powered cars – if you want to reduce carbon emission in order to make the society and economy greener – if the transport authorities do not install car battery charging stations. So, the governments will have to create the infrastructure – both hard and soft – create policies, protocols and regulations for businesses to bring out the products and the consumers to benefit from them.
How will the technological revolution transform the economy of the GCC? And how will it impact the growth? 
The technology revolution has already started affecting our economies and lives. In the Middle East, we are going to see a number of tech-driven changes that will gradually transform our economies.
Private companies and government bodies have already taken a number of initiatives to remain ahead of the curves. We are certainly witnessing the rise of many app- and digital-based companies.
As robot technology continues to improve, we are going to see a greater integration of robots across all economic sectors of the GCC economies. People in the GCC love to embrace new technologies and tend to be technologically savvy.
In order to promote tech-driven entrepreneurship, the region needs to fund ideas so that the young entrepreneurs can develop businesses. Does the region have enough venture capital to help foster entrepreneurship?
There are. However, there could be and should be many more. Businesses like Maktoob.com, Careem and talabat.com have been backed by investors. So, if there is a bankable product or company or idea, there is no shortage of capital. We also have a number of incubation centers where tech-preneurs and entrepreneurs are provided with the facilities, network, mentoring, coaching, capital and institutional support, so that we could see more job creators instead of job seekers.
Venture platforms, such as Wamda and Wamda Capital, have created a regional network to help fund new ideas and develop entrepreneurship. Things are happening in the region, but they tend to be overshadowed by more unfortunate dramatic news coming from war zones.
Innovation will determine who wins and who loses. Why is the MENA region not innovating or inventing new things?
Yes, I agree. Careem is the regional customized business model of Uber. Most people are either on adoption or adaptation mode. They are not creating or innovating.
If one looks at the history of innovation, the community is very small. Most people use [innovations] and customize them.
The reason is that the region does not spend much on research and -development. Although the governments are encouraging businesses to innovate and fund innovation, it has not happened.
The region is still catching up. However, it will have to first develop skills and then move into innovation mode.