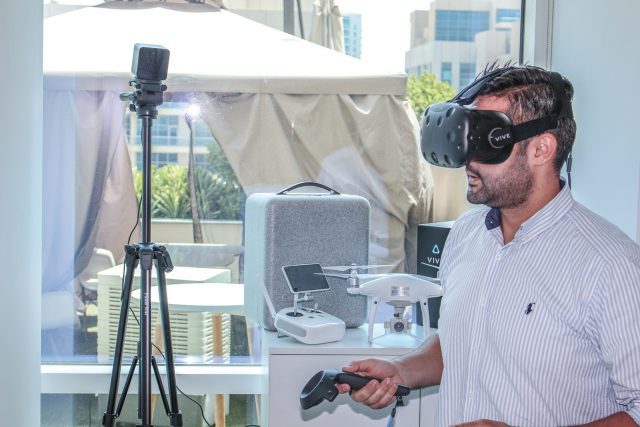 ASGC, one of the leading construction groups in the UAE, is increasing the deployment of drones and 3D scanning across its project portfolio — two technologies set to revolutionize and streamline the construction process.
The inclusion of these highly-advanced solutions into the construction industry comes as part of ASGC's technology-driven strategy, fronted by newly-appointed Chief Information Officer, Herbert Fuchs, who is set on deploying smarter, highly integrated technologies in construction projects.
More than 85 per cent of ASGC's projects, including developments such as Harbour Views, Mediclinic, Arena, and the Mohammed Bin Rashid Library, are being monitored using drone technology, an approach that will lead to better control of the project progress. Today, all of ASGC's outdoor projects are monitored by drones, and the company plans to increase investment in such initiatives by expanding its fleet of trained pilots and mobilizing advanced cameras to improve feedback quality. These efforts will soon be enhanced by the integration of high-definition CCTV and 360-degree video-capturing technologies, which will open up new opportunities in the monitoring and analytics of various aspects in the lifespan of an ongoing project and the planning of future business.
Drones are being used to conduct site surveys in the initial stages of a project and together with stationary video capturing technology are used to monitor construction progress. They also take measurements and carry out spot checks on challenging projects, thereby enabling ASGC to further reduce the risk of accidents and, at the same time, considerably optimize time and cost.
The company is also ramping up deployments of 3D scanning technology, a new addition to the construction industry that uses 3D laser scanning to create models of existing buildings for renovation or expansion projects. The scanner creates the blueprints of a detailed model that serves as a progressive overview on the project. ASGC premiered this technology and it is currently being deployed by ASU—a key contractor of MEP services and part of ASGC Group—at the Dubai Mall expansion.
ASGC's Chief Information Officer (CIO), Herbert Fuchs, said: "Technology has an increasingly important role to play in the construction industry, with creative applications of the latest solutions enabling us to become more productive, more efficient and more cost-effective in how we deliver our work. ASGC believes early adoption of the latest breakthroughs in technology is crucial in implementing our vision of remaining at the forefront of the industry by integrating "digital" into each phase of our business and operation."
The UAE itself plans to invest more on smart technology infrastructure in the near future to improve the lives of residents across the country. In Dubai alone, officials are targeting to complete 100 smart initiatives and 1,000 smart services by the end of the year.