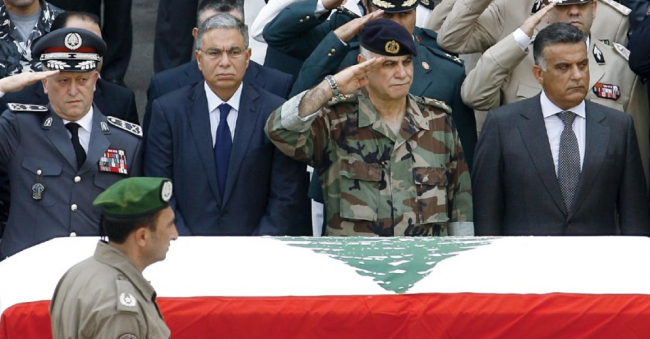 Last October's assassination of Brigadier-General Wissam Al Hassan, Lebanon's leading security official, has soured the mood in Beirut and depressed expectations for the coming year. The explosion, which killed eight others and wounded more than 80, came as the conflict in neighboring Syria continued to fray Lebanese nerves, and was also the latest in a string of killings going back to the murder of former prime minister Rafik Hariri in 2005.
Rouham Yamout, a resident near the street where the bomb went off, had all her windows blown out. "It wasn't the killing of Hassan that affected me so much, as after all he was moukhabarat (security police)," she told TRENDS. "But the explosion made me panic and I've started to think about leaving Lebanon. Is it possible to go on in such a situation?"
The conflict in Syria is exacerbating tension between Lebanese parties and sects. On one side is a government dominated by members of the Shia party Hezbollah, which supports the Alawi-dominated regime of president Bashar Al Assad. On the other, is the opposition March 14 movement, which backs the mainly Sunni rebels in Syria.
Meanwhile the number of refugees from Syria continues to increase, with UN statistics in November showing Lebanon had registered 110,095, barely fewer than the 110,649 registered in Turkey with a land mass 75 times larger. Whereas in Turkey, Jordan and Iraq, official refugee camps provide shelter free of charge to thousands of refugees, the government in Lebanon has not yet permitted the construction of similar sites, as Hezbollah fears such camps could serve as a focus, as in Turkey, for Syria's rebels to organize.
But even if a precarious political balance between the government and the opposition holds, the economy is so sluggish that businesses are teetering on the brink of insolvency. Downtown Beirut, slowly rebuilt after the civil war as an up-market destination by Solidere, a company associated with Rafik Hariri, is a ghost town. In Moutran Tobia Aoun street, heart of the restaurant quarter, waiters have stopped calling out to entice passers-by. "Solidere has aged, it's collapsing," said one.
"We are in crisis," Ali Abd Al Wahed, manager of Karamna restaurant, told TRENDS. "Our sales have dropped by 80 per cent in 12 months." Like many restaurants, hotels and shops in Downtown, Karamna relied heavily on Gulf customers. Among the outlets that have closed is Buddha Bar, a three-floor arena frequented by celebrities meters from the famous Riad Solh statue.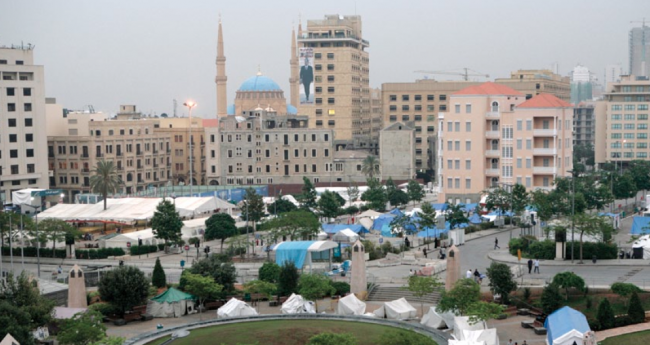 In front of her clothes boutique, Shafika Hamza sat smoking, unable to force a smile. "We are closing in a week," she said. "We've lost all of our capital, so we can't start a business elsewhere or go abroad. We're completely broke. We haven't seen a khaliji (Gulf Arab) all year, and few Lebanese are coming to Downtown because of the security situation."
Some businesspeople told TRENDS they thought the government could do more to provide security in Downtown. "It doesn't create the right atmosphere to have these tents in Riad Solh street or the barbed wire around the Serail," said one, referring to the tents of the opposition March 14 movement and the razor wire strung across entrances to government buildings in order to keep them at a distance. Others cite a smoking ban introduced in pubs and restaurants in September as a final straw.
Economic gloom is not restricted to Downtown. Byblos Bank's consumer confidence index has reached its lowest point since its launch in 2007. Mazen Fakhreddine, owner of a lingerie boutique in Batroun, north of Beirut, said his sales had fallen by 70 per cent in a year. "Business is deeply affected by the situation in Syria and its consequences for Lebanon," he told TRENDS. "In the summer, my profits were zero, with regular customers not buying and people on lower incomes keeping their money for the basics." Broader statistics paint the same picture: the value of cleared checks fell by 1.4 per cent year-on-year in the first nine months of 2012.
The property market is stagnant, say dealers. According to the Land Registry, the number of real estate transactions fell by 9.2 per cent year-on-year during the first nine months of 2012 – despite their value rising by 4.8 per cent – although 2011 was disappointing due to Lebanon's own political stability.
Construction permits fell by 14.3 per cent during the same period. "Real estate is completely dry," George Sioufi, the CEO of Downtown-based GRE Properties told TRENDS. "We still have some transactions because our network has been in the market for 16 years, but we have not seen such slowness in all that time. In 2005 to 2007, with wars and political instability, we were always saved by the Lebanese working in the Gulf and in Europe, who were our real buyers."
Sioufi has not detected – contrary to some claims – any surge from Syrians buying property in Lebanon. "There have been some sales, but the transactions with Syrians have been mainly short-term rentals," he said. "This isn't a big volume, and most Syrians who are leaving are heading for the Gulf, Europe or the US. There are also cases of Syrians who bought property in Lebanon in the 1990s now trying to sell."
Sioufi's natural optimism has worn thin. "Of course, we hope the political situation will get back to normal and the market will pick up," he said. "But especially with the economic problems in the Gulf and Europe, unless there is a real breakthrough in terms of peace or at least a sustained intermission [in conflict] then the prospects for 2013 aren't encouraging."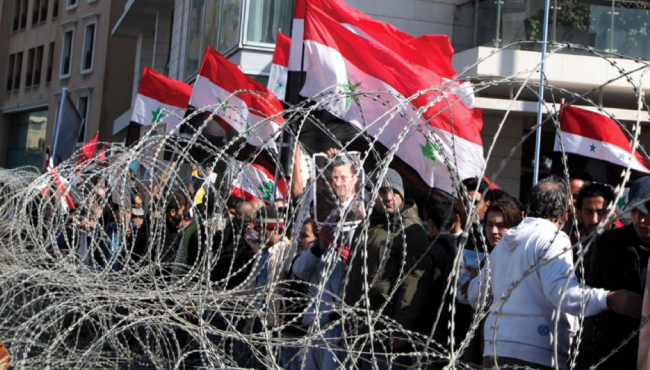 While many Lebanese are talking about leaving, some are taking action. Ghassan Itani, a 49-year-old secondary school teacher, with two children aged eight and four, said he had applied to migrate to Canada. "I have long thought
about leaving, but somehow always hoped the country would improve," he told TRENDS. "Now I've lost hope. Security has become worse than ever, and I cannot afford a good education for my children. I can't see how to offer them a good future here."
So far, at least, the official figures are not as gloomy as the general mood. Riad Salameh, governor of the Central Bank, told as-Safir newspaper in November that current annual growth was two to three per cent, compared to an official rate of 5.2 per cent in 2011. Others, however, estimate lower growth, with Barclays recently reducing their forecast for 2012 to 1.8 per cent. JP Morgan Chase predict Lebanon's GDP will remain flat for 2012, and that the poor security situation will weaken confidence, especially in tourism.
Salameh told as-Safir that while the economy was under severe pressure, banking operations remained sound and even continued to expand. He predicted bank deposits would rise by seven to nine per cent and loans by 10 per cent in
2012, with profits stable despite difficulties across the region. The basis for his confidence is that Lebanon's banks, led by the central bank, are in a relatively liquid position. The central bank has approximately $35 billion in foreign currency assets, as well as gold reserves worth $15 billion, making Lebanon the second-largest holder of gold in the MENA region. The banks' total assets in April were $144.73 billion, making up more than 320 per cent of GDP, and 9.2 per cent higher than in
April 2011, a trend strongly at variance with banks elsewhere in the region. But margins have been shrinking since Lebanon's own governmental instability began in late 2010.
"The Central Bank's reserves are not eroding and neither are the commercial banks' assets," Nassib Ghobril, head of research at Byblos Bank, told TRENDS. "The banks' deposits and lending growth are slower than in earlier years, but banks are still highly liquid and well capitalized.
"There is no outflow of deposits, although there is a slowdown in deposit growth. There was a small outflow of deposits in July of $125 million, but private sector deposits have increased overall by 5.2 per cent in the first nine months of 2012 to $121.8 billion. Further, we have not seen an increase in the dollarization rate of deposits or any deposit outflows following the events of October. Banks continue to attract enough deposits to finance the private sector, meet the financing needs of the public sector and maintain a high level of liquidity."
Bankers, businesspeople and analysts say Lebanon's prospects depend on how the conflict in Syria develops, whether and how it spills over the border, and crucially how long it goes on. But they are also suggesting that the government can help ease pressure on businesses.
"They can take measures to restore consumer confidence and investor sentiment, and need to provide incentives for the private sector to stimulate growth," said Ghobril.
"Also, it has to clearly show resolve to implement reforms and raise the competitiveness of the economy. Instead, the focus of the political class is on the upcoming parliamentary elections, rather than the economy's needs."
Another problem is the government deficit, which was $1.3bn in the first half of 2012, giving an accumulated public debt that is 139 per cent of GDP. "The key weakness in the whole equation is the high borrowing needs of the government arising from profligate spending and the lack of reforms," said Ghobril. "The government needs to reduce its borrowing needs, which would go a long way to reducing public finance vulnerabilities."