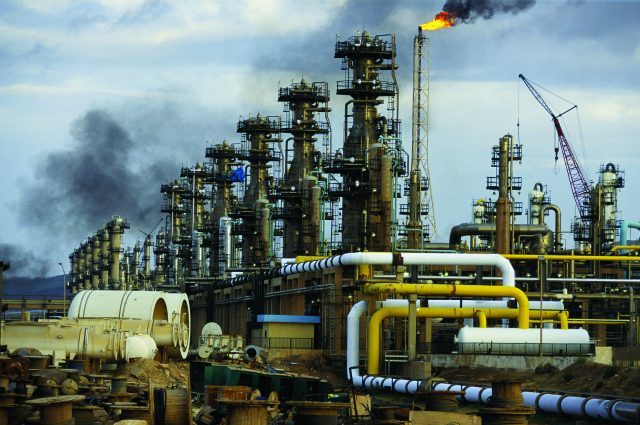 Algeria is stepping up efforts to diversify its economy, seeking to move away from a dependence on hydrocarbons and sharpen its focus on the manufacturing sector, as it works to offset falling returns from oil and gas and to parlay growing domestic demand, access to regional markets and stability into investment.
On April 10, the country's authorities released an updated blueprint for economic diversification, dubbed "the new model for growth", that said the country's current reliance on the hydrocarbons industry – which accounts for 60 percent of budget revenue and 95 percent of export earnings – was unsustainable.
Oil and gas earnings fell from $60 billion in 2014 to just $27.5 billion last year. "The abruptness of the drop in oil prices has revealed the fragility of the economic system," the government said.
Combined with reductions in subsidies, the plan calls for greater public and private sector investment in key industries so as to broaden the economic base by 2030. Among the industries identified are manufacturing, downstream petrochemical and renewable energy, both the utilization of alternative power sources and the production of technology required by the sector. The plan adds substance to an outline issued last July, announcing a shift in economic policy toward greater emphasis on high value-added sectors.
Libya's loss is Algeria's gain
While Algeria is expanding its industrial base and attracting stronger inflows of foreign investment, it is doing so – in part, at least – at the expense of its destabilized neighbor Libya.
While Libya has managed to boost oil production this year, the increased revenues have not been translated into improvements in the wider economy, which is still troubled by political and security instability, acting as red flags for overseas investors. Loss of infrastructure capacity, with damage to road, rail and port facilities, along with the ongoing unreliability of utilities, with assured access to power and water becoming increasingly uncertain, are further weakening Libya's credentials as an investment and manufacturing hub.
Algeria is now seen as a strong market for manufactured goods, with its stable security situation contrasting with that of Libya, according to a new report by TradeMalta. A survey conducted by the Maltese trade promotion agency showed local manufacturers ranked Algeria first in terms of developing overseas markets, with expanding domestic demand offering the potential to offset declines in sales to Libya stemming from the rise in instability in that country.
"The strong interest in the Algerian market is partially attributable to the difficulties that many Malta-based exporters are encountering in the Libyan market," said the report, which was issued at the end of March.
Another neighbor of Libya, Tunisia  was ranked second behind Algeria as a new emerging export market for the EU member, reinforcing the impression that while North Africa is increasingly appearing on the radars of European investors and exporters, Libya is fading from the screen.
Shifting up a gear
Many high-value sectors were already seeing an increased emphasis in Algeria, even before the new model for growth was unveiled in April.
In early April, the then Prime Minister Abdelmalek Sellal said French carmaker PSA, which produces both Peugeot and Citroen, would be establishing a manufacturing plant in Algeria before the year's end. The plant will be a major boost to the domestic automotive industry, which has seen rival French marque Renault launch production in 2014 and German brand Volkswagen announce plans to open an assembly facility by the second half of this year. Algeria is also moving to build a domestic industry component into new state tenders, aiming to develop manufacturing capacity and widen the country's skills base. Plans announced in mid-April to call tenders for the installation of 4,000 megawatts of solar generation capacity included the requirement that investments be made to expand local solar technology production and that the projects utilize domestically manufactured materials.
With the renewable energy sector being one of those identified under the new model for economic diversification and with Algeria having announced plans to utilize renewables for 27 percent of its total energy requirements by 2030, the potential for investment in the industry is significant.
Benefit from Brexit boost
Another country that identifies Algeria as an investment destination is the UK, currently scrambling to lock in trade deals and lift its global economic presence ahead of its exit from the EU.
An appeal for British investors set to enter the uncertain waters of post-Brexit relations with the EU is that Algeria already has a free trade agreement with the European bloc, allowing easy movement of goods and services to markets to the north. While this appeal also serves to attract other third-party investors to Algeria, assured access to Europe's markets for British manufacturers long used to trading into the EU will serve as an added incentive for those looking to move offshore to shore up market share. British investors have already come knocking, with the Lord Mayor of the City of London, Andrew Parmley, leading a business delegation to Algeria in early April.
"Algeria is a key regional player with which the UK seeks to further improve co-operation," he told media. "We hope that more British companies would work with Algeria."
Jump-starting job creation
Another positive spin-off of the ramping up of the manufacturing sector, one targeted by the government in its strategy of diversification, is job creation.
Despite steady economic growth over an extended period, Algeria has struggled to generate employment opportunities in sufficient numbers to drain off the pool of jobless in society.
Unemployment continues to hover around ten percent, but the joblessness rate among young Algerians is more than double this at 26 percent. The IMF recently identified one of the key challenges for Algeria as developing a policy mix that would help the economy deal with the oil price shock while, at the same time, supporting growth and employment at a time of fiscal restraint.
Headwinds and hurdles
While lower energy earnings have fanned efforts to fast-track economic diversity and, in particular, the manufacturing sector, the fall in oil and gas earnings could also blow a cool headwind over Algeria's industrial base.
Algeria's government is moving to bridge its widening budgetary deficit, with a scaling back of subsidies being one of the measures being enacted. Higher prices for gas – used both as a feedstock in the expanding petrochemicals industry and as an energy source – will push up input costs for manufacturers, as will rises in electricity tariffs. Increases in fuel costs will also flow on to logistics expenses for the manufacturing industry, with the price of moving raw materials and finished products set to rise as the government brings oil and gas tariffs closer to market rates.
Algeria will also need to improve its investment climate if it is to boost its profile as a manufacturing hub.
While there have been suggestions that the country will streamline investment procedures for foreigners, including easing the requirement capping overseas ownership levels at 49 percent for any enterprise, the pace of reform has been slow. 
In a report issued in late March, the IMF said Algeria needed to fast-track measures to improve the business environment and access to finance, and to further open the economy to foreign investment if it was to achieve success in it economic diversification program. Despite this, Algeria's advantages of stability, access to regional and European markets, resources and expanding domestic demand, would seem to outweigh any downside pressure