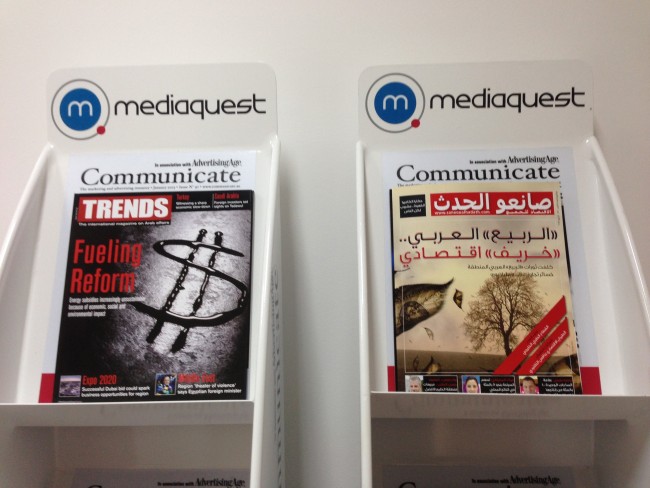 Mediaquest, a leading media and publishing company in the Middle East and North Africa, has acquired rights as media representative of d1g.com.
As media representative, Mediaquest will cater and reach out to entities interested in advertising with d1g.com. Mediaquest will exercise its reach in the GCC to provide services to advertising clients on behalf of d1g.com.
The agreement, signed by Rosy Kachouh (General Manager – dotmena, Mediaquest) and Alaa Fada (President, d1g.com) propels both companies on their growth trajectory. "Mediaquest and d1g.com hope to mutually benefit from this alliance. As media representatives, we assume a new role that is in line with our future growth plans; while at the same time provide d1g.com with local and regional access", Rosy Kachouh said.  Mediaquest's reputation in the industry made the company a prime candidate for the role of d1g.com's media representative.
Alaa Fada, President, d1g.com, added: "We are excited to work with the Mediaquest team on offering d1g to a wider range of customers. This agreement comes as part of our commitment to reaching and providing customers with the latest offering in digital advertising."
d1g is an online media company based on user-generated-content. It is comprised of d1g-owned-and-operated properties (yasater.com, 7asnaa.com, and more) and a publisher-network of web sites. It represents more than 6.3 million unique vistors and 22 million page views across a diverse range of lifestyle verticals. The d1g community includes 7asnaa, fa10, clibbat and 3eesho.

The undertaking of this role and project by Mediaquest is pivotal in contributing to the growth of the company's premium digital platform, Dotmena.com. d1g.com will be complementing Dotmena.com's social vertical extending its reach to 4.6 million unique visitors. Dotmena.com is an online arena for advertisers, and has established itself as the portfolio of choice due to the expansive reach that it provides to publishers. It now represents more than 41 million unique visitors and 1 billion impressions across varied verticals, and includes AMEInfo.com, Kippreport.com, Jeelnar.com, AMDmode.com, MarieClaireArabia.com, among others.
Mediaquest is one of the leading media groups in the MENA region and for more than 15 years has provided unique insights into the Arab world through its diverse portfolio of consumer and trade publications, websites and events. Titles include: Saneou Al Hadath, TRENDS, Marie Claire Arabia and Lower Gulf, Haya, AMEInfo.com, Kippreport.com and AMDmode.com. In 2010, Dotmena.com, the group's digital arm catering to advertisers and publishers was added to its growing portfolio. Since its launch, Dotmena.com is fast becoming the leading digital network in the region. Mediaquest is also home to some of the region's renowned events, the Effie MENA Awards and Insurex Conference and Awards.
The Mediaquest group publishes in three languages and operates an international network across Algiers, Beirut, Dubai, Jeddah, Riyadh, Kuwait, Egypt and Paris.