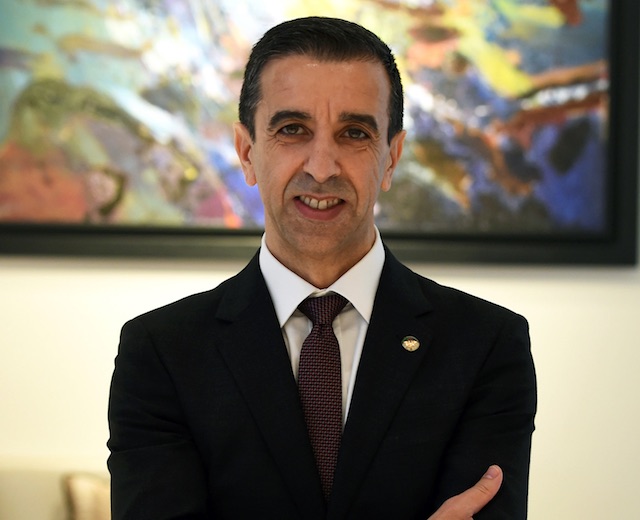 The Algerian Business Coalition (Forum des Chefs d'Entreprises) was established by the end of 2000 to promote Algerian companies and you have chaired it since 2014. What are your key objectives and what measures have you taken thus far? 
Our two key objectives are clear: ensuring that entrepreneurship is at the heart of all the public economic policies and protecting the freedom of business and investment as enshrined in our Constitution. We make recommendations to revitalize the national economy and diversify Algerian industries. These objectives will remain unachieved in the absence of socioeconomic cohesion.
We hold a number of meetings with senior repres entatives as well as Algerian and foreign partners, who contribute in one way or the other to the achievement of this ambition.
Hence, our ongoing dialogue continues to find consensual solutions to all of these problems that are thwarting our economic development.
What weight does the Algerian Business Coalition enjoy today? How many members do you have and how important are they? 
In all modesty, I can say that our partners have become the trigger of every national economic debate. Some are even credible authority representatives. Our coalition consists of 2,000 companies with activities estimated at more than $30 billion. They employ more than 260,000 workers across the country. They are well aware of the facts on the ground.
On March 8 – more specifically, on International Women's Day – you organized a meeting in which businesswomen, women Parliamentarians and organizations took part. How do you contribute to the promotion of equal opportunities for women and men in the Algerian market? 
In my program as the chairman of the Algerian Business Coalition, I have 15 objectives, among which is the promotion of women entrepreneurship. I named a woman as my vice-chair and we established the Businesswomen Committee. This is a part of our efforts to improve job opportunities for young graduates. It is also a part of our work to ensure women are successfully included in the economy.
In fact, women represent the majority of university graduates. Our businesswomen have been working with their male counterparts to develop a diversified economy. This economy will be very diversified thanks to women entrepreneurship initiatives. However, we still have a long way to go. At the forum, we are committed to promote the employment of women. We have been working to reinforce innovation and appoint women in top positions in line with their skills.
Algeria suffers from high unemployment. What measures have you taken to increase job opportunities? What steps have you taken to establish a link between universities and companies? 
We have taken a number of measures that target young people, university students and researchers in general.
We are well aware that Algeria's high aspirations of becoming an emerging country can only become a reality through young leaders. Therefore, we have established a special entity for young entrepreneurs.
It is of utmost importance to nurture a culture of entrepreneurship at our universities and research centers. For this very reason, we established a Joint Committee with the Ministry of Higher Education and Scientific Research, which meets regularly to identify common activities and possible fields
of cooperation.
We also appointed two regional representatives for academic institutions and research centers in order to ensure cooperation and promote competitiveness by transforming innovative products and research into job opportunities for young graduates.
You submitted a plan to the Prime Minister Abdelmalek Sellal to establish a green technology fund and support the diversification of the national economy. What are the highlights of this project? 
We did not submit a plan of action, but rather several proposals and measures to pave the way for the implementation of an integrated plan of action.
These proposals focus on reform. We have developed them with our partners as part of an existing plan of action that consists of 28 sectoral committees. They address several issues, such as the
recurrent stumbling blocks to investment: land, funding, tax burdens, bureaucracy and unfair competition in the informal economy.
The government has indeed adopted a number of measures we have proposed on governance, banking services for the parallel market and the reduction of taxes on business in line with the Finance Law for 2016. These measures are encouraging. However, they remain insufficient, because a large country like Algeria must have an emerging plan to promote stability and diversification in its economy instead of being fully reliant on oil and gas.
What about Algeria's economic ties with Europe? 
Europe has been a strategic partner for Algeria. Yet, one must realize that even today, trade between the two parties remains unstable.
Algeria provides great investment opportunities and a promising market for European companies. However, the European market remains tightly closed to our products.
It is high time we reviewed the economic ties between Algeria and the European Union to reach a partnership beneficial for both.
At a time when the Algerian economy is being diversified to decrease its reliance on oil, what steps can be taken to improve the investment climate for local and foreign companies? 
First of all, there is an urgent need to review our development plan.
It is important to improve this plan because it is at the heart of every reform and measure.
There are several steps, which can be taken now to improve the business environment. These measures should be coupled with modern and effective governance in all business sectors, to attract Algerian and foreign investors. Governance must promote initiatives, not thwart them.
There is also a need to streamline administrative measures to reassure investors. It is important they are guaranteed and covered by sustainable legal measures. Investments are doomed to fail in an ever-changing environment. This can discourage foreign investors.
On our part, we can identify success stories in developed countries, adapt them to the local reality and try to implement them.
In your opinion, what are the key promising sectors in Algeria? 
The forum has identified three priority sectors in Algeria: energy, information and communication technology, and agriculture and agro-industries.
Why focus on these sectors specifically?
With regard to the energy sector, we believe it is important to start with the best we can do, especially given the country's natural resources. We have to continue our upstream and downstream processes to benefit from oil and gas to meet the needs of our national economy and export.
Developing ICT will have a positive effect on all other sectors. By developing our technology, we can promote human resources in this sector. As for agriculture and agro-industries, this is a challenge we are trying to overcome to ensure food security and decrease imports.
How is the ongoing drop in oil prices affecting the Algerian economy? 
If oil prices continue to plunge, negative implications will be felt. Our imports have plummeted. We should accelerate economic reforms.
We cannot keep a traditional economic model built on natural resources and oil exports. Moreover, the Algerian economy is no longer what it was when the 1986 oil bust took place.
Since then, several companies have been established. It is likely they will contribute to containing the negative implications of this crisis.
What challenges and stumbling blocks do Algerian businessmen face today? What solutions would you recommend? 
All businessmen are faced with the same challenges: administrative delays,exchange losses, funding and land, unfair competition from the informal economy, tax burdens…and other intractable problems that only impede companies and prevent them from being part of our economic development.
On our part, we have raised these concerns to senior officials and submitted proposals to tackle them.
How does that affect the country's economic growth and what are the applicable measures?
Free trade and investment are enshrined in our national constitution. This compels the state and all of its institutions to work tirelessly to improve the business environment and develop companies and institutions – be they private or public. In fact, public and private companies should be deemed equal.
What do you think about the latest measures taken to reform the economy? What is the role of Algerian businessmen at this stage? 
We commend the latest measures because they are heavily based on our recommendations. Economic events play a major role in diversifying the national economy. In fact, most of them revolve around the implementation of reforms by improving the competitiveness of companies offering different services and products.
This can limit imports and decrease trade and budget deficits. Major businessmen are the main contributors to the creation of national wealth and fight against youth unemployment. This is where economic powers can play a role in emerging countries to promote the performance of the private sector.
You have recently announced that the Algerian Business Coalition will help in Algeria's fight against excessive debt. What initiatives will the Coalition take in this regard? 
First of all, we encourage all members to effectively contribute to the success of the National Association, launched recently to provide large-scale support. We have been working to improve the quality of national products, commodities and services to reduce the import bill.
How would you describe the economic ties between Algeria and the Gulf? How can you encourage Gulf investors to come to Algeria? 
They are still in their infancy. In the past, we sought to attract European investors. Today, we are still exploring. We are working as a Chamber of Commerce and Business Owners Association to improve cooperation between Algeria and the Gulf at all levels.