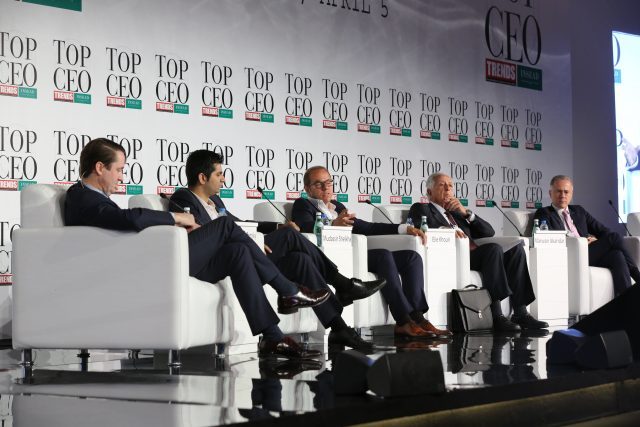 The Middle East and the Gulf Cooperation Council (GCC) region are on the verge of a major disruption. Innovative megatrends from the world of technology are driving businesses, while new corporate roles are emerging, businesses are revamping their operational models to counter slow growth and the industrial ecosystem is rapidly heading toward unconventional paths to ensure continuous profits.
The region is looking to make the most out of this change, which marks an end to the era of abundance and thereby encourages C-level management to look for other avant-garde means to run businesses. Switching to efficient channels while rethinking business strategies are the crucial mantras. Working in this direction, the region is on the path of transforming itself into a leading knowledge economy, while realizing sizeable economic benefits.
These sentiments of transformation, in the wake of slow growth, will take centerstage at the upcoming Top CEO Conference & Awards. Scheduled to take place on April 10 and 11 at King Abdullah Economic City in Saudi Arabia, the Top CEO Conference & Awards 2017 will revolve around the theme: 'Adapting to Disruption –New Roles, New Realities'.
Emphasizing the prevailing norm of transformation, Mohammed Amin, Senior Vice-President, Turkey, Eastern Europe, Africa and Middle East at Dell EMC, said that the world is already in the midst of the next industrial revolution that will fundamentally alter the way we live, work and relate to one another.
"This shift will transform the way every business in every industry operates. We are already witnessing a transformation of business priorities as both public and private sector entities across this vast region continue to invest in advanced new technologies to better meet changing customer needs and expectations," stated Amin.
Notably, in this time of makeovers and economic transitions, regional firms need strong leaders who can adapt with the change and use it as a means of enhancing their performance and managing risks.
"There will be a lot of change that we will see in the digital world and it's wise to adapt accordingly. In the Middle East, we see some disruptive trends that are diversifying this region and creating a scope for the emergence of more efficient leaders. We are seeing that businesses are undergoing a massive transformation; rethinking the existing models of operation has become very important," said Siemens Middle East CEO Dietmar Siersdorfer.
Sevag Papazian, Principal at Strategy&, told TRENDS: "To tackle the ongoing disruption in the market and to ensure steady growth, we need people who can think out of the box and bring a fresh perspective. This perspective should do with challenging things and not accepting the set norms. But this talent is not easy to find. However, we have to move gradually and there is no short-cut that will lead us to the solutions."
To know more about the upcoming Top CEO Conference & Awards, visit www.topceo.me. To register for this event, click on www.topceo.me/registration and for the agenda, click on www.topceo.me/agenda-2017/agenda.