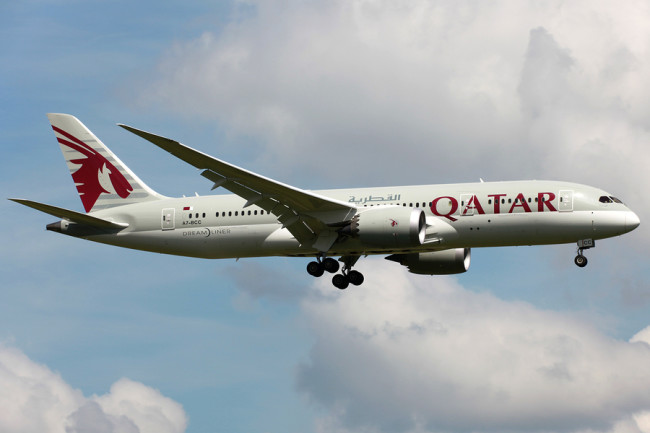 Qatar Airways has acquired a 9.99 percent stake in the publicly listed IAG, owner of British Airways and Iberia, the carrier announced on Friday (January 30).
The airline went on to disclose that it may consider exceeding its holding over time. Qatar Airways already has an association with IAG in the Oneworld alliance through code share agreements, as well as a freight partnership with British Airways.
"IAG represents an excellent opportunity to further develop our Westwards strategy.  Having joined the Oneworld alliance, it makes sense for us to work more closely together in the near term and we look forward to forging a long-term relationship," says His Excellency Mr. Akbar Al Baker, Group Chief Executive of Qatar Airways.
IAG Chief Executive Willie Walsh told Bloomberg he was "delighted" to have the airline as a supportive shareholder. The agency reported the deal to be worth $1.7 billion.
Analysts expect significant synergies for both Qatar Airways and IAG as a result of the announcement, with the former getting greater access to IAG's transatlantic hubs, and the latter to QA's Middle East and South East Asia markets.
The main benefit to QA would come in the form of "direct access to US destinations from Heathrow, rather than via another gateway," and a "further 14 destinations in Latin America, in addition to the two it currently serves, through Iberia. BA also serves 13 Latin American destinations not served by QA or Iberia, particularly in the Caribbean," according to the Centre for Asia-Pacific Aviation (CAPA).
BA on the other hand could potentially gain access to "an additional 28 Asia-Pacific destinations" and "IAG can also benefit from QA's network in the Middle East, where the airline has 27 destinations, compared with BA's 11 and Iberia's one. QA serves 11 airports in the Middle East that are not served by IAG airlines," CAPA says in a note.
"For IAG, if the relationship works, then it could give a further advantage over Air-France–KLM and Lufthansa," notes CAPA, adding that Qatar Airways' move was a surprise to them, and signaled a more intense relationship than just code sharing.
"Rather than bringing QA any immediate tangible benefit, it is more of a symbolic purchase. It signals that Qatar Airways is serious about developing the commercial relationship and that it intends this to be for the long term. At approximately EUR1.5bn, that is very serious. It also adds further weight to the growing body of cross-border equity relationships that are quietly diluting the archaic constraints of bilateral ownership rules. Only a little, but every bit helps," adds CAPA.
The QA-IAG partnership is yet another attestation of the growing appetite of Middle Eastern carriers to spread their footprint. The UAE's Abu Dhabi-based Etihad Airways has bought several minority stakes in European airlines recently, including Air Berlin, Aer Lingus and Virgin Australia. More recently, Etihad is in process to acquire 49 percent of Alitalia.
Qatar Airways, meanwhile, has a 20-percent holding in Heathrow Airport, and through this stake purchase, has further cemented its ties with IAG.