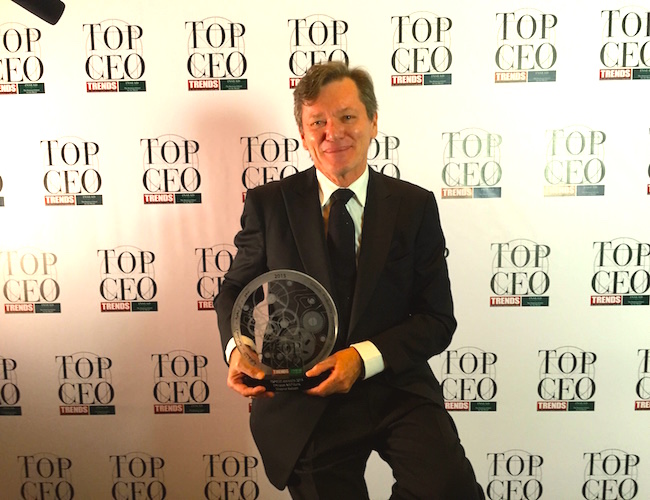 The GCC's Top 100 CEOs were announced at a gala ceremony, co-hosted by TRENDS magazine and in partnership with INSEAD Business School at The Four Seasons Hotel, Dubai last evening (Monday, March 30).
Shayne Nelson, Group CEO at Emirates NBD, UAE's largest lender, took away the top spot as the best CEO in the region. Speaking to TRENDS after the announcement Nelson said: "When I win an award like this, it is for the bank and not for me. The bank is built on the strength of some excellent people and that makes a difference. I look good because of them.
"Economically we are very bullish on the UAE, but there are a lot of shocks around the region and I think a CEO has to be very aware of the market, and how to play the country and political risks going forward. I think vision, leadership and good people and inter-personal skills are very important from a CEO's perspective along with hiring good people, which is critical for an organization's success," he added.
Ranked number two was Ebrahim Ahmad Al Mannai, Chief Coordinator/MD (CEO) at Gulf International Services, the Qatar-based oil and gas heavyweight.
Three other UAE-based bankers, Abdul Aziz Al Ghurair, CEO at Mashreq; Dr Adnan Chilwan, CEO at Dubai Islamic Bank; and Tirad Al Mahmoud, CEO at Abu Dhabi Islamic Bank; meanwhile, took the third, fourth and fifth spots, respectively
In fact, five out of the top ten CEOs were from the banking sector, with Ala'a Eraiqat, CEO at Abu Dhabi Commercial Bank, taking the tenth spot.
The top ten list was dominated by UAE- and KSA-based companies, with Fawaz Alhokair, Founder and Group CEO at Saudi Arabian retail and real estate giant, Fawaz Alhokair Group; Nasser Abdulrahman Rafi, CEO at Emaar Malls Group; Gerhard Marschitz, CEO at Saudi Airlines Catering Company; and Tal Hisham Nazer, CEO at Bupa Arabia for Cooperative Insurance; filling the remaining four spots.
The list of 100 saw a total of 36 CEOs from Saudi Arabia, 24 from the UAE, 21 from Qatar, eight from Kuwait, six from Oman and five from Bahrain honored with trophies and certificates.
3 women CEOs made it to the top 100, of which two were from Oman and one from Kuwait.
Financial services (including banks, insurance and investment companies), as a sector category, dominated the awards, with nearly 50 of 100 winning CEOs representing companies in these sectors. Other prominent sectors included industrials (10), real estate (7), telecom (5), food and beverage (4), healthcare (3), retail (3) and others such as education, aviation and tourism.
The event, which had the who's who of the corporate world in attendance, has set a new benchmark for business awards programs in the region as it honored only leaders from stock exchange-listed companies to ensure complete transparency. The companies were evaluated on the basis of their performance in 2014, when the combined market capitalization for stock exchanges in the GCC grew to AED3.78 trillion ($1.029trn).
Along with global audit firm Deloitte, which ensured the accuracy and reliability of the data and rankings, and INSEAD Business School, which reviewed and validated the formula, Hawkamah helped assess corporate governance standards and disclosure criteria, which formed a critical part of the rankings.
TRENDS, while congratulating the winners on this marvelous achievement, asserts that winning this recognition is not only a validation of excellence, but is also likely to lead to tangible new business opportunities for the winners.
"The recent upgrading of the UAE and Qatar stock exchanges by Morgan Stanley Capital International (MSCI) to emerging market status is encouraging growth and pulling capital into the region. Foreign investors are looking at benchmarks for corporate excellence, with the Top CEO results likely to be closely scrutinized by potential investors who are looking to enter the GCC market," says Julien Hawari, Co-CEO at Mediaquest, publisher of TRENDS magazine.
For a complete list of the winners, who were narrowed down from approximately 700 companies listed on the seven GCC stock exchanges, please click here.