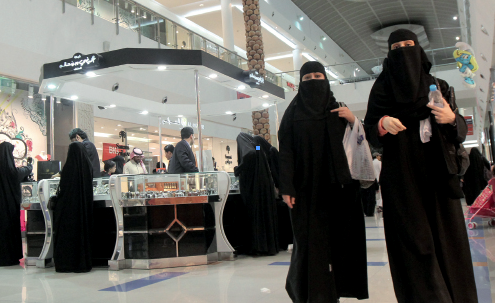 With increasing levels of disposable income, Saudi Arabia's retail sector is booming and has become more attractive to foreign investors.
Amid the lackadaisical business news from North America, 
Europe and pockets of Asia, the Middle East seems to be bringing glad tidings for the investors and consumers barring Syria. Saudi Arabia is one success story in the purchasing power department that is attracting regional and foreign business players to the retail sector in hordes.
A recent survey said that the kingdom is the second most optimistic market after India. Market research firm Nielsen reported that Saudi's consumer confidence index in the first quarter of 2012 reached 119. Under the Nielsen system, any score more than 100 indicates an optimistic outlook, and Saudi Arabia's continued strong showing put it well ahead of the Middle East average of 97 points, said a report by Oxford Business Group (OBG).
Consumers in Saudi Arabia are very 
optimistic in their attitudes toward all five indicators measured – employment, economy, regular income, stock market and quality of life, said MasterCard in its recent study.
MasterCard WorldWide's market manager for Saudi Arabia, Bahrain and Pakistan, Kashif Sohail, said: "Consumer confidence in the kingdom is on the rise, highlighting that consumers are positive about their prospects for the coming months. Saudi Arabia is developing rapidly, with new key developments set to position the country as a 
noteworthy destination and an attractive place to live and work for locals and 
expatriates alike."
This region's specialist at Oxford Business, Oliver Cornock, said: "With strong consumer confidence and a sound economic outlook for the immediate future, Saudi Arabia's retail sector appears set for a good year of trading."
Another recent indication that the sector remained healthy, he said, came with the news that the new Al Qasr Mall in Riyadh, the capital's largest shopping centre with a net leasable area of 85,000 square meters, had seen strong interest from retailers. "According to the mall's developer, Dar Al Arkan, some 80 per cent of the new mall's 350 retail units had been leased by the time of its opening in mid-June, with strong interest in the remainder," he said.
Global and local brands are on an expansion spree in Saudi Arabia. Consulting and research firm AT Kearney said that several brands have announced expansion plans to capture Saudi spending. Gap plans to open 44 Gap stores and 10 Banana Republic stores by the end of 2012. Savola Group, owner of Panda Hypermarkets, plans to 
have 120 supermarkets and 40 hypermarkets by 2012, and the group has also acquired 
11 Geant stores. Burberry entered Saudi Arabia a year ago through a joint venture, 
it said.
"With 28 million citizens, Saudi Arabia is the largest and among the most attractive markets in the Middle East. Rising disposable incomes and acceptance of modern formats and foreign brands are driving consumer spending," said AT Kearney, adding that Saudi government's stimulus plan would inject about $110 billion into the economy in the next five years.
"Saudi Arabia's large population and its relatively low GDP per capita compared to its neighbors suggest that the Saudi middle class could be a source of growth as incomes rise. In addition, the limited opportunities for entertainment have turned shopping trips into popular social activities and a preferred way for Saudi families to spend their free time," said the research firm.
Dubai-based Landmark Group, one of the biggest retail conglomerates in the region, is also expanding dedicated stores such as Babyshop and Splash in Saudi Arabia.
The outlook for the sector is positive. Retail sales in Saudi Arabia are likely to reach $40bn in 2015 from about $27bn in 2011, reported Business Monitor International.
Retail sub-sectors that are predicted to show strong growth over the forecast period include the consumer electronics market, which is one of the largest in the Gulf, accounting for about 40 percent of regional spending, it said. Sales in this sector are forecast to increase from an estimated $4.03bn in 2011 to $5.01bn by 2015, a rise of nearly 25 percent. "Consumer electronics spend will be driven by youthful demographics, a regional economic boom and a buoyant real estate sector," BMI said.
The results posted by top electronics retailer in Saudi Arabia substantiates BMI's findings. United Electronics Company (eXtra), Saudi Arabia's fastest-growing big box consumer electronics and home appliance retailer, said in Q2 2012 the firm netted profit of SAR48.4 million ($12.9m), compared to SAR45.5m for the same quarter in 2011, an increase of 6.4 percent. 
Net profit for the six months ending June 30, 2012, 
was SAR72.1m, compared to SAR64.5m for the same period of 2011, an increase of 11.8 percent.
For the second quarter of 2012, eXtra reported total sales of SR726m. Total sales for the six months ending June 30 were SR1.35 billion, compared to SR1.13bn for the same period of 2011, an increase of 19.9 percent. Abdullah Abdulatif Al Fozan, chairman of eXtra, said: "Our success in the first half of 2012 has been driven by various factors which include our aggressive store expansion strategy which has seen our Kingdom-wide network increase from 19 branches 
in the second quarter of 2011 to 27 in H1 2012, along with positive growth in our 
existing stores.
"In addition, a key contributor to the Q2 results was our continued investment in the smart phone segment," said Al Fozan.
Moreover, Saudi Arabia is the largest and fastest growing food market in the GCC region and is home to some of the Gulf's largest food, drink and mass grocery retail companies. One segment that is gaining greater popularity is organic food due to increased consumer concerns over health and safety.
Against this backdrop, the Kingdom's food and grocery in particular are expected to maintain a strong share of the retail sector and continue to account for almost half of total annual retail value.
Simply, the robustness of the retail sector can be gauged by the recent profit figures posted by major Saudi retailers. Savola Group posted a 48 percent rise in its second quarter net profit, beating analyst forecasts on improved profitability in the food sector and its increased market share in the retail sector.
The firm, which owns the Middle East's biggest sugar refining business, made SR341.3m ($90.9m) in the three months ending June 30, compared with $61.5m in the same period a year earlier.
"The reason for the rise in profits for this quarter was mainly attributed to the turnaround in profitability of its operations in the food sector, and the continued growth and increased market share in the retail sector," said a company statement.
Savola expects to post a net income of SR340m, before capital gains, for the third-quarter, it said, adding that revenues for the six-month period in 2012 reached SR13.57bn, up 13.6 percent from the same period a year earlier.
Another leading Saudi retail franchise company Fawaz A Alhokair and Company posted a net profit of SR120.9m for the first quarter ended June 30, up 48 per cent compared to SR81.6m last year. The gross profit for the first quarter too grew 21 per cent to hit SAR406.4m compared to SAR334.7m 
last year.
The growth in net profit was mainly 
due to an increase in operating profit from increased same store sales, an increase in 
the number of stores, the adding of new brands, and to the increase in other income due to additional investments income and foreign exchange gains, said the Saudi 
retail group.
Alhokair's CEO Simon Marshall said, "Our global strategy, encompassing the United States as well as the emerging markets of the CIS Region, enhances and augments our domestic position within Saudi Arabia and the wider Mena region.
"We continue to enjoy the trust and confidence of existing brand partners, while attracting the interest of new brand partners from around the world. In addition to those agreements announced during the previous year, we will, within the weeks ahead, be announcing further strategically important partnerships with other global retailers," 
said Marshall.
Alhokair retail franchise activities operate more than 70 international fashion brands through about 1,200 fashion stores, and employ more than 4,000 employees. The group operates department stores and fashion brands including Marks & Spencer, Gap, Zara and Mango.
Even Saudi food group Almarai booked an increase in Q2 profits on the back of a jump in sales, which were up more than Q1 2012. The company said that net profit rose by 8.7 per cent, while operating profit increased by 7.1 per cent year-on-year.
Profit growth was driven by higher sales in the period, which were up 25.4 per cent compared to the same period last year, it said, adding that Almarai's revenues were boosted by product development and improved customer service, which allowed the group to book higher turnover in "all sectors" – particularly bakery and poultry.
With ample good news from the retail firms, there has been a drive to develop retail spaces in Saudi Arabia. Al Bandar International House for Trading Company, one of the largest retail conglomerates in the Kingdom, inaugurated 15 new outlets in a single day adding a total of 209,529 square feet of retail space to its portfolio. Of the 15 outlets opened recently, eight were at Al Qasr Mall in Riyadh and the rest at Garden Mall in Hail taking the total store count to 545 across 
the country.
Currently, Al Bandar Trading operates in 36 cities with regional headquarters in Riyadh, Jeddah and AlKhobar and employs more than 10,000 employees across the Kingdom. According to Saudi Arabian General Investment Authority, Al Bandar Trading has drawn the highest inflow of foreign direct investment in the country in terms of trade and with the launch of new outlets it is set to scale even greater heights.
Al Bandar's chief operating officer for Central Region, Ravi Krishnan, said: "Keeping in mind the overwhelming response from our existing stores, we are steadily increasing our stores in the region. We opened 15 branded stores in a single day and through these new outlets we aim to serve our customers even better."
The foreign capital is not difficult to come by even for the firms operating at the community stores' levels in Saudi Arabia. Citigroup's venture capital arm and Dubai-based Levant Capital bought a $100 million controlling stake in Saudi supermarket chain Al-Raya For Foodstuff Company.
Al-Raya, based in Jeddah, operates 
25 supermarkets across 14 cities in Saudi Arabia, and had posted sales of SAR800m 
in 2011.
Earlier in December 2011, Coca-Cola Co invested $980 million in Saudi Arabia-based beverage firm Aujan Industries, and US private equity firm Carlyle Group 
acquired a 42-percent stake in Alamar Foods, the master franchise operator for Domino's Pizza and Wendy's restaurants in the Mena region.
The retail sector of Saudi Arabia will continue to benefit from economic growth in Saudi Arabia resulting from rising disposable income levels and a growing mid-income group.
Consumers are thus likely to spend more on retailing, both in terms of major planned purchases and small impulse purchases, said research firm Euromonitor International. Growth in retailing will also be driven by ongoing growth in the number of incoming religious tourist to the country. Sales will also be boosted by the creation of new shopping malls, residential areas and even cities, with the first of the government's economic cities set to be completed during the forecast 
period, it added.