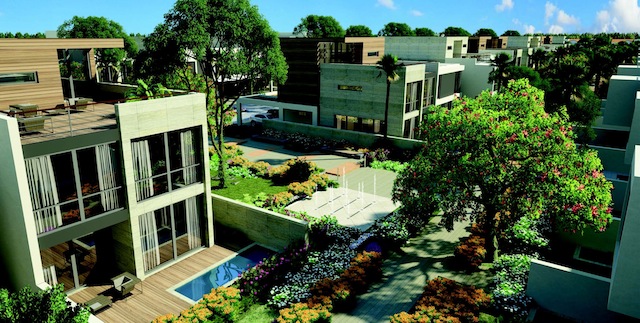 You have just unveiled Faya, the fourth phase of Bloom Gardens, your master-planned community in Abu Dhabi. What gives you confidence in the market despite the slowdown?
We derive our confidence from our ability to design and deliver a very unique product. We pay particular attention to the
design; we try to provide as much value within the units that we are developing. And then, the next thing that we can distinguish ourselves by is the ability to deliver to the client in almost record time. The units we are selling now will be delivered in December 2016 and December 2017. No other developer can do that. We are delighted to launch Faya. The project demonstrates our commitment to meeting the growing demand for quality and for uniquely designed residential communities with high-end finishes and world-class amenities.
How do you manage to achieve that? 
We achieve that by paralleling design and construction. In addition, we have developed an excellent partnering relationship with the contractors that we use through a process we have developed in-house, which makes sure that no mistakes are made – everything is checked, everything is balanced and all of the permits are on time.
Like most developers, you are now focusing on the mid-market segment…
We are now beginning to look at the mid-market. We think this is a segment that has been ignored. We have a land bank that permits us to add a sizeable number of mid-level units and we are in the master-plan stage for that type of launch. So, yes, it will be a focus area for us. I think that in Abu Dhabi at this stage, there is a little bit of over-supply. We will take a definite move to counter that by focusing on the mid-market segment.
Do you think that the luxury market is saturated?
I would not use the word saturated. Dubai is saturated, but Abu Dhabi is far from saturated. However, there is sizeable supply. It all depends on the growth of the economy. If the economy grows the way we would like it to, then it is not saturated. If hesitance and uncertainty prevail over the next couple of years, there might be a bit of an over-supply situation in some market segments.
How do you view the market sentiment in general? 
It is amazing, quite frankly. We came to Abu Dhabi Cityscape, for instance, with some worry about the hesitation we have been hearing about. However, I can tell you that, in our case in particular, we have doubled the volume of sales that we had last year. And we were very happy with last year. So, things are fine.
But, of course, the Dubai market is fundamentally different market from Abu Dhabi.
Definitely. The main distinction is the number of players in the Dubai market. The free zone areas that are available in Dubai are almost ten times as many as we have in Abu Dhabi. The customer bases are entirely different, too. So, they are very uniquely different. You have to understand each one of the markets in order to deliver.
There is a certain slowdown in the Dubai market…
There is, but there are signs that it has already bottomed. The volume of transactions in the first quarter was encouraging. So, there is some traction and some movement, and everybody was expecting that, till the end of 2016 or even early 2017, there would be some recovery. And we are beginning to see that.
In any case, the government cannot allow a slow down in construction because the GDP depends on construction. So, is it a catch 22?
It is a catch 22. What happened this year is that you had the effect of low oil prices. So, it takes a little while for governments to rebalance their budgets and rebalance them moving forward. I think now, everybody has a fairly good idea as to where oil is going to be in the next two to three years. Once the budgets are rebalanced, the path is clear. I think we were caught by surprise, to be honest, with the sudden drop of oil. But that impact is only this year.
What is different in the Abu Dhabi market as compared to Dubai?
There is certainly less flipping of units in Abu Dhabi. Buyers here are more investment-focused. They look at capital appreciation. As such, it is a little different from Dubai and this is favorable for us, because that is how we design our products. The project I am launching now was designed specifically to give a percentage yield return on the investment. So, at the very beginning, I told my team we needed to come up with a product that would give an eight percent return on the investment. And we did. So, we reverse engineered it, if you like. That is something buyers here appreciate. Moving forward, we certainly have plans for Abu Dhabi. In fact, we have very ambitious plans for growth.
Any plans to move beyond the UAE?
Right now we are very busy within the UAE. In the long term, possibly, but not now.