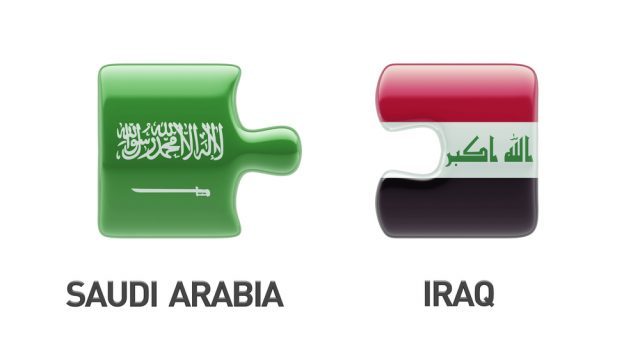 The surprise arrival of Iraqi cleric Moqtada Sadr in Jeddah in July led to confusion in the Iranian media, probably reflecting confusion among the country's political leadership. One account had Sadr as a mediator between Tehran and Riyadh, another maintained he was challenging Iran.
Sadr had not been in Saudi Arabia since 2006, after which he spent three years in Iran, supposedly wanted by the United States for his role in the Iraqi insurgency. After returning to Iraq in 2011, he supported Prime Minister Nouri al-Maliki, an Iranian ally, and strongly criticized Saudi actions against rebellions in Bahrain and Yemen.
Times change. Sadr was received in Jeddah by Crown Prince Mohammed bin Salman and, on his return to Iraq, demanded that, once the threat of ISIS, the so-called Islamic State group, ends, the government should disband the Shia militias known as Popular Mobilization Forces (PMF), which often co-ordinate with Iran's Revolutionary Guards. Sadr said authorities should "seize the arsenal of all armed groups" and a statement from his office envisaged "the beginning of the retreat of sectarian strife in the Arab-Islamic region".
 Breaking the barriers
The Saudi invitation to Sadr was not an isolated event. Two years after reopening its Baghdad embassy after a 25-year gap, Riyadh has announced it will also open consulates, beginning by the end of the year, with one in the Shia holy city of Najaf, and following with others in Mosul and Basra. Saudi Arabia has taken a series of initiatives increasing its political and economic engagement in Iraq in an effort to counter an Iranian influence that has increased since the US-led 2003 invasion toppled Saddam Hussein. If this strategy is successful, it has implications not just for Iraq, but for the wider region, where tensions between Tehran and Riyadh have been stoked by conflicts in Yemen, Syria and Lebanon. The opening in August of the Arar crossing, 340km south of Baghdad, after 27 years of closure, was initially to facilitate hajj pilgrims from Iraq. But the presence of Saudi Arabia's Baghdad chargé d'affaires, Abdulaziz al-Shammari, suggested there was more at stake than easing the journeys of pilgrims.
"We are neighbors and there is a great history, Arabism and blood between us," al-Shammari told reporters. "The Saudi government is planning to implement large projects in Iraq to support the economy in the country, motivating the private sector and Saudi companies to enter the Iraqi market, start businesses there and seize opportunities."
Some analysts are skeptical. "Only 1.5 percent of Iraq's imports in 2015 came from Saudi Arabia," Marc Martinez, senior associate at the Delma Institute, a think tank based in Abu Dhabi, tells TRENDS. "While reconstruction creates a market, Iraq will most likely turn toward Turkey, Syria and Iran, and even to China, South Korea and India."
But Iraq's investment needs are vast. The government estimates it will cost $100 billion to rebuild the mainly Sunni areas devastated by the war with ISIS, while the United Nations has called for $985 million in humanitarian relief alone. Al-Shammari suggested the Saudi approach would initiate a "first phase" in which investors are offered state guarantees. Rather than invest massively in Iraq, where the business environment is marred by corruption and security uncertainty, Saudi Arabia is likely to select a few, targeted projects that would be coordinated through the new joint trade commission announced by the cabinet in August.
Officials have mentioned restoring an oil pipeline from Iraq through Saudi Arabia to the Red Sea and modernizing the Baghdad-Amman highway. The Saudi dairy producer Almarai is looking into producing animal feed in the border province of Muthanna. Work is already underway on reopening the Jamima crossing in al-Salman district, which, before it was closed 27 years ago, thrived on trade, varying from shepherds and camel herders to Saudi exports of cars, processed foods, dates and cement.
Nor should economic links be divorced from political diplomacy. The Sadr visit was part of a wider reorientation of the Saudi approach to re-engage where, in recent years, Riyadh tended to withdraw. In February, the Saudis reversed a decision to cancel $3 billion in military aid to the Lebanese government, rescinded advice to nationals not to visit Lebanon and received president Michel Aoun, a Christian allied to Iran's ally Hezbollah. In June, Iraqi Prime Minister Haider al-Abadi visited Saudi Arabia, followed in July by the interior minister Qasim al-Araji, a close ally of Tehran.
"What happens between Iraq and Saudi Arabia is not a shift," says Martinez. "It's a simple and necessary rebalancing that factors in the reality of religion in Iraq as well as a common nationalistic feeling." Some analysts argue that there has been a tendency to exaggerate Iran's natural influence in Iraq, which is based both on geography and the Shia Islam shared by 55 percent of Iraqis and roughly 90 percent of Iranians: Iraqi nationalism, they say, is strong and accounts for the fact that successive governments since 2003, although friendly with Tehran, have refused to accept the 1975 Algiers border agreement, widely seen in Iraq as too favorable to Tehran.
During the 1980-88 war, when an Iraq led by Saddam Hussein battled an Iran led by Ayatollah Ruhollah Khomeini, many Iraqi Shia leaders took the side of Iran and decamped to Tehran. But Moqtada Sadr's father, Ayatollah Mohammed Sadeq al-Sadr, elected to stay at home, and although Sadr senior was murdered in 1999, Moqtada after the 2003 US-led invasion espoused an Iraqi nationalism that fired the imagination of poorer Shia, especially in Baghdad, and was often critical of rival figures who had returned from exile in Iran.
Sadr's call for dismantling the PMFs reasserts such nationalism. While Abadi immediately rejected the idea, at least in the short term, the prime minister did rule out the deployment of the militias outside Iraq, a recognition of the wide fear in Iraq that Tehran might try to use them in support of president Bashar al-Assad in the Syrian war. There is also speculation that Ayatollah Ali Sistani, Iraq's pre-eminent Shia cleric, may call for the disbanding of the PMFs by rescinding his fatwa of June 2014 extolling Iraqis to take up arms against ISIS.
Now 87, Sistani has proved himself a formidable political operator since 2003 – despite being often described as a 'quietist'. Sistani rejects Khomeini's theory of vilayet al-faqih, which underlies Iran's political system and under which a Shia cleric takes the most powerful executive post. Many Iraqi Shia clerics believe their country, which holds the shrines of seven of 12 Shia imams, is more the natural center of the sect than Iran, home only to the shrine of the eighth Imam, in Mashhad. "Iraqi Shiite clerics are often much more nationalist than pro-Iranian," says Martinez. "They often refuse orders coming from Tehran or Qom. Sistani and to a lesser extent Sadr are their natural leaders."
Iran's nerves over developments among the Iraqi clerics may have been one factor behind the appointment in August by supreme leader Ayatollah Ali Khamenei of a new chairman of the Expediency Council, a state arbitration body. Shortly after his appointment, Najaf-born Ayatollah Mahmoud Hashemi Shahroudi visited Iraq in September 2017 with the Expediency Council secretary and former IRGC commander Mohsen Rezaie, for meetings with Abadi and Maliki.
Shahroudi occupies a unique place in Iranian politics. He has a strong network in Iraq, with a large office in Najaf, and is considered a front-runner to succeed Khamenei, who is 78 and underwent prostate surgery in 2014. "In 1988, Shahroudi changed his nationality to Iranian – he was still at that stage spokesman of the [Iraq] al-Daawa party," Saeid Golkar, visiting Assistant Professor at the University of Tennessee at Chattanooga, tells TRENDS. "He became Shahroudi, from Shahroud [thereby following a common practice in Iran of taking a surname from a place] in the north-east of Iran [rather than simply Hashemi] and his rise since then has been dramatic, to be the head of the judiciary from 1999 to 2009 and now head of the Expediency Council. After Khomeini died in 1989, he became close to Khamenei [the new leader] and even acted as his teacher."
This was important, as many clerics regarded Khamenei as lacking the clerical qualifications to be supreme leader, and it helped create a close relationship between the two men
 Looking toward stability
Urgency comes not from just the Saudi diplomatic initiative but the approach of 2018 parliamentary elections in Iraq, where politics is complicated further by Kurdish pressure for independence and for control of the disputed city of Kirkuk, pressure that could stoke Arab nationalism. Firas Maksad, director at the Arabia Foundation in Washington, told the Christian Science Monitor he believed the Saudis envisaged a new coalition of "moderate" Sunnis and Shia that could bring "stability" to Iraq. That makes Sadr a danger for Tehran. "Moqtada is trying to distance himself from Iran and to gain the support of Iraqi Sunnis to create a trans-religious political party," notes Martinez.  "The appointment of Ayatollah Shahroudi as head of the Expediency Council can also be perceived as Tehran's attempt at reinforcing its influence in Iraq and contesting Sadr's authority." A further shift appeared in the decision in July of Ammar al-Hakim to leave the Supreme Islamic Iraqi Council, a party his family founded in exile in Tehran in the 1980s. In establishing a new group, the National Wisdom Movement, Hakim criticized "the militarization of Iraqi society" and spoke of creating "a bridge of understanding rather than a battlefield for conflict".
"The Saudis are changing their policy," says Golkar. "They have realized they cannot rely just on the Sunnis in Iraq and are playing an interesting game, mobilizing the Arab identity separate to the Persian one. If this Arabism spreads, it makes it harder for Iran to influence
Iranian politics."