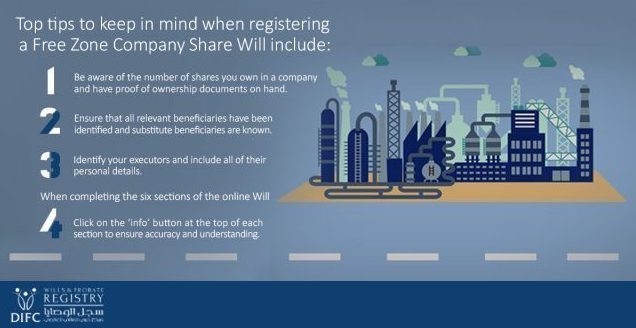 Free Zone company shareholders in both Dubai and Ras Al Khaimah (RAK) can now directly protect up to five shareholdings and guarantee business continuity through a single purpose DIFC Will.
The Free Zone Company Share Will is delivered as an interactive online template enabling company shareholders to follow an easy step-by-step process to specify who the chosen beneficiaries are for their shareholding.
Sean Hird, Director, DIFC Wills & Probate Registry, said: "We know from our client base that business succession ranks high on their list of worries, especially in the event of an untimely death. Our new online Will enables shareholders to secure low-cost rapid protection, enabling peace of mind, especially for business owners who have invested a lifetime of effort and money into running a successful business."
Top tips
One needs to be aware of the number of shares he owns in a company and has proof of ownership documents on hand. One should also ensure that all relevant beneficiaries have been identified and substitute beneficiaries are known
Besides it is also important to identify your executors and include all of their personal details. While completing the six sections of the online Will, click on the 'info' button at the top of each section to ensure accuracy and understanding.
Planning a smooth succession
Companies in which shares are held must be situated in Free Zones in the Emirate of Dubai, Ras Al Khaimah or Ras Al Khaimah International Corporate Centre (RAK ICC), and established in the UAE in accordance with UAE Federal Law.
The Free Zone Company Share Will helps business owners and shareholders to plan the succession of their acquired wealth for the long term in just a few clicks on http://difcprobate.ae/free-zone-will/. As business owners and shareholders change or increase shareholdings, registered Free Zone Company Share Wills can be amended and updated as many times as necessary.
The Free Zone Company Share Will is a practical initiative building on a series of agreements with Free Zone partners in Dubai, such as JAFZA and DMCC, and in Ras Al Khaimah where the Registry is partnering with RAK ICC for the launch and rollout.
Joe Moynihan, CEO, RAK International Corporate Centre said: "A key requirement for international investors is certainty of asset treatment in the event of changing circumstances.  Having such bespoke access to the highly respected DIFC Courts for Wills and Probate, in addition to Dispute Resolution Authority, is a significant benefit to investors who chose Ras Al Khaimah for their investments or International Business Company registrations."
"HH Sheikh Saud bin Saqr Al Qasimi has been instrumental in ensuring that businesses are supported by a legal framework that is fair, transparent and efficient, and this is further evidence of Ras Al Khaimah's commitment to that objective. We look forward to working with DIFC to promote this excellent initiative," stated Moynihan.
First reactions from Free Zone company owners have been positive
"As a partner in a free zone partnership, it is reassuring to know that both partners can now safeguard our shareholding and assets online in a fast and efficient way, particularly as we both travel extensively. Business growth and succession planning has always been a consideration and fortunately now we can now both put a Will in place that focuses purely on the assets related to the business," said Nick Walshe, Partner, media 971.
Jose Maliel, Director and Partner, Creative Heads, said, "As the founder and owner, I am building Creative Heads – a design solutions company based in Dubai Silicon Oasis Free Zone – here in Dubai for the long term. I am immensely proud of our achievements as a tech enterprise, and would wish that the value and assets that I create through the business can be secured for my chosen beneficiary to continue my good work – should the worst happen."