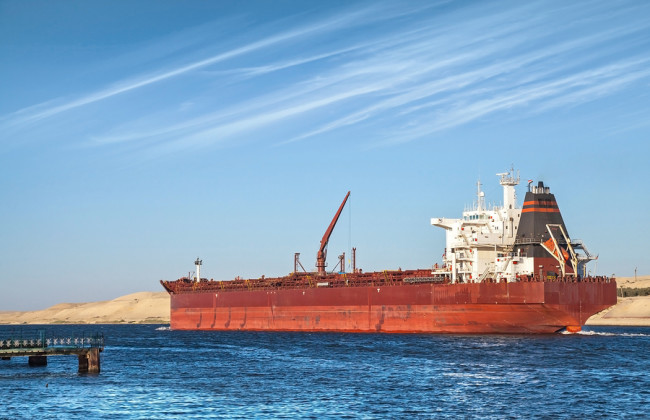 Ratings agency Moody's has joined the chorus of those criticizing the timing of Egypt's decision to open the expanded Suez Canal, its "gift to the world".
While credit positive, its effects will take a long time to materialize, Moody's has said in a note. The event will support Egypt's credit quality through increased current account receipts and government revenue, but "the degree of support will depend on an acceleration in global trade growth, which seems unlikely to materialize quickly, and we expect only limited credit-positive effects for Egypt during the current fiscal year, which started on 1 July," says Moody's.
$13.2 billion is expected in receipts from passage tolls by the Suez Canal Authority, double the $5.4 billion recorded in 2014 and a third of total services and income receipts in Egypt's external current account.
"However, this rests on the assumption of an unlikely sharp recovery in global trade growth, and a doubling in the number of ships using the canal to 97 a day from about 50 currently. Historically, Suez Canal receipts have shown a very strong correlation with global trade, and based on this correlation, world trade would have to grow by around 10% per year between 2016 and 2023 to achieve the projected $13 billion in annual revenues" Moody's points out.
That seems like a tall order. IMF in its latest World Economic Outlook predicts that world trade will grow at a paltry 4.1 percent in 2015 and 4.4 percent in 2016. Also as per data compiled by Bloomberg, Suez has yet to recover from its pre crisis highs in 2009 when the shipping industry saw volumes plummet. The number of vessels using the canal is 20 percent below 2008 levels.
"The Baltic Dry Index, which measures rates for shipping iron ore, coal and grain and is viewed as a bellwether for the global economy, slumped to a record low 509 points in February. It remains about 90 percent below its all-time high of 11,793 reached in 2008," according the same Bloomberg report.
Egypt is said to have spent $8 billion on the 35 km Suez Canal expansion, to increase ship capacity from 50 transits a day to nearly a 100 and cut waiting time from 18 to 7 hours, by allowing two-way passage of ships. Yet, the expansion, completed in a record one year, has come in for criticism from several quarters, not merely for being wrongly timed and unneeded at a time when global trade volumes are depressed, but also for obsolete design, because the expansion will not accommodate the biggest ships still. Experts have also raised concerns about how Egypt will recoup its investments