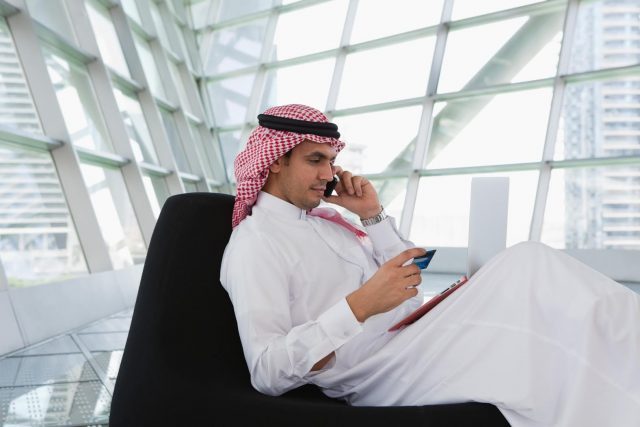 Gary Dugan, chief investment officer – Wealth Management at the UAE's biggest lender, Emirates NBD, presented in mid-December 2016 his investment outlook for 2017, he arranged humanoid robot Pepper, an autonomous car and the hyperloop on the report's cover. The message of the photomontage was clear: the terms 'disruptive' and 'artificial intelligence' will remain high on the agenda in 2017 and beyond.
Using Pepper as an eye-catcher was also a bit of a sales pitch for Emirates NBD. The bank has been using the robot, which was developed by Japan's Softbank and France's Aldebaran Robotics, as an innovative way to greet customers at its branches in Dubai, including at Jumeirah Emirates Towers and at the world's biggest shopping center by footfall, The Dubai Mall, as well as elsewhere. Using two HD cameras and a sensor, Pepper can recognize if a customer enters the branch. It has also been programmed to read emotions.
And this is just one small example of how corporate Arabia is embracing the new era of technology, symbolized by the adoption of, among other things, driverless cars, the Internet of Things (IoT) and Artificial Intelligence (AI).
e-Headwinds ahead
Dugan aptly titled his outlook Dealing with Global Disruptors, for that is exactly what these advances represent. The disruptions to conventional wisdom are unlikely to abate, he wrote. "With pending elections in Europe and Mr Trump getting his feet under his desk in Washington, there is much that could disrupt markets purely from the political angle."
Moreover, he added: "Within industries, the challenges of rapidly changing technology make it all the more difficult to remain competitive, profitable and relevant to customers."
According to Dugan, AI is probably going to be the biggest disruptor. Currently, the most visible examples of AI are assistants such as Siri (Apple iOS) and Alexa (Amazon), which "provide almost a human touch", Dugan said, adding: "Robots are being increasingly used in manufacturing, for surgery and are a cheap replacement in retail outlets."
The new hype for the "Internet of everything" has reached the highest echelons of the Dubai government under UAE Vice-President and Prime Minister and Ruler of Dubai Sheikh Mohammed Bin Rashid Al Maktoum; and the buzz has reached corporate Dubai as well.
Notably, the healthcare industry in the Gulf Cooperation Council (GCC) countries has embraced IoT applications in a big way. According to a recent survey conducted by the International Data Corporation (IDC) Health Insights in Qatar, KSA and the UAE, as many as 50 percent of hospitals in these countries are currently using IoT-based solutions, such as radio-frequency identification and barcoding, to track patients and staff, as well as to improve diagnostic tests and care. In addition, telehealth systems are helping to provide patient care in remote areas. The industry's IoT spending across the Middle East and Africa is expected to grow at a whopping 18.7 percent until 2020.
Personal wellness is another area that has pushed IoT into people's lives in a positive way. Smartwatches and wristbands equipped with fitness/sleep trackers are the latest fads as people are increasingly becoming more health-conscious and integrating technology into their lives. Devices such as the Apple Watch, Moto 360 and other smart gadgets have resulted in the phenomenal growth of the wearables market.
Health authorities in the GCC are increasingly promoting the use of IoT-enabled devices to help maintain a healthy lifestyle. The Dubai Health Authority has initiated an incentive program aimed at rewarding residents for healthy behavior, based on data recorded by fitness trackers. IDC predicts the GCC's personal wellness wearable market to grow at a CAGR of roughly 22 percent over the next few years.
IoT has also impacted the oil and energy sectors. The digital modeling of oilfields, 3D seismic analysis and computer optimization of field development have added new dimensions. Qatar is putting in place the telecommunication and information technology infrastructure and giving firms access to finance to promote e-commerce to boost its SME sector.
Qatar Shell, for example, has already invested in digitizing its operations on a mega-scale. Its suppliers have been encouraged to upload their products online or to create an app and market their company to a larger client network.
Meanwhile, another development that promises to revolutionize the GCC region is the advent of autonomous vehicles. According to the Dubai Autonomous Transportation Strategy, launched by Dubai ruler Sheikh Mohammed, 25 percent of all trips on the emirate's roads will be undertaken via autonomous – also called driverless – cars by 2030. Needless to say, the Internet will play an integral part in the operation of these vehicles.
"By equipping cars with Internet-connected sensors, intelligent traffic systems can reduce traffic jams on the road and help finding parking spaces," said Bill Ford, the great-grandson of Henry Ford and the executive chairman of the Ford Motor Company.
Telematics is another area that looks set to burgeon soon, especially for deliveries and trucking. This service is designed to track mobile assets and perform logistics management, and is being employed by companies aiming to enhance their fleets' productivity and tackle road safety issues. The telematics tracking device sends event reports via SMS, e-mail and pop-up messages.
But it's not just transportation that will be affected – the move may end up altering whole cityscapes as well. The rise of driverless vehicles, which the UAE government has already started testing in Downtown Dubai near the world's tallest building, Burj Khalifa, led Mohamed Alabbar, the chairman of the edifice's developer Emaar Properties, to say that, if autonomous cars will really prevail, "we will be able to erase many parking slots and build more office buildings on them."
High noon.com
If the encroachment of the Internet and smart gadgets into the real world is one end of the equation, at the other end is digital, with many previously real-world experiences now moving online.
Market watchers in the region were thrilled by the news that Amazon and Flipkart, the two biggest e-commerce websites, were looking to acquire Dubai-based Souq.com, the Middle East's biggest e-commerce player. Souq.com, which sells more than 1.5 million products to customers in the UAE, Egypt and Saudi Arabia, became the highest valued Internet company in the Middle East, with a $1 billion valuation.
However, the deal fell through, as Souq.com was reportedly interested in selling only a 30 percent stake, whereas Amazon eyed a complete takeover. Reports state that Flipkart has also walked away. Still, this development just goes to prove that the region has now become a key player in e-commerce.
And now, even before the dust has settled, Souq.com's position in the regional e-commerce market is being challenged by well-funded competitor Noon.com.
In September last year, Mohamed Alabbar, along with his son Rashid Alabbar, announced the launch of e-retail platform Noon.com in January 2017.
"We will sell everything" through this platform, the 60-year-old business magnate said. Leading a group of roughly 60 investors, Alabbar will invest $500 million in the business venture; the same sum will also be invested by the Saudi Arabian sovereign wealth fund.
Inspired by the success of his son's fashion and luxury e-retail platform, Sivvi.com, and certainly motivated by Chinese B2B giant Alibaba.com, Alabbar promised that Noon.com would soon become a game changer in the world of e-commerce. He even speculated about listing the site on a financial exchange within five to seven years.
But these are only two players: the region is home to many other e-commerce sites with great potential. These include: Mumzworld.com, which sells maternity and babycare products; Jadopado.com, an auction marketplace where one can buy and sell new, used and refurbished items; Axiomtelecom, the Middle East's largest retailer of recognized mobile brands and deals with various telecom operators; and Basharacare.com, an online skin healthcare solutions site for both men and women across the Middle East. There are also myriad niche websites on home interiors and décor solutions, food products, traditional wares and much more.
And the adoption of digital is only helped by the fact that more than one third of the region's total population is between the ages of 15 to 24 – in fact, this is the largest age group in the MENA region. The UAE and Saudi Arabia regularly rank among the top countries in the world in terms of smartphone penetration rates.
So does this mean there's no more place for physical stores and the future of shopping is entirely online? Not really. The MENA region is shopaholic, spoiled by an abundant, well-organized retail sector. The UAE alone has one of the highest numbers of shops per capita in the world, with 4.7 million square meters of shopping centers in Dubai and Abu Dhabi alone.
In fact, the dominance of retail may change quite soon. Although online sales compared to retail are low at the moment, as e-commerce is still in a nascent stage in this part of the world, they are expected to reach a market value of $10 billion in 2018.
The change in consumers' established shopping mall culture and the shift to Internet for all sorts of purchases are just beginning.
A study by Network International found that almost one third (34 percent) of UAE residents make online purchases one to five times a week.
One side effect of the ubiquity of the Internet is that shoppers are constantly looking for increased convenience, better pricing and a wider range of options. e-Commerce in the region is forecast to accelerate and create new businesses and job opportunities. However, at the same time, the threat to brick-and-mortar stores is not very big right now – but there's no telling how long this run will last, so it may finally be time for retail to build online capacity in search of new growth channels.
Banking on it
As we have seen, digital, technology and the Internet have disrupted just about everything and their effects are being felt in banking as well – with lenders in the MENA region being no exception. In mid-December 2016, the UAE's only local bank with zero public shareholders, Mashreq Bank of Dubai, became the first lender in the Middle East to introduce chat banking through Facebook Messenger. With the innovative MashreqBot, clients can ask questions on how to bank and learn more about the lender's product offerings.
This is but one example of the emerging world of financial technology, or 'fintech.' "Fintech has arrived ($19 billion invested in 2015) but, in the old world, adoption has been slow," explained Emirates NBD's Dugan.
He added: "Only one percent of US consumer banking revenue has migrated to digital banking. This is expected to grow to ten percent by 2020 and 17 percent by 2023. In China, Internet giants (Alipay and Tencent) were faster than the banks to offer alternatives to traditional bank payments and have a 50 percent market share."
When asked if Switzerland's biggest bank UBS regarded fintech as a challenge or chance, UBS Group COO Dr Axel P Lehmann told TRENDS: "It is both: it is a challenge because it reaches out to tech-savvy clients and disrupts existing distribution channels.
"For us as a global universal bank, it is also an opportunity. We have products and services, and clients who demand new ways of getting access to those products and services. With fintech, we can build efficient platforms or invest in start-ups."
Doha Bank CEO Dr R Seetharaman says: "e-Solutions are not options… Every country has to recognize that the digital divide is going to make or break the sustainability of the economy."
For banks, digital payments, crowd-
funding, robo-advisory and blockchain are necessities that will help them remain at the forefront. The sooner they adopt these services, the more positively consumers will view them, because, ultimately, convenience and cost efficiency will be improved. However, one thing that could pose a potential roadblock is cybersecurity: experts insist that data security, privacy issues and secure gateways for e-transactions need to be focused on to make fintech viable and safe.
Tech that
Dubai Airports CEO Paul Griffiths has already promised to take the travel experience to the next level, "when passengers can check in their luggage at Dubai's metro stations in the near future, while carrying just their passport and hand luggage when entering the departure halls."
Amro Ahmed, commercial excellence and local content and SME manager at Qatar Shell, recently stressed at a conference of SMEs: "Electronic trading, e-commerce and social media are very powerful and effective tools that we cannot ignore. Either we move with technology and utilize it in a very practical way or we will be left behind."
But when one looks at the broader business landscape, even though technological advances have ensconced themselves in almost every sphere of life, there don't seem to be that many tech firms that have made much impact. Today, the vast majority of listed shares in the GCC region belong to banks, developers and investment firms, with very few technology firms being traded – and most of these are telecommunication companies, such as the UAE's Etisalat and du or Zain from Kuwait.
However, the truth of the matter is that the number of new technology-driven start-ups is skyrocketing across the MENA region, with many new entrants already valued at more than $100 million each and with more than $750 million invested in tech start-ups between 2013 and 2015.
The rise of tech in the East has not gone unnoticed. In his first presidential election debate, Donald Trump praised the modern, high-tech airports in Dubai, Doha and China, while he labeled US civil aviation hubs "third-world standard". At the Arab Strategy Forum in December last year in Dubai, Mohamed El-Erian, chief economic advisor at Allianz Group, said he expects a corporate tax relief reform under President Trump: "I think US stocks will remain attractive in 2017," he noted.
This would make the Middle Eastern scenario very similar to what happened during the era of Reaganomics in America in the 1980s. The oil price slump of the early '70s eventually led to the huge economic boom that led to the birth of giants such as Cisco and Dell, which in turn led to what was called the 'dotcom boom', which dominated the last few years of the previous millennium.
Boom or bust?
Of course, it is impossible to talk of the dotcom boom without talking about the ensuing collapse – the so-called 'bust'. Emotions, not reason or calculations, were the main drivers behind the dotcom boom, which spanned six or so years from roughly 1995 to 2001.
At the peak of the boom, shares in companies such as Amazon and Yahoo doubled, tripled and then quadrupled. Then, valuations ran amok and the bubble burst, resulting in the biggest stock market slide since 1987. Many dotcom firms that collapsed then either never got back on their feet or, if they did, never reached the heights they attained earlier.
So is the Middle East's tech boom sustainable or will it burn itself out?
Even though it feels like the latest tech advancements are already everywhere, in truth, the whole landscape of wearables, robots, AI, automation, fintech, e-commerce, etc., is still in the early stages, at least in this region – which only means that there is clearly a massive scope for enhancement and growth in the future.