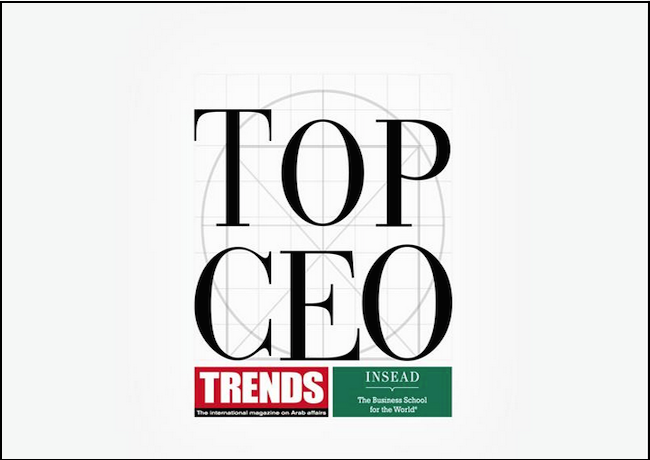 The wait for the region's most authentic and transparent business awards night has finally come to an end.
The Top CEO Awards, co-hosted by TRENDS and in partnership with INSEAD Business School, will celebrate the very best in GCC business leadership, recognizing the region's 100 best CEOs in a gala ceremony at The Four Seasons, Dubai this evening.
"We are delighted to partner with TRENDS magazine and formally honor those industry heads who contribute to the region's economic growth and the betterment of society through their commitments and endeavors," says Miguel Lobo, Associate Professor of Decision Sciences and Director of the Abu Dhabi campus at INSEAD Business School.
The event is expected to set a new benchmark for business awards programs in the region by awarding only leaders from stock exchange-listed companies. The companies were evaluated on the basis of their performance in 2014, when the combined market capitalization for stock exchanges in the GCC grew to AED3.78 trillion ($1.029trn).
Along with global audit firm Deloitte, which ensured the accuracy and reliability of the data and rankings, and INSEAD Business School, which reviewed and validated the formula, Hawkamah has helped assess corporate governance standards and disclosure criteria that form a critical part of the rankings.
TRENDS asserts that winning this recognition is not only a validation of excellence, but is also likely to lead to tangible new business opportunities for winners.
"The recent upgrading of the UAE and Qatar stock exchanges by Morgan Stanley Capital International (MSCI) to emerging market status is encouraging growth and pulling capital into the region. Foreign investors are looking at benchmarks for corporate excellence, with the Top CEO results likely to be closely scrutinized by potential investors who are looking to enter the GCC market," says Julien Hawari, Co-CEO at Mediaquest, publisher of TRENDS magazine.
Click here for an audited shortlist of 150 companies, which was narrowed down from approximately 700 businesses listed on the seven GCC stock exchanges.