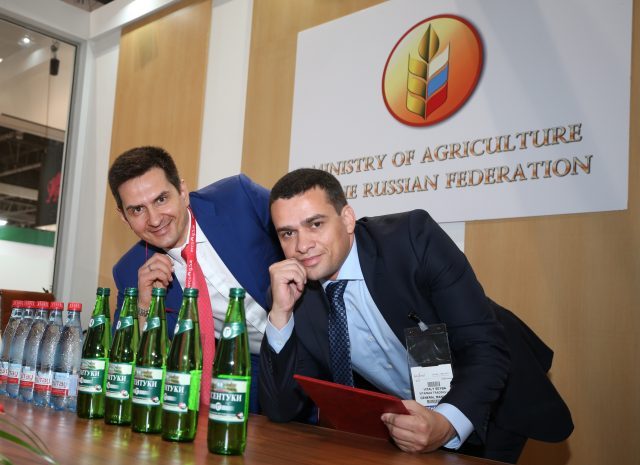 Russia's best-selling bottled natural mineral water – once the preferred choice of the country's Imperial family – is to go on sale in the UAE after its producers signed a distribution deal at Gulfood 2017, the world's largest annual food event running at Dubai World Trade Centre (DWTC).
The Aqua-Vait water, which is taken from the natural springs of the historic spa resort of Essentuky in the foothills of the Caucasus Mountains, is now to be distributed by Dubai's Vitaimax Trading LLC.
Sales & Marketing Manager Evgenii Poletaev says the brand's reputed health benefits will give it an edge in the UAE's increasing health-conscious market.
"This is the purest water you can get with distinct natural mineral composition which has long had a reputation for health and healing benefits. It has gained certification from the appropriate authorities here in the UAE and from the European Water Stewardship accreditation organisation," said Poletaev. "The water market here is competitive but we believe we can penetrate it because people are now looking for proven natural provenance."
Meanwhile, the UAE's Elite Mineral Trading, which operates out of the Hamriyah Free Zone in Sharjah, struck a distribution deal with a second Russian water producer – this time the elite mineral group of Zheleznovodsk (meaning iron water place) in Russia's mountainous Stavropol Krai region.
Elite Mineral Trading, established specifically to market the Elima sparkling water and Luxor flavoured water brands which are produced from mineral water wells in organic land in the Caucasus, have been adapted to meet GCC regulations and regional tastes.
Abdul Aziz Mohammed Buali, Sales Manager, Elite Mineral Trading, says the product will be distributed throughout the GCC and North Africa from the UAE.
"This water has tremendous provenance which is relevant to this region," said Abul Aziz. "It is the water which the Arab traveller Ibn Battuta drank on his travels and wrote about praising its medicinal benefits. It has been adapted to adjust its strong salty taste specially to the preferences of this region and we have created a particular line of fruit-flavoured waters aimed at children."