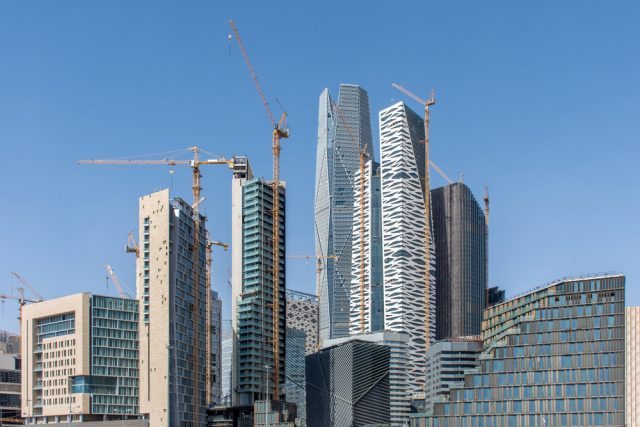 It was 10:30 am on Sunday, May 14, 2017,  and the new, unfinished two-storey office on Sheikh Zayed Road was packed with crowd waiting to hear from a property developer launch of a new project. At 10:30 am, Danube Group Chairman Rizwan Sajan opened the extended head office of his real estate division – Danube Properties – followed by a jam-packed press conference to announce the company's ninth project – Bayz, an AED450 million residential tower to be built at Business Bay in Dubai, overlooking the world's tallest building, Burj Khalifa. The 29-storey Bayz tower, comprising of 456 apartment units, takes the company's property development portfolio to AED3 billion.
Crowds thronging press launches for real estate projects are rare these days. It used to happen in the pre-crisis heydays of the unprecedented real estate boom in Dubai, from 2006 to 2008 or thereabouts, when developers would spend millions on launch events and parties. That was then and this is now.
"As we have been following a consistent development approach – that is, to launch one project at a time, sell it out, start construction work and then launch the next projects – we have decided to launch our ninth project, Bayz," Rizwan Sajan told the media at the project launch. Danube Properties' key selling points are simple: affordable homes, a convenient monthly payment plan of one percent per month and timely construction and
delivery of projects.
Not a common scenario
However, what happened at Danube Properties' head office is in sharp contrast to the wider scene in the real estate sector – where developers and brokers are finding it difficult to sell properties, even as prices hit rock bottom.
However, most reports paint the opposite picture that is portrayed at the Danube launches.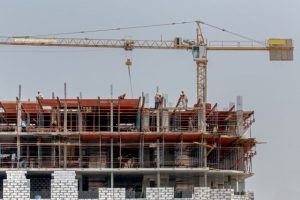 "The market is undergoing a false start now," Jesse Downs, Managing Director of Phidar Advisory, says as her brokerage advisory firm released its first quarter market outlook report.
"Apartment sale prices declined only nominally this quarter and volumes increased, which could be mistaken for an impending recovery, but the market fundamentals still do not support this in the short-term," she adds.
Slumping oil prices have severely affected the member nations of the Gulf Cooperation Council (GCC). This has lowered government revenues that has negatively affected spending plans, said a recent report by Ernst and Young.
"Oil price volatility is anticipated to continue and, although the GCC governments expect to raise non-oil sector revenues to fund their spending programs and reinforce the regional economic growth, governments are reviewing their spending commitments and priorities on infrastructure projects," the report read.
"It is unsustainable to have yield erosion amid rising debt cost and liquidity constraints," explains Downs. "As interest rates creep up and banks likely impose tighter lending standards, residential volume and prices should decrease."
Gearing up
Amidst all this, the Dubai Land Department reported that the value of land and real estate transactions rose to AED77 billion during the first quarter of 2017, a 45 percent jump compared to 2016.
"This indicates that the real estate market in Dubai is preparing for a new phase of momentum and the rise and strong results achieved during the first quarter of this year were not surprising, but expected, especially with the sustainable growth that the real estate market is currently witnessing," Sultan Butti bin Mejren, Director General of Dubai Land Department, says.
Real estate investments reached more than AED40 billion in total value through 15,501 investment transactions in the first quarter of 2017.
However, weak economic conditions, rising inflation and high costs of living continue to curb demand in Abu Dhabi's real estate market, resulting in high vacancy rates in both residential and commercial markets, where landlords have started to offer more flexible deals to attract occupiers, according to international real estate consultancy, Cluttons.As per the Cluttons report, wide-ranging redundancy programs in both the private and public sectors, stemming from weaker economic conditions, are adversely impacting overall buyer demand levels.
Brokerage firm Asteco also says new supply and continued macroeconomic uncertainty will place further pressures on rates. Apartment rents dropped seven percent on average year-on-year, while villas saw an average five percent decline. Average sale prices for both apartments and villas were down four percent for the year. The decline will be exacerbated by new supply to the market: approximately 1,400 residential units were handed over during 2016 and close to 4,000 units – including 2,700 apartments and 1,360 villas – are expected to be handed over this year, it said.
Faisal Durrani, Head of Research at Cluttons, says: "With no respite expected from the economic pressures curtailing jobs growth and also catalyzing redundancy programs, it is our view that the residential rental market will continue contracting throughout 2017. We forecast that average rents are likely to end the year five percent to seven percent down on 2016. The top end of the market is expected to register more substantial declines."
More room for negotiation
A similar scenario is prevailing in the Saudi real estate market, according to reports.
"Rental values in the housing sector in the first quarter of the year have decreased by nine percent quarter-on-quarter and 8.5 percent year-on-year. Following the economic slowdown of the market in 2016 and the subsequent departure of a large number of expatriates, the rental market now sees more room for negotiation, forcing the rental values to go down," a report by Jones Lang LaSalle (JLL), a global real estate advisory firm, said.
"With Vision 2030 in place, and the economy adjusting to lower economic growth, 2017 is set to become a watershed year for the Kingdom's real estate market," says Craig Plumb, head of research, JLL MENA.
"We predict there will be increased activity in the real estate sector through the public investment fund (PIF), the listing of further REITs (real estate investment trusts), taxation reforms and a series of public private partnerships or PPP's. The Kingdom is keen to move towards diversifying the economy and, as a result, the government is expanding the leisure and tourism sector to attract visitors to the country," he adds.
The Ernst and Young report further notes that one of the key non-oil sectors that is earmarked to help diversify revenue streams and economic base is real estate, hospitality and construction (RHC).
However, as market regulations take effect, the REITs might drive the growth of demand in real estate, as they would want to cash in on the current low-price environment, hold assets for a while and benefit from the relatively high rental yields and then sell off when the market picks up.
Abu Dhabi Financial Group (ADFG) this month roped in ten investor groups to launch Etihad REIT, which will start buying assets to hold and sell later on. This will help the market to come back.
Uncertainty taking its toll
Elsewhere in the Middle East, political uncertainties and the insurgencies in Syria, Iraq, Yemen and Libya are taking their toll on the overall economy and the real estate markets. These conflicts also affect neighboring countries, such as Jordan and Lebanon.
The limited rise in oil prices is having a positive effect in the region. Even if it is not yet enough to allow most oil-export-driven countries to plug their massive fiscal imbalances and improve their current account balances, the mild price increase is apparently helping alleviate liquidity stress in domestic financial markets and enabling the economies affected to post better-than-expected budget figures,  said the latest report by Focus Economics.
"Similarly, the weaker-than-expected rise in oil prices is shoring up private consumption among oil-importing economies and reducing pressure on their external sectors. Nevertheless, despite some improvements, security risks remain high in the region, hurting investor sentiment. Moreover, macroeconomic imbalances and delays in implementing structural reforms are dampening the potential for a sustained economic recovery in the mid- to long-term," it said.
The devaluation of the Egyptian Pound  (in November 2016) aimed to reduce the impact of the unofficial currency
channels and correctly account for currency inflows. The stabilization has attracted foreign investment on the back of greater economic optimism. "Several contractual revisions have also occurred across the real estate sector that have alleviated the negative effects of increased activity costs on market participants," reveals the latest report on the Egyptian real estate market by JLL. "In the residential market, developers are introducing more efficient payment plans, increasing densities and reducing unit sizes in response to the negative impact of higher costs."
Growing middle-class demand
Algeria's real estate market has in recent years seen a proliferation of private property developers seeking to tap into growing demand amongst the upper and middle classes for mid- to high-end residential property, shopping malls, quality hotels and tourist resorts, says Oxford Business Group.
"However, demand remains highest for low-income units, which the public sector is looking to address. Supply remains constrained as a result of the scarcity of land available for new development, dampening interest among private developers and resulting in the government building much of its new social housing stock in greenfield areas," notes Oxford Business Group in its latest findings.
Meanwhile, strong demand for housing, public spending on infrastructure and incentives from the government have continued to help drive real estate and construction sector activity in Morocco, although access to credit continues to
restrict the volume of new developments.
"Growth of the middle class has resulted in an increase in demand for mid-range housing. In response, the government has encouraged the construction of new cities to curb excessive urban sprawl in major cities such as Casablanca and Rabat," says Oxford Business Group.
One of the large-scale projects will house 250,000 inhabitants and involve more than AED22.3 billion (€2.4 billion) in total investment. There are many more such projects being developed.
Diversification of portfolios
A number of property developers are now developing their strong leasing portfolio as well as diversifying into retail, hospitality and other asset classes.
The diversification push comes from the painful lessons learnt from the 2008-09 global financial crisis that eliminated a large number of developers. Increased recurring income from leasing portfolio, retail and hospitality is helping all the major property
developers, such as Emaar Properties, Nakheel, Dubai Properties, Damac Properties and others.
Roughly half of Emaar Properties revenue comes from hotels and shopping malls. Nakheel has just awarded a AED4.2 billion contract to build Deira Mall – one of the largest in the region that will give the once-bankrupt developer enough cash flow to make the business more sustainable and help it survive future crises. Schon Properties, developer of the Dubai Lagoons project, has changed the project and transformed it into a branded hotel apartment complex under the iSuites development – an AED3.2 billion portfolio to be built jointly by Schon and Al Hamad Contracting.
For most developers in the Gulf – portfolio diversification is a way forward and a success mantra to beat the odds and negative implications of the market.