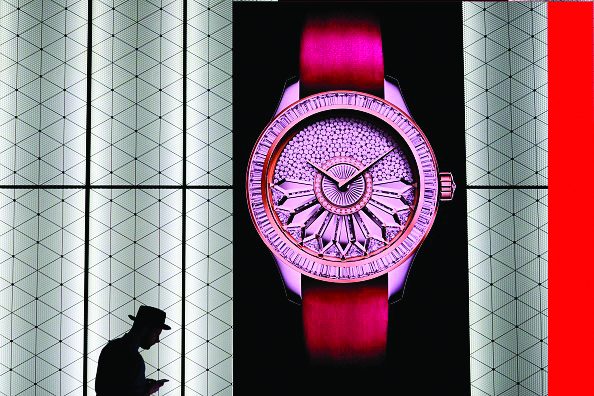 What time is it when the watch strikes 13? Time to buy a new watch – used to be the answer in joke books. With changing consumer behavior and choice, and the kind of transformation the global watch industry is currently going through, it seems the watch is not striking at 13 – but something is different and we don't know the right answer. One might describe the current state of the global watch market as one of 'uncertainty'.
When it comes to watches, consumers no longer emphasize words such as 'movement' or 'chronometer'. Rather, they talk of Android Wear 2.0, Watch OS or Gear S3 – smartwatch operating systems.
Consumers, especially millennials, talk more about Samsung, Apple and Swatch watches than traditional watch industry leaders, such as Seiko, Casio, Orient, Raymond Weil, Rolex or Omega.
In the face of the expansion of wearable digital gadgets like the smart watch, how would one describe the state of the luxury watch industry? 'Watch out' is the resounding answer.
This was one of the main points of discussion at the recently concluded Baselworld 2017 at Basel, Switzerland, in March. Baselworld is the most important and premier event for the world's watch and jewelry industry, where industry leaders tried to seek a new direction on consumer trends and how to re-adjust growth strategy for the industry this year.
TRENDS also tried to get some answers to two vital questions: What does the future of the luxury watch industry look like? Is it the end of the beginning or the beginning of the end for the industry?
Recently, global trends were also partly visible in the Middle Eastern markets that were affected by declining oil revenues, continued insurgency in some countries and weakened consumer confidence in the second half of 2016, Federation of the Swiss Watch Industry said.
However, on the flip side, a vintage Patek Philippe became the most expensive watch ever sold at an auction in March this year, when it fetched an incredible $499,500 at an auction by Christie's in Dubai. The timepiece was the final lot in the auction, which was also a record breaker.
Notably, total sales reached a whopping $5,358,312 – the highest overall value ever for a watch auction in the Middle East. Other leading brands that were also part of the auction included Rolex, Panerai, Cartier and Boucheron.
So, things don't seem all that bad.
"We have a significant growth for Breitling within the Middle East," said Jean-Paul Girardin, CEO of Breitling. "We have good products, good distribution and good after-service, which we see could help us even more in having more growth in the Middle East."
Guido Terreni, Managing Director of Bulgari Watches, says: "I believe the Middle East (countries) are courageous in adopting things that are unconventional. We are very powerful in the region, having brought back all of the operations under our responsibility in the past two to three years, where we developed our network with The Dubai Mall and Mall of the Emirates."
According to a report by the Federation of the Swiss Watch Industry, the export value of watches priced at less than 200 francs (export price) lost more than 20 percent in February 2017, while the reduction was –11.9 percent for timepieces priced at more than 3,000 francs. However, between the two, export sales fell more moderately at –4.0 percent. The decline in sales was less in the luxury segment than for mid- to lower range timepieces.
"The downturn continued to flatten out in Hong Kong, although hesitantly. In February, it was more marked than the global average at –12.1 percent. The US reported one of the most severe falls, although after two months of rising figures. The negative trend is in phase with the results of sales on this market," the report read.
"The environment confronting the Swiss watch industry remained difficult throughout 2016. Swiss watch industry exports fell for the second year in succession. Their value stood at 19.4 billion francs, 9.9 percent lower than in 2015. With this result, the industry has returned to its 2011 level and seen an end to the growth of 15 percent achieved between 2011 and 2014," the Federation of the Swiss Watch Industry said.
Swiss watch manufacturers exported wristwatches worth the equivalent of 18.3 billion francs corresponding to the consignment of 25.4 million timepieces (–9.8 percent). The global market for watches in terms of value sales is projected to exceed $50 billion by 2022, according to the Global Industry Analysts Inc, driven by growing demand for luxury watches due to the increased number of high-net-worth individuals (HNWIs).
Declining exports
Global production of timepieces is estimated to be approximately 1.2 billion per annum. In unit terms, China remained by far the largest exporter in 2016, exporting 652 million wristwatches, 4.5 percent less than in 2015.
Hong Kong suffered a substantial further fall of its watch exports. In all, 241.1 million timepieces left the Special Administrative Region last year, representing 12.9 percent fewer than in 2015.
As usual, Switzerland ranked third with 25.4 million watches exported. This result was 9.8 percent lower than in 2015. The average export price also fell from $748 to $708.
Smartwatch sales are forecast to grow by 18 percent in 2017 to over $10 billion according a new report from Canalys.
"By the end of this year, the value of the smartwatch market will hit roughly two-thirds of the traditional watch market," read a report. "The Swiss watch industry has been facing challenging conditions since 2015. The export of mechanical watches fell in 2016 to their lowest level in five years."
Global watch industry imports also declined on all main markets in 2016.
Activity in Hong Kong was substantially lower, with a fall of 12.8 percent. Its imports, three-quarters of which consisted of watches, stood at $8.3 billion, Federation of the Swiss Watch Industry says.
Getting techy
For a long time, the industry, which typically generates more than $20 billion in annual exports, enjoyed an air of exclusivity and ignored the Internet.
Now, traditional watchmakers are queuing to grab a share of this fast-growing market via technology partnerships and investments. "Watchmakers' survival will depend on creating competitive smartwatches," said Canalys analyst Jason Low in a statement. "Forming partnerships with technology companies will be the first step. A well-formulated strategy to sell a watch will play a larger role as watchmakers have to appeal not only to watch fans, but consumers who are yet to buy a wearable."
Re-thinking strategy
However, not everything is bad. Millions of people still use wristwatches, despite mobile phones telling them time – not only in their present location, but in cities across the world as well.
As more and more people become economically empowered in the emerging markets of Asia, Africa and the Middle East, more and more consumers will purchase luxury watches – as long as they remain in fashion.
A wristwatch is not just a timepiece; it's a reflection of a person's personality, their tastes and, in many cases, who they are.
As long as that emotion remains, people will value timepieces and buy them as valuable possessions.
However, that being said, the industry needs to rethink its strategy to not only survive but also remain attractive to the new generation of tech-savvy consumers who want everything on their wrist and in their watch. It's time for reflection.