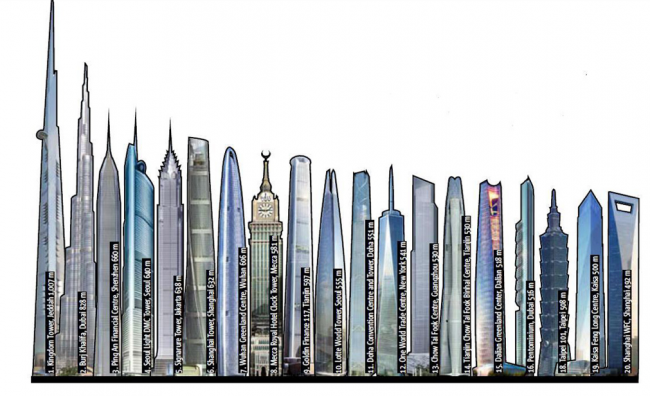 The world's tallest building, Kingdom Tower in Jeddah, Saudi Arabia, will be completed by end of 2018. More than one-kilometer high tower in the Red Sea commercial city of the Kingdom is likely to open doors in December 2018, says Mounib Hammoud, CEO of Jeddah Economic Company.
The contractors working on the SR6bn ($1.6bn) project expect to complete the raft foundation of the tower, which is the largest of its kind in the world standing at 1,008 meters, in August this year. "It is the largest concrete raft in world. In places, the thickness is five meters," says Hammoud, adding: "Everything in the tower is the biggest or the largest, and it will be the nucleus of a new commercial centre to the north of Jeddah."
Currently, Burj Khalifa in Dubai is the tallest skyscraper in the world with height of 828 meters and 160 stories.
The first phase will be 1.4 million square meters and will include the tower, a mall, a large mosque for 12,000 worshippers together with other residential and commercial buildings.
The contractor working on the tower is the local Saudi Binladin Group. In February 2013, a joint venture of the UK-based EC Harris/Mace was awarded the project management contract, while the client developing the tower and the surrounding Kingdom City is Jeddah Economic Company, which said it is looking to raise about $1bn to help fund the estimated SR13bn ($3.5bn) first phase of the Jeddah Kingdom City, together with the SR8.7bn that the shareholders of Jeddah Economic Company assembled.
France's BNP Paribas is the financial advisor for the deal and the local Alinma Bank is also assisting with the loan that will bridge the funding gap while the developer waits for revenues from land sales at the development.
Land sales and off-plan property sales are expected to accelerate as construction work on the SR6bn Kingdom Tower's superstructure starts. "We are not in a hurry to sell land as the value is increasing as the tower construction moves ahead," said Hammoud.