The pandemic forced office-workers into their homes. And depending on whom you ask, video-conferencing platforms that became the norm for office meetings either shackled such workers to their computers, or set them free by allowing them to work from home and added to their productivity.
Either way, one big winner was Zoom: What it managed to get right is still a matter of research, but get things right it did, leading to phrases like "I'll Zoom you" overtaking "I'll Skype you."
This, despite Skype, having been acquired by Microsoft, having been in use for much longer than Zoom.
So, it was only expected that Zoom would announce that it has been working hard to update its features to face previous and upcoming challenges and maintain a thriving work environment at a time when vaccinations and variants duke it out at the world stage.
Around 64 percent of UAE employees believe the option to work from anywhere, whether in the office or at home, is a driver of personal and professional happiness, according to the Life and Work Beyond 2022 study conducted by research firm Davies Hickman Partners.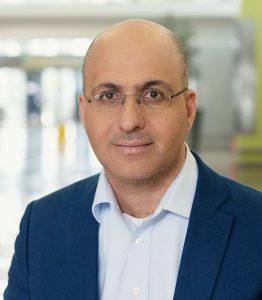 Zoom believes 2022 would "offer a more comprehensive acceptance of remote working policies, as more companies are allowing employees anywhere," Sam Tayan, head of MENA at Zoom, told TRENDS in an interview.
Why GCC?
Zoom has seen GCC countries present forward-thinking attitudes by setting up Vision plans for the next 10-20 years, aiming to become hubs of digital-friendly smart cities.
Zoom aspires to connect its users and digitalize communication, aligning with the region's goals.
"It is a must-expand market for us!" Tayan said.
He added: "Zoom aims to form successful and beneficial connections with industry leaders to be involved in regional strategies."
The United Arab Emirates and Saudi Arabia appear to have shown the most significant intentions in embracing future technologies.
Zoom may be expected to have a big piece of the video-communication pie in these countries.
In the UAE
Tayan explained: "Around 76 percent of the UAE respondents [in a survey conducted by the company] chose Zoom as their preferred platform."
He added: "With the UAE and Qatar's bans of Voice over Internet Protocol (VoIP) technology, Zoom stands as a regional leader in the field of virtual communications."
Zoom is now said to be working hard to accelerate the UAE's digital development across various sectors, including healthcare, education, e-government, and smart-city infrastructures.
Expectations for 2022
As Tayan mentioned to TRENDS, Zoom was planning to launch several new features in 2022
Huddle view: Huddle view is expected to provide users a visual picture of a channel, providing teams a sense of togetherness.
At the same time, they would be able to communicate and collaborate, bringing dispersed teams together in a digital area.
Zoom Events Backstage: Speakers, panelists, and production staff could use Zoom's backstage feature to reply to questions, monitor chat, and mingle before going live.
Zoom Whiteboard: The Zoom Whiteboard would apparently allow on-site and remote participants to engage in real time on a persistent digital whiteboard from any location and at any time.
This feature can be used in any Zoom Meeting.
Zoom Widget: Zoom is developing the Zoom Widget to help users get an instant glimpse of their meeting calendar, check who is already in a meeting, send a brief chat, and more.
Zoom Apps for Mobile and Webinar: Zoom Apps are now available for the Zoom mobile app and Zoom Video Webinars.
Zoom will also reportedly also release Immersive Apps, which will allow users to customize their Immersive Views.
Video Engagement Center: The Video Engagement Center is expected to be a straightforward cloud-based solution that allows users to connect professionals and end customers over video, with cloud-first scalability and video architecture.
Enhanced translation and transcription: Zoom is adding live translation and expanding its auto-generated captioning to support a range of languages in 2022.
Jumpstart by Zoom: Zoom is working on Jumpstart, a new app-builder tool that is expected to help developers get their apps to markets faster by providing industry-leading, dependable video.