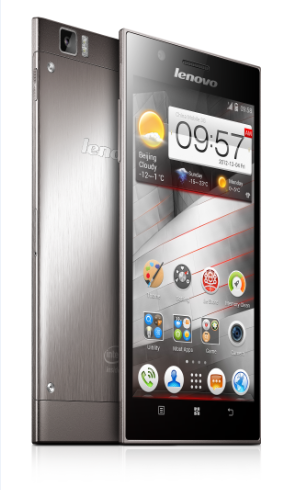 As smartphones have become ubiquitous, customer demands on "top-of-the-line" devices have increased, with design and usability growing in importance. The K900 resets the bar on these aspects. At 6.9mm, the K900 is the thinnest phone in its class by a wide margin and weighs in at a mere 162g, making it a device that unobtrusively slips into a jacket pocket or handbag. Made from a composite of stainless steel alloy and polycarbonate in a Unibody mold, the K900 manages to stay strong and look sharp while maintaining its slim profile.
While the K900 is certainly sleek, it does not ignore the emerging trend toward larger and clearer displays on smartphones. The K900 is one of the first smartphones in the world to combine a 5.5" IPS display with 1080p full high-definition resolution performance at 400+ pixels-per-inch, all under the latest, touch-capacitive Gorilla Glass 2. This gives the K900 supreme clarity and crispness along with plenty of space to capture the nuances of high-definition photos and video, as well as for viewing standard-size web pages.
Lenovo K900 runs on the Intel® Atom™ Z2580 processor, a dual core chip, which runs up to 2.0 GHz and utilizes Intel® Hyper-Threading technology to boost performance efficiency. The Intel-powered device also features an Intel® Graphics Media Accelerator engine running a PowerVR SGX 544MP2 GPU, which triples graphics performance over the previous generation.  This makes the Lenovo K900 very responsive, especially for key functions such as web browsing, multi-tasking and application-switching.
The K900's camera stands out as one of the smartphone's most distinguished features. As with other functions on the K900, Lenovo has overhauled the camera completely, and delivered a package that is truly greater than the sum of its parts. Megapixels is the first specification that many users recognize for digital cameras, and with 13MP, the K900 ranks at the top of its class in this aspect and combines this with an industry-leading, Sony® Exmor BSI sensor for what would already be considered outstanding performance.
With the K900 though, the team has gone even further. Recognizing that customers often need to take clear, flash-less photos in low-light, Lenovo has equipped the K900 with a large aperture f1.8 lens, making it the first smartphone to offer such a wide aperture on its camera. Combined with its other specifications, the K900 is now a legitimate stand-in for a digital camera in a smartphone. In addition to these improvements to the rear camera, the front camera has also been widened to an 88⁰ viewing angle, the widest available on a smartphone front camera for convenient self-photos and video calls.
The Lenovo K900 smartphone is available in UAE and KSA end of July 2013. Retail price for the K900 is AED/SAR 1,999.