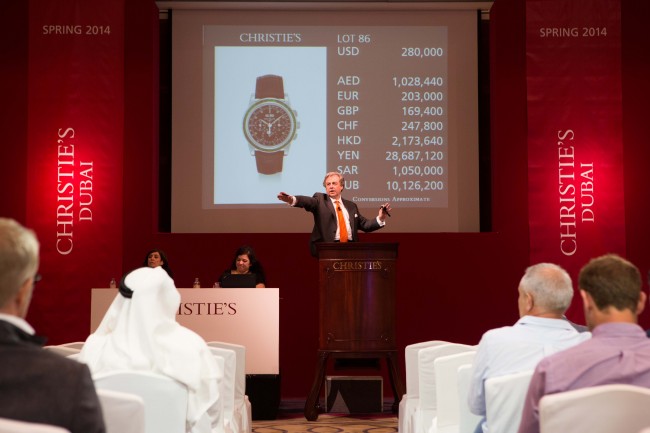 Bidding in the latest Dubai Important Watch auction at Christie's was fast and furious with collectors from around the region gathering to compete for the 123 lots which sold collectively for $3,097,313 (AED11,376,430) , above the high estimate of $2.9 million.
One of only ten known examples of Patek Philippe's iconic reference 5971, the bezel decorated with 42 baguette – cut emeralds weighing approximately 3.33 carats, fetched the highest price when it sold for $341,000, or AED1,252,493.
The watches followed Christie's stellar sale of modern and contemporary art a day before on March 19, 2014, which realized $10.6m, making a combined total of $13,745,563 for the sales this spring.
Christie's 16th consecutive sale season in the Middle East was the first to be held to coincide with Dubai Art Week with 20 per cent of those registered to bid in the sales new to Christie's.
Frederic Watrelot, Christie's watch specialist in the Middle East, said: "This season, our second since we re-launched our watch sales here in Dubai, was more than double the size and I couldn't be happier with the results. The sale was 96 per cent sold and bidding was predominantly from Middle Eastern private collectors with some strong international participation."