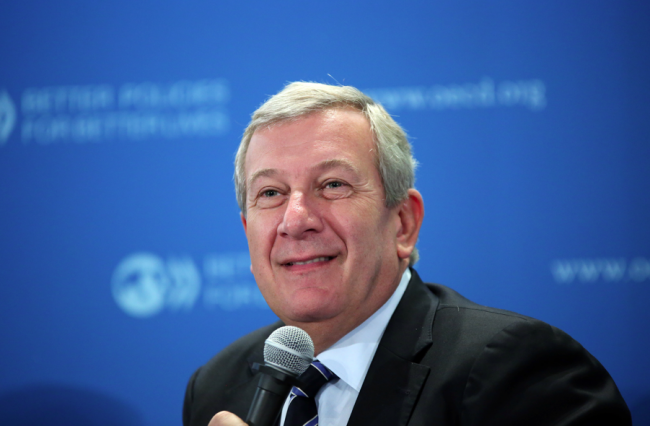 Richard Attias, CEO of Richard Attias & Associates, talks to TRENDS at Doha Goals about the ability of sport to exercise its soft power on global economies.
What is it about sport that allows it to influence people, countries and economies?
Sport has an amazing soft power. Why? Number one it's because there are no borders; sport is everywhere. Number two because it is the best lesson of tolerance, of solidarity, of courage, of all the values which are missing today in our society, it is about leadership and we are facing unfortunately in many regions a lack of leadership.
But, more importantly, to answer your question, sport is a fabulous tool for economic development. If you decide to host an event, there's no need [for it] to be a world cup, [there's] no need [for it] to be the Olympics, just host an original sport competition on, for example swimming or even beach volleyball and you create the impulse to oblige cities and countries to invest in sports infrastructure.
By definition you create jobs and create a sustainable model because sometimes the village of athletes could become and convert to condos, the stadiums could be converted to facilities for students, and so on. So I think that sport should be as it is in Qatar, a pillar of the development strategy.
So sports infrastructure is a lasting infrastructure, is it going to be a case of roads, public transport, airports and so on?
Yes, and communication. You create a lot of jobs also when you have a sports competition, because all the hospitality jobs, all of the hotel management jobs, all the catering companies, all the technician and audio visual jobs, everything which is around a sport event by definition you create jobs.
Events like these also inspire the youth to participate – they need role models and they need inspiration. And so sport has an amazing impact on many, many areas.
How does Doha goals harness that soft power that you have mentioned? How do you convince influential public and private sector people to get on board with an event like this?
With this event, we have brought champion athletes from Nadia Comaneci, who was in Romania when it was a dictatorship, to Katarina Witt, who had to manage the Eastern Germany transition to the global and unified Germany, to Ato Boldon, who is from a very small country in the Caribbean Island, and even Boris Becker, who had to involve his government more and more to help him and support him to become a champion.
These champions are here to convince and to show by their life example; they inform all other attendees and policymakers that money, support and logistical help is needed by the decision makers.
NGOs on the ground need all need this assistance to help foster talent at grassroots level. So, in essence, these sporting advocates are the vehicles for the message that sport can transcend across borders and this is exactly why Doha Goals is an amazing initiative because it is, before everything, a community. We achieve to build a community. And so there is no ceiling to the vision, this is an ongoing cultural shift.
In the short term is it difficult to convince people that these things are important? Do the people still perceive this as a novelty? Are you having an issue with that education process?
No. I think that there is no single person today that is not with our message. We quoted this morning the late Nelson Mandela who was probably the first political leader to understand the power of sport.
I think that before Doha Goals, Nelson Mandela convinced the world and leaders about the power of sports. Doha Goals, I think, is a platform where we can educate Nelson Mandela's philosophy, specifically today.
How does this event evolve and change? Are we going to see a kind of a consistent gathering?
When you have a good business model and when you have a good agenda, why change it every year? You always look for change. I was producing the Davos Forum for 15 years and it is already a 40- plus-year-old institutional platform and it is doing very well because what it is bringing to its participants is good.
This is what we are doing with Doha Goals. We want to build a community and to make progress on building exchanging ideas and following on the initiatives that are born in Doha Goals.
Moving just slightly from the Gulf, did you put money on Dubai in the EXPO 2020 success?
I am very happy for Dubai, a city and a country that I know very well. I spent a year in Dubai being event advisor for the local authorities on building an event strategy, and this was a part of our vision, it was to make Dubai a platform to host global events and global exhibitions.
And, unfortunately, at the end of 2008, the financial crisis put everything in silent mode, I would say, but I was convinced – and I said that publicly – that after three to four years, and it is exactly the time where we are, Dubai will be back, Dubai will be back stronger, Dubai will be back better.
I honestly think that it absolutely deserves the exhibition, the expo, and that this part of the world is showing to the world that we cannot continue to ignore them. And I think that the next big voice that will come will also be Africa. And so today there is a shift, we have more than 1.5 billion people living in Africa and in the Middle East and we need to work with these people.
You work a lot with intellectual capital, obviously with New York, and you have the forum there. Are we going to see people like you bringing more of those types of forums to the GCC?
Well this is a process that we have started years ago. We are building platforms all over the world, because I think that to understand a culture you do not need to organize something about that country in Europe, you need to go and organize something in that country. And this is what we are doing here; we are not talking about Africa in Paris or in Geneva.
We are not talking about Qatar in New York and in London. This is the best way; to understand a culture you need to touch it.