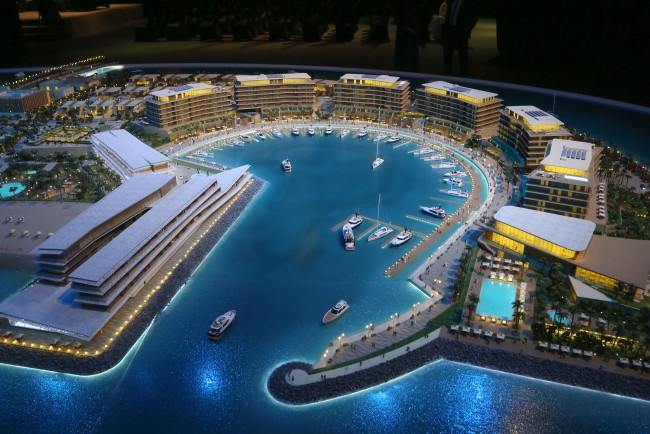 The Italian luxury brand announced the launch of Bulgari Residences Dubai, part of a larger development that would house its fifth hotel worldwide.
The master project, Bulgari Resort and Residences Dubai, is spread across 1.7 million sq ft. of the exclusive Jumeirah Bay Island, just off the coast of the Jumeirah Beach Road. The unveiling of the residences complex brings luxury tourists and designer lifestyle admirers a step closer to the inauguration of the full project, scheduled for 2017.
"The UAE, and more particularly, Dubai, has proven to be exceptionally attractive for major luxury brands to set up and showcase themselves…the demand for prime property will continue to rise," Cherif Hosny, chief hospitality officer at Meraas, said.
Hosny made the announcement along with Silvio Ursini, Executive Vice-President at Bulgari, and renowned architect, Antonio Citterio, from the Milan-based architecture firm handling the design of the project.
The Bulgari Resort and Residences Dubai was announced in May 2014; it is the fruit of a partnership signed between Dubai-based developer Meraas and Bulgari, to bring luxury hospitality to Dubai. However, the Bulgari project only expands the niche market of branded residences in the emirate. Versace, Fendi and Armani are only a few of the names that have been tied to branded, luxurious residences and hotels.
"Dubai has demonstrated a strong track record for constantly and continuously being the first in the region to introduce new and appealing high-end, superlative developments," Hosny added, noting that as standards and expectations rise with the maturity of the market, more investments and developments will naturally follow.
The Bulgari residences complex is made up of six freestanding buildings, comprising one- to four-bedroom apartment units and penthouses, in addition to three- to six-bedroom villas.
Besides the living units, the new residential development features shared areas, such as private landscaped gardens, swimming pools and gymnasiums, in addition to a variety of dining outlets and sporting facilities. To match the luxurious lifestyle of Bulgari residents, the project boasts a 50-berth marina and a Bulgari yacht club, in addition to easy access to the nearby Bulgari resort.
The resort itself is expected to comprise 101 rooms and suites within its main building, in addition to 20 hotel villas complemented by a full range of luxury hotel facilities.
"Upon completion of the project, the resort and residences will serve our international niche audience looking for the most exclusive experience," Bulgari's Ursini said.