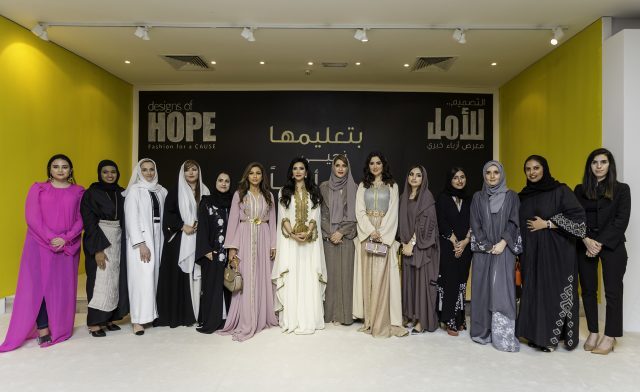 The fourth edition of the "Designs of Hope" charity fashion exhibition at Dubai Ladies Club drew a good response. Aimed at supporting children's education in Egypt, Nepal, and Senegal; the proceeds of the event will be dedicated to the Al Manal Humanitarian Initiative's "teacHER" campaign, which was launched in collaboration with Dubai Cares.
The "teacHER" campaign reflects the goals and values of the UAE's 'Year of Giving', which was launched earlier this year by His Highness Sheikh Khalifa bin Zayed Al Nahyan, President of the UAE, and in response to the call of His Highness Sheikh Mohammed Bin Rashid Al Maktoum, UAE Vice President, Prime Minister and Ruler of Dubai, to organize initiatives and activities that promote a sense of charity and giving during the Holy Month of Ramadan.
The three-day event was inaugurated by HE Shamsa Saleh, CEO of Dubai Women Establishment (DWE), on May 13, and was also attended by Lamia Abdulaziz Khan, Director of Dubai Ladies Club, alongside TV presenters Lojain Omran and Mahira Abdel Aziz, and actress Mayssa Maghrebi.
A key initiative
"Today we begin implementing our global "teacHER" campaign under the guidance of Her Highness Sheikha Manal bint Mohammed bin Rashid Al Maktoum, President of the UAE Gender Balance Council, and President of Dubai Women Establishment (DWE). Her Highness has always prioritized charitable initiatives and activities and actively supports an ethos of giving and humanitarian work, both inside and outside of the UAE," said Shamsa Saleh, after inaugurating the event.
Shamsa Saleh emphasized that the "teacHER" campaign will be added to the long list of humanitarian initiatives launched by the UAE, and is designed to support education – a key global concern – particularly amongst children and girls, which continues to be a challenge in many developing countries.
She also highlighted that this initiative promotes the UAE's global standing and reflects its considerable efforts to achieve the United Nations' fourth Sustainable Development Goal (SDG), to ensure inclusive and quality education for all and promote lifelong learning.
"A solid educational foundation is a crucial aspect in improving the quality of life of people worldwide, and a driver of sustainability," added Shamsa Saleh.
The "teacHER" campaign consists of several factors, including building elementary schools, training teachers, and motivating children – particularly girls – to enroll in schools and continue their education, helping them to lead more fulfilling lives.
Successful launch day
The fourth "Designs of Hope" charity fashion exhibition featured 1000 unique and exclusive abayas and kaftans, which have been donated by 25 distinguished UAE designers to support the "teacHER" campaign. Lojain Omran also donated 20 jewelry pieces, in support of the initiative. A large number of visitors from across the UAE attended the opening of the exhibition, alongside designers and media.
A unique event
Commenting on the event, Lamia Abdulaziz Khan, Director of Dubai Ladies Club, said that the Club is very proud of organizing and hosting this event, which has supported various humanitarian causes since its foundation. She highlighted the "teacHER" initiative as another key cause supported by the exhibition, which will address an important global issue, by transforming the lives of children, and girls in particular.
She said: "Through the 'Designs of Hope' exhibition, Dubai Ladies Club is actively supporting the humanitarian vision of Her Highness Sheikha Manal Bint Mohammed Bin Rashid Al Maktoum. We are very grateful for the commitment of these designers to the cause and goals behind this event. The vast number of high quality items they have donated will no doubt help in making the exhibition a success during the Holy Month. Their generous donations will help to provide hope by allowing more girls to access a good education, guaranteeing a better future for generations to come."
In July 2013, HH Sheikha Manal Bint Mohammed Bin Rashid Al Maktoum launched the 'Al Manal Humanitarian Initiative' to activate humanitarian efforts locally, regionally and internationally. The Initiative reinforces the Emirati spirit of giving, and has implemented various humanitarian projects since its establishment, tackling a wide range of issues and causes such as education, health, nutrition, children and families, in addition to a range of social and awareness programs.