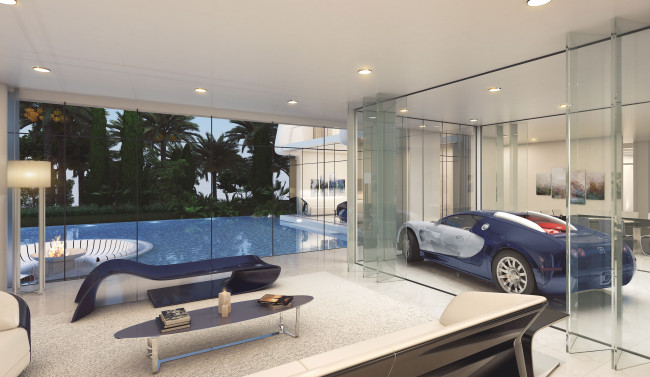 Dubai-based luxury property developer, DAMAC Properties, announced the launch of the world's first Bugatti-styled homes this week.
ETTORE 971 Bugatti-Styled Villas will be a limited collection, part of AKOYA Oxygen, DAMAC's master luxury development in Dubai, the brand said on Sunday. The launch will be held during Cityscape Global 2015, which will be held in Dubai starting Tuesday.
The project was named after Ettore Bugatti, the Italian-born founder of the popular French sports car brand. Meanwhile, 971 refers to the international calling code for the UAE.
Prices for the seven-bedroom villas have been set at approximately AED36 million each, says DAMAC, which emphasized that the design would be conceptualized by the designers of the Bugatti Veyron, one of the world's fastest street-legal super cars, stressing on the high-end finishing and overall feel of the villas.
"We know that many of our loyal customers are huge fans of the Bugatti super sports car brand and the opportunity to live in the world's first villas styled in Bugatti's design language featuring key codes of the brand's DNA is a unique opportunity to experience this fantastic brand in a whole new way," says Ziad El Chaar, managing director at DAMAC Properties.
The villas will have an indoor vehicle-display area, featuring glass panels through the living lounge.
"The added touch of being able to see your car from many areas of the living quarters adds to the immersive design incorporated throughout these truly luxurious homes," El Chaar added.
Ettore 971 Bugatti villas will overlook the Trump World Golf Club, designed by international golfer Tiger Woods.
This is one of two Trump-branded golf clubs developed by DAMAC. The first, Trump International Golf Club, Dubai, is located at AKOYA by DAMAC and was launched in 2013. It is, however, not slated to open till late 2015. The developer announced the second golf course, Trump World Golf Club Dubai at AKOYA Oxygen, in September 2014, stating that it is set to open by the end of 2017.
AKOYA by DAMAC and AKOYA Oxygen are two of the biggest and most luxurious master development projects currently under construction in the emirate. Besides the association with the Trump name and the renowned Bugatti brand, AKOYA by DAMAC will feature villa collections styled by high-end fashion and apparel brand, Fendi, as well as Paramount Hotels & Resorts.