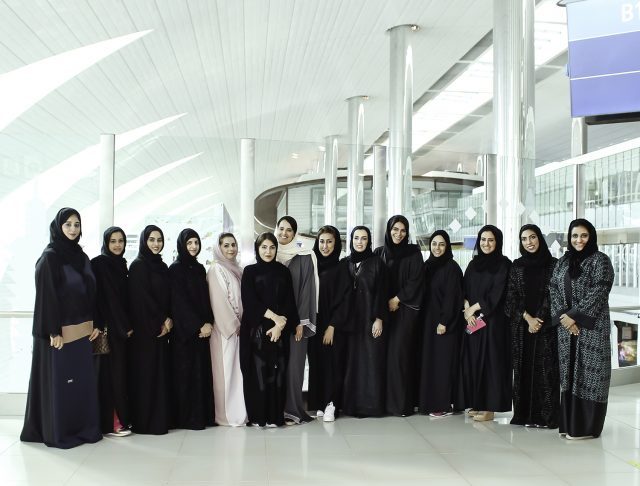 14 prominent female Emirati leaders participate in The Innovative Leaders Program
Eight-day program to transform participants' leadership skills through disruptive innovation
Program held in collaboration with Ashridge-Hult International Business School
Dubai is certainly playing a crucial role in facilitating women to reach top positions by ensuring proper training and conducive environment for professional growth.
Working in this direction, Dubai Women Establishment (DWE) has launched one of the most innovative initiatives in this region christened 'The Innovative Leaders Program' for women.
This cutting-edge program has been launched under the patronage of Her Highness Sheikha Manal bint Mohammed bin Rashid Al Maktoum, President of the UAE Gender Balance Council and President of Dubai Women Establishment (DWE), and in collaboration with Ashridge-Hult International Business School, UK.
Transforming vision into actions
The program, which is being held in the UK until May 13, is designed to help participants cultivate the required tools in transforming vision into action through creating a culture of disruptive innovation.
14 prominent Emirati female leaders, from the public and private sectors, have been selected from a large pool of applicants for the program. These selected leaders will have the opportunity to gain deeper personal insight, unleash their potential and develop their ability to inspire and motivate others, through an experiential learning journey based around the findings, solutions and challenges that the world's leading organizations have overcome.
Enhancing caliber of Emirati women
HE Mona Al Marri, Chairperson of the Board of Dubai Women Establishment, said: "The ongoing development of customized, interactive initiatives such as The Innovative Leaders Program plays an important role in our continued work to enhance and transform the skills and capabilities of Emirati women, which lies at the heart of our strategy.:
"The Program supports the vision of our wise leadership, which places heavy emphasis on the importance of innovation in achieving a brighter future, in line with the National Innovation Strategy to establish the UAE amongst the most innovative countries in the world by 2021," added Al Marri.
Healthy exchange of ideas
Throughout the eight days of the program, participants will meet, speak and collaborate with innovative thinkers of renowned businesses and leading government bodies, enhancing their knowledge about levels of extraordinary and exponential thinking, and helping them to respond adaptively to the challenges they face today.
The objective behind the program is to further develop the capabilities of female Emirati leaders in line with the vision of His Highness Sheikh Mohammed Bin Rashid Al Maktoum, UAE Vice President, Prime Minister and Ruler of Dubai, to nurture the skills and knowledge of UAE nationals, and prepare them to shape the future of the nation.
"The Innovative Leaders Program will also contribute to Dubai's vision to become the city of the future, through using innovation to place itself ten years ahead of other world cities. This will be achieved through creativity and out of the box thinking, which is what we're aiming to accomplish via tailor-made programs designed to support the UAE and translate its vision into action," pointed out Al Marri.
Going a long way
Through a blend of interactive meetings around innovation, agility and managing change, individual coaching, visits to various organizations, and guest speaker sessions, the program will help participants to develop their understanding of how disruptive innovation works in leading companies and reflect on how it can be implemented within their own organizations.
The program will offer different perspectives on how to lead effectively in today's dynamic world and help participants to harness disruptive innovation to achieve extraordinary results for themselves, their teams and ultimately the UAE.
Key learning themes
This will be achieved through five key learning themes, which include 'the neuroscience of learning to lead in the VUCA (volatility, uncertainty, complexity and ambiguity) world', 'developing presence, impact, influence and resilience', 'creating positive working environments and enabling engagement,' 'disruptive innovation: fostering exponential, experimental thinking and leadership agility' as well as 'leading change and driving transformation'.
"This program reflects the ongoing efforts of Her Highness Sheikha Manal Bint Mohammed Bin Rashid Al Maktoum in encouraging and promoting the vital contribution of Emirati women in shaping the UAE's economic and social future, which can be harnessed through equipping them with the right skills to seize new opportunities in the future," stated Al Marri.
Innovative project work
The program will also feature innovative project work, allowing participants to demonstrate how they can apply disruptive innovation and exponential thinking to their organizations and wider society.
Throughout the program, participants will tackle two strategic projects, one of which is focused on increasing the number of women voters in Federal National Council elections, by changing the perceptions of society around women voters.
The second project will focus on achieving work-life integration, to establish a competitive economy driven by men and women enabled to give their best. Each of the project groups will have an opportunity to present their proposals to UAE leaders following the program.
The Innovative Leaders Program was developed as part of a Memorandum of Understanding agreement signed between Dubai Women Establishment and Ashridge-Hult International Business School earlier this year.