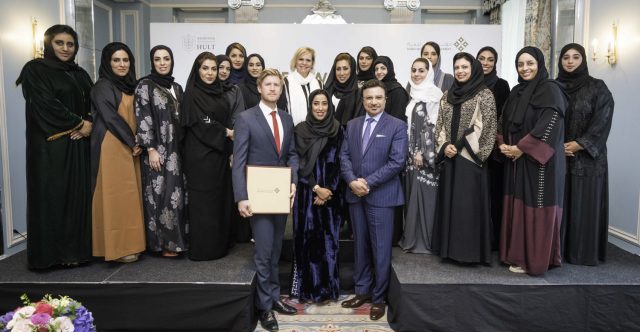 14 female Emirati leaders graduate from 'disruptive innovation' program
Participants gain insights into creative thinking from thought-leaders at Google and Nesta
Leadership program developed in collaboration with Ashridge-Hult International Business School
Dubai is determined to provide equal opportunities to women to ensure their fair presence in the decision-making process and nation building. The idea is to have more number of women leaders who will effectively represent both public and private sectors at global forums.
Working in this direction, Dubai Women Establishment (DWE) recently celebrated the graduation of 14 prominent female Emirati leaders from its inaugural Innovative Leaders Program in the UK.
Transforming leadership approaches
In line with the vision of His Highness Sheikh Mohammed Bin Rashid Al Maktoum, UAE Vice President, Prime Minister and Ruler of Dubai to promote a culture of innovation across the country, the Innovative Leaders Program was developed to help participants transform their leadership approach through experimental and out-of-the-box thinking.
The eight-day program followed an experiential and interactive learning process – learn, disrupt, apply and integrate, through insight sessions, guest speaker presentations, organizational visits, strategic challenge projects, coaching and networking.
The graduation ceremony, which was held on April 13, was attended by HE Mona Al Marri, Chairperson of the Board of DWE, HE Sulaiman Al Mazroui, UAE Ambassador to the UK, and Bjorn Bengtsson, President of Ashridge Executive Education Business School.
The program was launched under the patronage of Her Highness Sheikha Manal bint Mohammed bin Rashid Al Maktoum, President of the UAE Gender Balance Council, President of DWE and was hosted in collaboration with the distinguished Ashridge-Hult International Business School.
Leveraging disruptive innovation
"We are living in an era of unprecedented change, innovation and opportunity – opportunity to tap into our creativity and break down old ways of thinking, see solutions to challenges rather than obstacles, and build on past achievements to create a better tomorrow. This program has equipped talented female Emirati leaders, who are already driving change across various sectors in the UAE, with the skills and capabilities to help take their organizations and teams to the next level by leveraging disruptive innovation to the advantage of our nation as a whole," said Sheikha Manal.
"The participants in this program are a prime example of everything the UAE and Dubai Women Establishment is striving to achieve, through providing Emirati women with the tools they need to chart their own future and turn vision into action. We are very proud of what these remarkable women have achieved over the past week, and look forward to seeing what they do next," added Sheikha Manal.
Insight sessions
Throughout the program, participants were engaged in interactive learning sessions from leading Ashridge faculty members and thought leaders including Emma Mulqueeny OBE, founder of Rewired State and Young Rewired State, a Commissioner for the Speaker's Commission on Digital Democracy and a Google Fellow. Emma led a session about how she integrates work and life as a mother of two young children, and how the UK is using technology to engage communities and encourage people of all ages to vote.
Jane Marsh, Group People and Culture Director at Innocent Drinks, presented a case study on how Innocent Drinks have leveraged high levels of engagement and fun in the workplace.
Mona Al Marri, said: "Further developing the capabilities of women leaders is a top national priority, and initiatives like the Innovative Leaders Program play a key role in making that happen. This program has emerged from DWE's relentless efforts, under the leadership of Her Highness Sheikha Manal bint Mohammed bin Rashid Al Maktoum, to advance the leadership capabilities of Emirati women and enhance their contribution to the nation's socio-economic development."
"We want to equip female leaders with the tools and skills to help Dubai and the UAE make the inconceivable conceivable, and the impossible possible. By nurturing a culture of disruptive innovation, our leaders can create a paradigm shift in the way their organizations operate and respond to challenges, now and in the future," added Mona Al Marri.