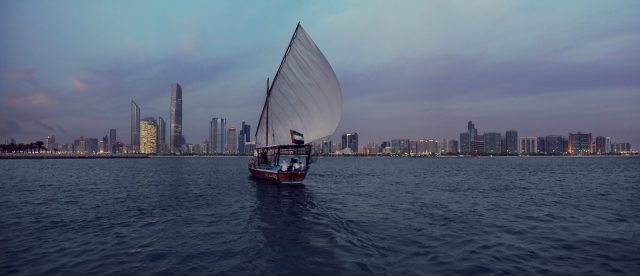 UAE residents, international travelers challenged to explore major attractions in Abu Dhabi in only two days
Airline to launch Instagram competition with 500 exciting Abu Dhabi prizes to be won
Etihad Airways has thrown down the gauntlet to the millions of guests who transit through its Abu Dhabi home, as well as the residents of the UAE, by challenging them to experience a host of 'once in a lifetime' activities throughout the emirate in just two days.
The '48 Hour Challenge' is part of Etihad Airways' wider stopover campaign promoting Abu Dhabi as a 'holiday within a holiday' for transit travelers and a 'staycation' option for UAE residents wanting a relaxing short-break. The city's many highlights can now be enjoyed through a series of exciting stopover programs.
To launch the campaign, Etihad Airways recently challenged Ricky Wilson, singer-songwriter, TV personality and frontman of British indie rock band Kaiser Chiefs, to spend 48 hours exploring the best Abu Dhabi has to offer. The video of his attempt is part of a global online promotional campaign and captures the excitement of the challenge visually to share with consumers on social media and across the airline's communications channels.
Incredibly refreshing
"For me a stopover meant sitting in the airport, or visiting duty free, but this is not what a stopover should be," commented the singer. "It should be flying falcons across the desert, kayaking, visiting water parks….imbibing the culture of the place. Abu Dhabi has taught me that stopovers can be as relaxing as they are exhilarating. There is something incredibly refreshing about pushing yourself, getting out of your comfort zone and fully immersing yourself in a new city. I will never stay in the airport again during a stopover.
"It is an incredible place, with warm, generous and extremely hospitable people. The city perfectly combines a relaxing and chilled out vibe with excitement and adventure. It is a beautiful city with endless things to do in a short space of time."
Promoting Abu Dhabi
Peter Baumgartner, Etihad Airways' Chief Executive Officer, said: "Abu Dhabi is a cosmopolitan, dynamic and thrilling destination packed with opportunities for all visitors, whether they are looking for adventure, culture, or a relaxing beach break.
"It is our honor as the national airline of the UAE, based here in Abu Dhabi, to promote and celebrate the emirate's sophisticated infrastructure, the hospitality of the Emirati people, and its beautiful landscape. It is the perfect stopover destination for those flying through Abu Dhabi and an ideal domestic getaway for those living in the wider UAE."