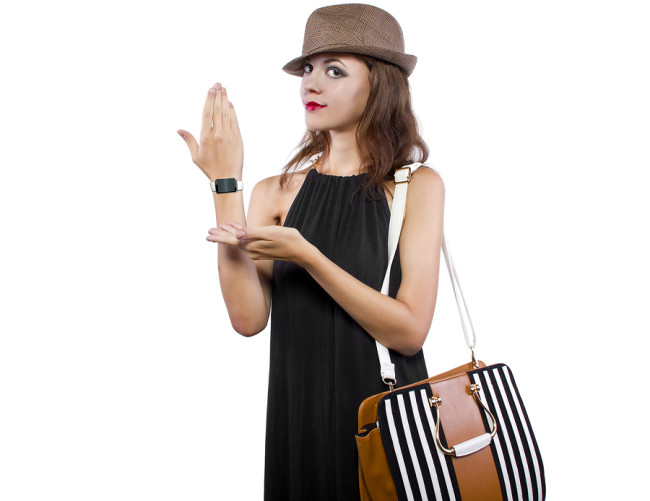 In opulent surroundings, an elegant and knowledgeable audience sit down to witness the latest designer fashion trends for the year ahead. As attendees mingle and battle to find their seats, the lights slowly dim, the DJ plays his set, and the murmurs turn to silence.
The show is about to begin.
Beautiful models make their way onto the catwalk, one after the other, decked out in what their designers believe will set the scene for the next 12 months. Each model is wearing something unique, and every centimeter of the designs has been meticulously thought out, with materials researched and tested, and every element pondered over.
Chanel, Tory Burch, Moschino, Roberto Cavalli, and Marc Jacobs are names synonymous with the world of fashion, with their signature designs and trendsetting looks helping to shape the industry. Known primarily for their clothes, shoes, purses, and clutches, these famous names are now branching out into a new segment – the technology accessory business.
Consumers often focus their attention on the build quality of their smartphones, with debates raging over how a metal phone is better than one made of plastic. However, the truth is that one of the first things most smartphone users do after purchasing a new device is buy a cover for it, which seems to negate the veracity of the argument.
The incredible popularity of smartphone covers means they are no longer the sole preserve of electronic stores. Walk into any of the leading fashion outlets and you will find that they all now cater to the ever-growing phone case segment. There is an inevitable premium, of course, but by paying it you can ensure that even your phone stands a chance in the 'Best Dressed' stakes at this year's Dubai World Cup.
However, this isn't the one way road it may at first seem. Electronics companies have themselves been influenced by the designer powerhouses. Consumers now demand that the devices they carry with them day and night not only function like a phone, but also look and feel like something substantially more. As such, some flagship smartphones now almost mirror well-designed pieces of jewelry.
This newfound attention to detail has seen smartphone manufacturers take their cues from the fashion world's leading lights, incorporating elegant lines and subtle-but-powerful elements such as chamfered edges into their devices and carefully selecting the materials that encase them.
And no longer restricted to the jeweler's window, gold is becoming an increasingly popular option for electronic devices. There is a breed of consumer that doesn't want to be limited to one or two color options, but instead wants something that signals wealth and sophistication.
Vendors have realized that looks now matter almost as much as how the device operates, which is why some have entered into formal partnerships with well-known jewelry designers and fashion houses. Samsung, for example, has partnered with Swarovski on a line of designer accessories for its handsets. Meanwhile, Intel's latest MICA smart bracelet was created in partnership with LA fashion house Opening Ceremony.
Indeed, the wearables market seems the obvious next step for this unusual alliance between 'fashion freak' and 'gigabyte geek'. Interesting times lie ahead for the fledgling smartwatch space, with a host of vendors struggling to figure out how to make this segment work and get people interested in it.
Android has given it its best shot and is continuously attempting to improve the experience associated with its Android Wear devices, while the world is patiently awaiting the arrival of the Apple Watch, rumored to be in March this year.
Software aside, it is clear that the major factor that will determine the future and success of the smartwatch segment is design. Initial offerings were boring and dull, with bland square screens offering all the individual flair of a calculator. Consumers want something attractive, something fashionably acceptable; they want something that looks and feels beautiful. After all, this isn't something you can tuck into your pocket when it's not in use.
And now consumers are finally getting a glimpse of what they wanted all along. Motorola's Moto 360 is by most accounts the best looking smartwatch on the market. It's attractive round screen is accompanied by various bands made from top-quality leathers and metals. Samsung, meanwhile, has extended its partnership with Swarovski to include a crystal-encrusted strap for its Gear S smartwatch.
Apple has gone a step further, determining that one size does certainly not fit all. The company will offer the Apple Watch in various sizes and finishes, including the use of gold in its most expensive model. These different finishes will be accompanied by a variety of straps and customizable watch faces, with Apple promising a new level of individuality via "millions of different appearances". And in a bid to create even finer pieces of wearable technology, the firm has hired famed designer Marc Newson.
These are fashion-conscious times, with consumers craving nothing but the best. And with this latest breed of smartwatches resembling finely crafted jewelry more than pieces of technology, it is clear that the technology segment is about to get a whole lot better looking.
 Saad ElKhadem is Research Analyst at IDC