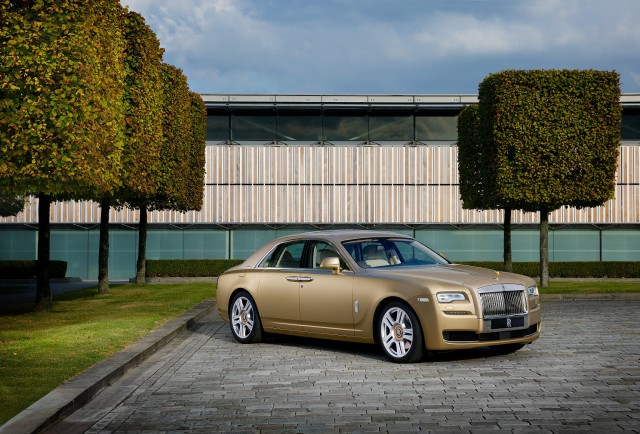 Catering to the luxurious taste of the UAE's car enthusiasts, the Rolls-Royce Ghost's much-awaited Oasis Edition has finally arrived in the capital, Abu Dhabi. This new edition is expected to draw a good response from a market that is already one of the biggest consumers of this lavish automotive brand.
Abu Dhabi Motors has officially announced the arrival of the Rolls-Royce Ghost Oasis Edition, a special commission developed by the marque's world-renowned Bespoke department, to be presented to the brand's patrons in the Middle East only.
One of only three cars in this collection, the Oasis Edition takes inspiration from the breathtaking oases of the Arabian deserts, which for centuries provided refuge and tranquillity to travellers on their journeys. The oasis theme is in perfect harmony with the Rolls-Royce Ghost, itself routinely described as an oasis of calm in a hectic business world.
The Bespoke two-tone exterior in Aurum and Desert Dune Metallic is adorned with an intricate feature line motif depicting a camel train. The desert theme continues throughout the Seashell interior. Accents in Fleet Blue are reminiscent of water in an oasis, while applications of Bespoke Moccasin Willow Grain leather further allude to the sand dune theme.
Piano Veneer in Moccasin was developed especially for this collection and features golden motif inlays in the passenger panel, door cappings and rear picnic table backs. The Bespoke rear centre armrest embroidery introduces a sand dune pattern and demonstrates the level of detail that goes into conceptualizing this incredible Bespoke Collection.
Ghost has proven to be no ordinary power and has been the cornerstone of Rolls-Royce Motor Cars' success around the world since its launch in 2009.  The perfect representation of Rolls-Royce's signature attributes of luxury, refinement and hand-craftsmanship, coupled with the latest in industry-leading technology, Ghost is the ultimate symbol of success for leading entrepreneurs across the region and the world.
When combined with the ability for personalization through the Bespoke program, the result is the ultimate in automotive excellence, a contemporary interpretation of the luxury motor car and the number one choice in transport for the discerning patron.
Abu Dhabi Motors has a global reputation for excellence in Bespoke design having won global Bespoke Dealer no less than seven times.