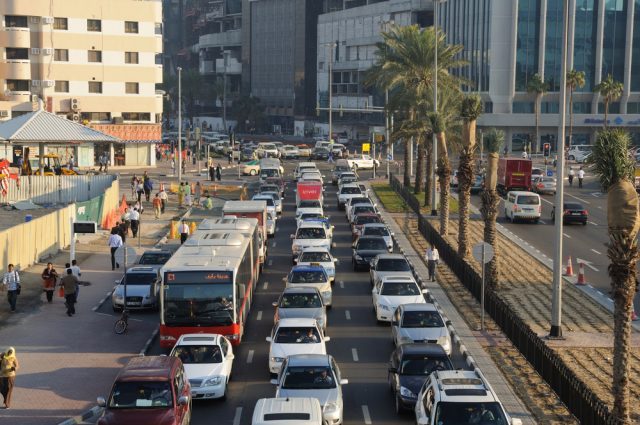 Traffic congestion is terrible for our wallets and health, but for many it is also the indicator of a booming economy. Whether you are passing through King Abdul Aziz Road (Riyadh) to your office during peak morning hours (8.30am to 10am) or you are crossing Dubai through Sheikh Zayed Road en-route Sharjah, you must have experienced snarling congestions.
However, at a time when West is struggling to minimize road congestions, which are guzzling millions of dollars every year, GCC region has managed to curtail this problem significantly.
GCC vs US
GCC's main commercial hubs Riyadh, Jeddah and Dubai have managed to improve their rankings on the INRIX 2016 Global traffic Scorecard when compared with the previous year.
According to the scorecard, Riyadh has improved by nearly 13 positions. In 2016, it was ranked 50 in the Global Traffic Scorecard while in 2015, it was positioned 37. Jeddah has improved 14 positions as it is ranked 84 (ranked 70 in 2015). Dubai, which is the home of many top MNCs and sees the movement of hundreds of thousands commuters everyday, got better by nearly 13 positions. It is ranked 81 (68 in 2015).
On the other hands, US' main cities have seen deterioration in their ranking. Los Angeles topped the scorecard in 2016 while it was at number two spot in 2015. New York was placed third while it was at seventh spot in 2015. However, capital Washington DC reached 13th place from the 26th spot.
"Traffic is a major problem in Dubai especially during mornings and evening. But it is good we are gradually improving when it comes to international standards," said Sara Haydens, who drives from Al Barsha I to Dubai Media City, every morning for work.
Notably, the 2016 INRIX Traffic Scorecard ranks 205 major cities of the world by the peak hours spent in congestion.
Huge financial lose:
Though roads are considered the crucial arteries to mobilize people and goods across the country but their congestion is also leading to massive financial lose in the West.
The traffic scorecard says that traffic congestion costs the US alone a $300 billion per year in gas and time. While congestion cost UK motorists an over £30 billion.
Hours spent in congestion
Motorists in Saudi Arabia spent around 39 hours in congestion (in 2016), which calculated to around 16 percent driving time in congestion. According to the scorecard, this is the average number of hours a driver would spend in congestion during peak hours based upon 240 commuting days.
While an average motorist in Jeddah spent 28.8 hours in congestion that is 12 percent driving time in congestion. Whereas a regular motorist, in Dubai, spent 28 hours in congestion that was 11 percent of his driving time.
Extra travel time:
GCC cities have also performed well on TomTom Traffic Index, which measures congestion globally. As per this index, congestion level in Dubai is 29 percent while it is 28 percent and 27 percent in Kuwait and Riyadh respectively. In this index, Mexico City topped the list with 66 percent congestion level.
TomTom Traffic Index calculates congestion level on the basis of how much extra travel time is required for the same distance in the same conditions, during busy and non-busy time-slots.