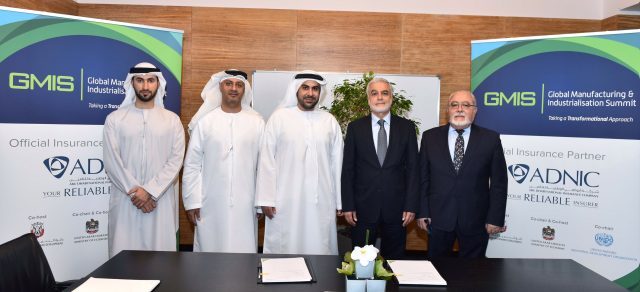 UAE leading the way in the adoption of innovative technologies and smart city living
GMIS to promote widespread adoption of Fourth Industrial Revolution
New technologies to benefit industry and society
Abu Dhabi National Insurance Company (ADNIC), one of the region's leading multi-line insurance providers for corporates and individuals, has announced plans to develop a new generation of insurance products and services to support the UAE's adoption of innovative technology in line with the country's smart cities plan.
The company is the official insurance partner for the first edition of Global Manufacturing and Industrialization Summit (GMIS), which will conclude today in Abu Dhabi, UAE.
The UAE has undertaken ambitious goals and aspirations to the introduction of autonomous vehicles, with driverless cars expected to be seen on the nation's roads and highways within the next two years.
Current statistics confirm that 25 percent of Dubai's transportation will be autonomous by 2030, resulting in reduced accidents and saving AED2 billion a year. Autonomous vehicles are also expected to increase productivity by 13 percent by reducing travel time by 396 million hours annually.
New technologies to encourage businesses
ADNIC's commitment to develop covers and services that meet the requirements of rapidly evolving technologies will encourage business and organizations to explore and embrace the new paradigm shift in technology whilst minimizing their financial risk and liability.
Ahmad Idris, Chief Executive Officer of ADNIC, said: "The world around us is changing and change brings new challenges to insurers to which we must respond. Driverless cars, drones, air taxis, and other autonomous transit systems such as Hyperloop are examples of new technology to which insurers need to find solutions. The traditional methods of pricing risk will not suffice. Similarly the way we pay claims and look after our customers is changing at lightning speed and it is challenging insurers to respond. What used to be paper-based is now done by email or via a call centre. Increasingly, it will be over the customer's smart phone."
Diversifying the economy
"As technologies advance we must strive to find new insurance models that help businesses and governments to evolve and innovate – creating jobs and diversifying the economy. With the introduction of the first autonomous car insurance in the region, we want to contribute to the nation's plans for growth and innovative leadership as we enter the Fourth Industrial Revolution. We believe that GMIS is the ideal platform for us to discuss the transformative impact that these technologies of tomorrow will have on our society and our industry," pointed out Idris.
The Summit is a global platform for participating attendees to learn from best practices from across the world. This unprecedented global gathering will spark new ideas and set the stage for debate and action – addressing ways in which manufacturing can shape and reshape the world, integrating activities between developed and emerging markets, and delivering on social responsibility towards future generations.
Insurance industry to gain momentum
Badr Al-Olama, Chief Executive Officer, Strata Manufacturing, and Head of the GMIS Organizing Committee, said: "As the technologies of the Fourth Industrial Revolution continue to change the world around us, the insurance industry must keep pace. As the UAE seeks to establish leadership in the use of 4IR technologies, including the global push for the adoption of autonomous vehicles, it is essential that the private sector responds to the challenge and develops products and services which predict the needs of tomorrow's consumers – whether businesses or individuals."
"ADNIC's progressive approach to insurance in the changing environment is testament to the degree to which technological evolution impacts more than just the industrial and manufacturing sectors; it effects all industries and aspects of society. During GMIS, we will examine the full potential of transformative technologies in manufacturing and industry, as well as in related sectors including regulation and legislation, to encourage the development of a full-blown ecosystem," added Al-Olama.