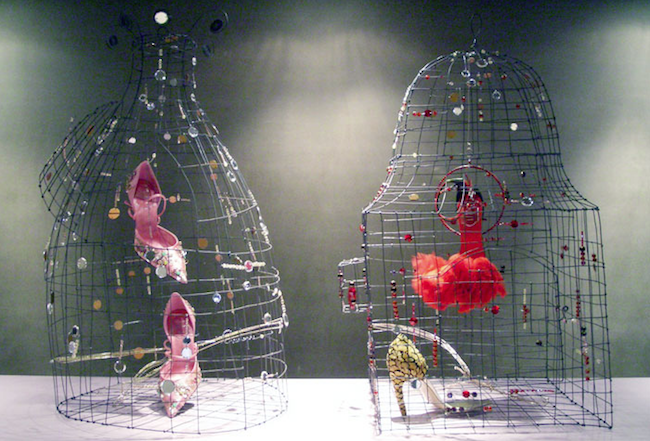 Working in iron wire the diameter of a clothes hanger, Southwest France-based sculptor Marie Christophe — whose clients include Hermès, Dior, Roger Vivier and the interior designer Jean-Louis Deniot — fashions animals, light fixtures, fanciful birdcages and other seemingly gossamer objets. Some pieces are beaded, like an elephant with crystal-strewn butterfly wings for ears that is destined for a show at Creel and Gow on New York's Upper East Side in September. Others are flat, like line drawings come to life. "Her work is like she is: light, airy and extremely poetic," says Roger Vivier's creative director Bruno Frisoni, who's commissioned numerous store decorations from Christophe — and in whose honor she created a pair of ladies' legs, the soles of their heels reading "Roger Vivier" in loopy wire cursive.
The playful sophistication of Christophe's work is reflected in the eclectic 18th-century residence she shares with her husband, the interior designer Emmanuel Fenasse, in Gers, an agricultural region west of Toulouse otherwise known for its foie gras. An idyllic lane winds up to the two-story, pale-stucco manor, its faded robin's-egg-blue shutters the stuff of South of France postcards. Nearly 30 acres of gently rolling pastureland is punctuated by a small stone structure that once served as an aviary. Next to the main house is a massive linden tree under which the couple and their two sons, Joseph, 13, and Raoul, 7, take their meals when it's warm, about half the year. There are copious old roses, lilac bushes, a large patch of wildflowers that lures clusters of butterflies, and a row of cherry trees that, on a recent fine April day, had just burst into bloom.
The room Christophe has chosen as her atelier looks out onto much of this pastoral perfection, enhanced by an imposing, centuries-old cedar. Inside, a long, narrow table hints at the billiards room it once was. Slower to reveal themselves are Christophe's exquisite sculptures, so delicate that even the larger pieces tend to adorn rather than dominate a fully furnished room. A table lamp casts an encompassing light while barely seeming to be there; a stylized skeleton dangling from an Artemide task light is decorative without being the least bit distracting.
French country houses, with their wood beams and terra-cotta tile floors, often inspire city mice to try their hand at rustic shabby chic, but Christophe and Fenasse, who transplanted themselves here from Paris a year ago, are having none of it. Though there is some roughed-up toile de jouy in a small sitting room off the kitchen, most of the antiques throughout the house are midcentury or later, thanks to Fenasse's parents, who were Knoll distributors in his birthplace of Algeria.
Christophe jokes that one visitor has dubbed their renovation très bobo, the derisive French term for bohemian hipster, and it's true that I recognize many of the codes: 1950s brass flower sconces picked up at the Porte de Vanves and Saint-Ouen flea markets, graphic metallic Cole & Son wallpaper in a guest room and a sleek downstairs bathroom with the same ceramic light switches you'd find in, say, Soho House. Thanks to the structure's placement on the edge of a meadow, light is also a recurring element, whether throwing stars off a disco ball onto the blush-pink walls of the living room or streaming through French doors into the family's wide, contemporary kitchen, its simple wood cabinets and stacks of colorful ceramics giving it a whiff of Scandinavia.
Working in wire followed naturally from Christophe's progression through art school, where she first studied drawing and then sculpture before blending the two disciplines in scribble-like wire objects that grew more complex over time. Discovered by Jean-Louis Dumas, the erstwhile artistic director and chairman of Hermès, at a group art exhibition in Paris in 1996, she was soon after commissioned to construct life-size horses for the company's Beverly Hills outpost, a seal of approval whose impact is still felt.
These days, Christophe returns to Paris frequently, bunking in a studio the couple own near the Rue Montorgueil. After all, it would be unjust for the dozens and dozens of Roger Vivier and Bruno Frisoni shoes that line her canary-yellow closet to lie fallow. "I have regular meetings for work, and I have priorities that are a little less professional but still important, like lunch or dinner with Bruno and a little bit of shopping at Le Bon Marché!" she explains, adding that it hasn't always been easy to get friends down for visits. More difficult to understand is why they'd ever want to leave.
All images sourced from http://www.mariechristophe.com
 © The New York Times 2015