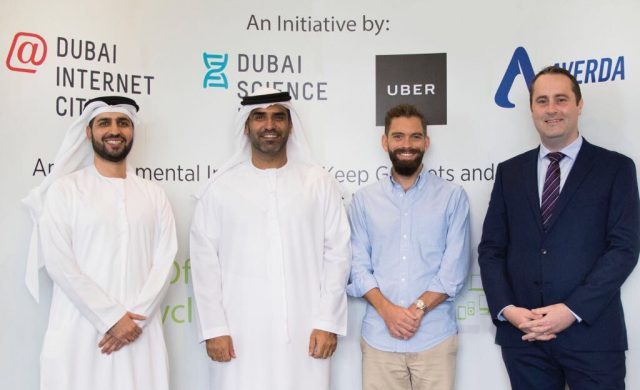 Dubai Internet City (DIC) and Dubai Science Park (DSP) have partnered with Uber and Averda in a successful effort to help their partner businesses recycle electronic waste and support them in achieving their environmental goals. The Ministry of Climate Change and Environment welcomed the campaign in which Uber carried out a total of 60 collection rides, which is six times as many as in the previous year, resulting in the disposal of nearly two tonnes of retired electronics within an 18-hours window.
On average, a UAE resident produces 17.2 kilogram of e-waste every year. In 2015, this amounted to nearly 600,000 tonnes in the region. Addressing this pressing issue, the campaign was designed to prevent e-waste from entering landfills, avoiding the risk of soil and ground water contamination through compounds and chemicals typically contained in electronic waste.
Community members located within DIC, DSP, Dubai Media City, Dubai Studio City, Dubai Knowledge Park, Dubai International Academic City and Dubai Outsource City, could request an 'UberRECYCLE' via the Uber app from July 2-4. During this time, Uber drivers collected retired phones, outdated laptops, printers, and other redundant electronic devices and transported them to Averda, where the materials were aggregated and eventually sent to recycling plants in the region.
Presenting a great challenge
In support of the initiative, Engineer Yousef Al-Ahmad Al Raisi, Director of Waste Management at the Ministry of Climate Change and Environment, pointed out that a video was posted on social media in parallel with the campaign, in which His Excellency Dr Thani bin Ahmed Al Zeyoudi, UAE Minister of Climate Change and Environment, stressed that the disposal of e-waste presents a great challenge in today's rapidly changing world.
His Excellency also highlighted that with product life cycles of electronics steadily decreasing, we are seeing ever-growing amounts of e-waste with adverse effects on our environment. The minister welcomed and encouraged private sector initiatives such as these that support national efforts to achieve sustainability and reduce pollution in the country in line with the UAE Vision 2021 and other government initiatives.
Ammar Al Malik, Executive Director of Dubai Internet City, said: "At DIC, we are committed to making our communities greener and more sustainable, a responsibility also shared by our partners. As the only specialised technology business community in the region, we are committed to utilising technology to achieve our goals. This partnership provided a smart solution to our community for the convenient collection and disposal of e-waste. A collection of over two tonnes in just 18 hours is an impressive outcome and we look forward to nurturing such partnerships and supporting such initiatives as we continue to contribute to the digital transformation in the UAE."
Yielding smart results
Marwan Abdulaziz Janahi, Executive Director at Dubai Science Park, said: "We are extremely pleased with the amazing results achieved. This campaign aligned smartly with the government's sustainable development goals as outlined by Dubai Plan 2021 to protect natural resources and promote sustainable consumption, particularly amongst our younger generations.
Our aim is to support Dubai in becoming a global green leader by nurturing environment, energy and waste management businesses. We do that by providing the necessary infrastructure and facilities. We are excited to share that we already have similar great projects in our pipeline."
Commenting on the partnership, Chris Free, General Manager of Uber UAE, said: "We are thrilled about the results, with over 2,000 kilograms of e-waste collected through our 60 collection rides. This marks a six-fold increase in pick-ups, compared to the previous year and is just another step for us towards our continuous efforts in using innovation and technology to improve daily lives. We look forward to similar impactful partnerships in the future, and to continue providing people in Dubai with safe, reliable, and affordable transportation at the push of a button."
Niall Killilea, Managing Director at Averda, said: "We are very excited about the e-waste initiative and delighted to have partnered with like-minded eco-friendly businesses in Dubai. In a city, and environment, that is growing and changing so quickly, it's wonderful to see the results that co-operation can yield.  The reaction from members of the public and our business customers was fantastic and we look forward to rolling out similar initiatives in the future."