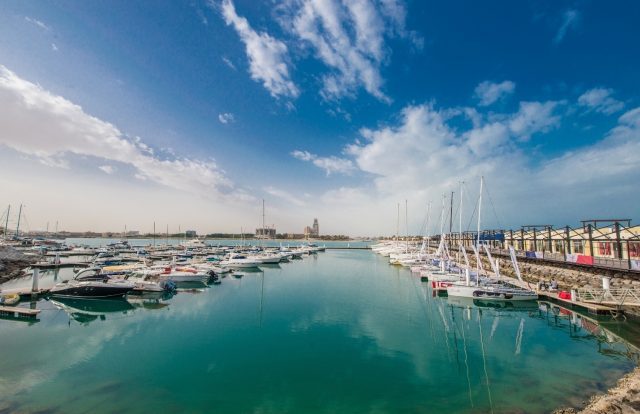 Ras Al Khaimah's burgeoning leisure scene has got a new addition. The Sailing Club of Ras Al Khaimah has been officially launched by His Highness Sheikh Ahmed bin Saqr Al Qasimi, a member of the ruling family of Ras Al Khaimah.
The venue, located within Al Hamra Real Estate's Al Hamra Village, is the latest addition to the facilities offered by Al Hamra Marina. It is set to further boost the emirate's credentials as a leading destination for sailing and water-sports by welcoming a host of internationally acclaimed events.
To attract international events
The Asian Youth Sailing Cup Final was the first high profile event to take place at the recently unveiled sailing club. The event, organized by the Asian Sailing Federation, the UAE Sailing and Rowing Federation and Al Hamra Marina welcomed the leading international young sailors from the UAE, Qatar, China, Thailand, Hong Kong, India, Pakistan, Oman, and the USA.
"This new facility brings a range of activities for water sports enthusiasts. Ras Al Khaimah is one of the best places in the UAE to learn and enjoy these sports and we now have the opportunity to play a vital role in helping to nurture and train rising talent in the region while providing a modern base for local residents to pursue their passion for watersports," said Benoy Kurien, general manager of Al Hamra Real Estate.
World-class facilities
The Sailing Club of Ras Al Khaimah offers access to classes for training and is the perfect complement to other leisure pursuits available nearby including golf, tennis, swimming and climbing. Designed to be enjoyed by seasoned professionals and amateurs alike, the club further strengthens the proposition of the world-class Al Hamra Marina complex, which boasts 220 berths and is able to accommodate vessels up to 130 feet long.
Designed by Europe's leading pontoon supplier Poralu Marine, Al Hamra Marina is a significant fueling stop for vessels and guests in the Arabian Gulf, offering a full range of marine facilities. It has been the four-time host of the UAE National Sailing Championships, with the 2016 installment attracting top competitors including Adil Khalid, one of the UAE's most decorated yachtsman. It has also previously hosted the Alinghi catamaran campaign for the 33rd America's Cup in 2010 and was a stopover point for the 2015 Sailing Arabia Tour, which visited seven marinas across the Gulf.
"The UAE has a long and proud maritime history, and sailing has been a traditional pastime for decades, from the wooden dhows that epitomize the country's coastal heritage to the ultra-modern craft we see today," said Kurien.
"Demand for berths at Al Hamra Marina has been consistently high since we opened in 2003, and with the Sailing Club of Ras Al Khaimah now open, we want to place this activity firmly at the heart of the community."